Site map
Home
- Attention slider
- Latest news
- Latest album
- Current tour(s)
- Upcoming tourdates
- Twitter window
News & Articles
- News, interviews & editorials
- Archive 1979 - 2013
Artist
- Biography
- Essay (The musical development of Steve Lukather)
- Gear
- Past gear (PDF)
- Songwriting (PDF)
Tour
- Tour dates
- Current tour(s)
- Tour archive
Music
- Steve Lukather & Toto albums
- Full discography 1977 - 2013
- DVDs Steve Lukather, Toto & various
- Highlights (PDF)
- Cover songs (PDF)
Pictures
- Pictures Steve Lukather & peers 1968 - 2013
Videos
- Autorized videos Steve Lukather (related)
Shop
- Steve Lukather albums
- VIP tickets
- Merchandise
Press room
- Press release latest album
- Promo album cover
- Press photos
Contact
- Website issues
- Management
- Record company
About this site
- Site map
- Site history
Site history
We started the official website of Steve Lukather (SteveLukather.com) as a fansite on May 8th 1999 by the name of The musical development of Steve Lukather. We build the first generation website (on the beatline.com/lukather domain) around an essay about Lukather's musical development. In December 2000 we renewed the design and menu structure and on May 1st 2001 we changed the domain and website name into stevelukather.net. In March 2004 we got the domain stevelukather.com in our possesion. In June 2003 Lukather decided to give the website the status of official website of Steve Lukather.
Because the former structure of the first and second generation didn't fit anymore to the huge amount of content, Kay & Arend Slagman & Steve Lukather decided to create a completely new website with the latest .NET technology, new additional sections and a new design. The new interaction design made it a lot easier to surf through all the info and to create all kinds of interaction and transaction possibilities.
On October 9th 2003 Steve Lukather launched the third generation website in De Kleine Kunst theatercafé in Hengelo, together with over 250 hardcore fans and friends, a special acoustic session and the release scoop of Lukather's Xmas album Santamental.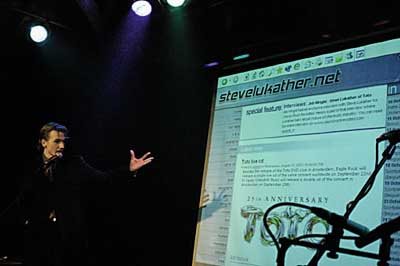 Steve Lukather: "I believe we can do so much more than we are doing as we are all learning just how powerful the internet is! I am glad I am a free agent and can do pretty much whatever I want! I know we will make it happen and I loved to do a big launch." (October 2003)
After 9 years of working with the website version 3.0 Steve Lukather asked Robin & Arend Slagman to make a complete new website, version 4.0, to support the re-newed phase of his career, the release of his new album Transition and his intensive tour scedule. Most striking technical gadget is the fact that the site is auto-responsive for any present device (pc, laptop, tablet, mobile Phone).



The website has been visited from over 200 countries by over 5 million visitors. The top 10 countries are: The Netherlands, USA, Germany, France, Sweden, Japan, United Kingdom, Italy, Finland and Norway.
With this site we want to continue our position-finding of Steve Lukather as one of the most important musicians and guitarists of modern pop, rock and fusion music. Besides we want to share our musical sources, knowledge and information especially with all of you Lukather fans out there. We strive to make this website a huge Lukather library during the forthcoming years. Don't hesitate to help us with your thoughts and information. We want to thank Steve Lukather and all the fans and friends out there who already did help. You all did a great job.
Have a nice and groovin' stay here,
Arend Slagman, SteveLukather.com (content)
Robin Slagman, ProSynergy (design, technique)
Kay Slagman, slagman.com (consultancy)
Hengelo/Enschede/Gronau, March 1st 2013
The website is powered by: