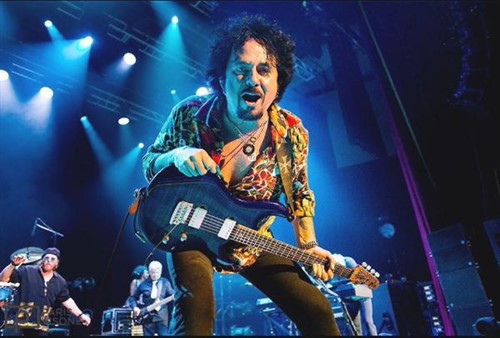 Versatile musician, guitarist, vocalist, composer, producer and arranger Steve Lukather was born in Los Angeles on October 21 in 1957. Before his father bought him a guitar (a simple Kay acoustic) and a copy of Meet the Beatles at the age of seven, Luke started to play drums and keyboards. "I love keyboards, I write all my songs on keyboards except for the real obvious 'burn' tunes. I find it much easier, you have all these great synth sounds and you play a C chord and it's sounds like God, and you start thinking melodies as opposed to chops." (Lukather, 1986).
The guitar and the Beatles album changed the life of the young boy. "Just the sound of it overcame my whole soul, if you want to call it that. I knew that's what I wanted to do. I remember George Harrison played a solo in I saw her standing there and just the sound of the guitar bending and the reverb struck a nerve inside of me." (Lukather, 1993).
In the years following Lukather taught himself how to play the guitar. He hung out with older friends who showed him how to play and how to set the chords. At high school he met the Porcaro brothers who were a couple of years older than him. Jeff Porcaro and David Paich were already doing session stuff. "I was selftaught until about 15 and then I started taking lessons with (classical/jazz/country player) Jimmy Wyble. He taught me how to read and I took a lot of other classes, like orchestration. I wanted to learn. At that point i was really intrigued by the whole session thing. It wasn't something I wanted to do since I was a little kid. I didn't know anything about it until I was in high school. I always thought it was kind of cool to be able to play on all these great artists' records." (Lukather, 1993).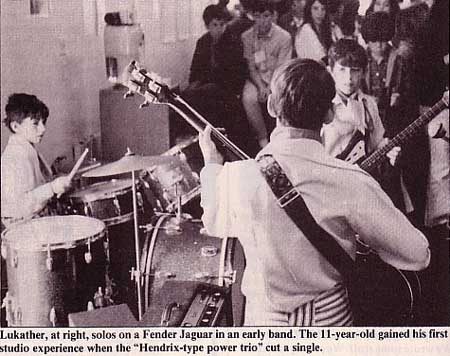 During his high school period especially Jeff Porcaro turned out to be like a brother and mentor for Steve Lukather. "Jeff was like my mentor; he was a guy I looked up to. He and the whole Porcaro family had so much to do with my getting a break in the music business. Jeff was already in Steely Dan when I met him. That was 1972, and growing up in that whole environment was a gift. We learned the whole Katy lied Steely Dan record before it ever came out. In my high school band I was playing with Mike Landau, John Pierce, Steve Porcaro and Carlos Vega. Everybody else has since gone on to do really well. Growing up in that environment ..." (Lukather, 1993)
After playing and touring with Boz Scaggs, David Paich and Jeff Porcaro asked Steve Lukather, Bobby Kimball, David Hungate and Steve Porcaro in 1976 to join for their own band Toto. In the meantime David Paich, Jeff Porcaro and people like Jay Graydon involved Lukather more and more in the session business. In the late seventies and the eighties Lukather showed himself a first class and first called session musician, who played with everybody on the planet (check out the discography).
"Toto was Dave and Jeff's band and vision. I was 19 and so honored to be invited in. You gotta dig, these guys were and still are my hero's. I still can't believe they chose me!!! It was my personal dream come true and that's why I stepped up to the plate when someone had to. Paich and Jeff are soul brothers. I use that in the present tense because when Jeff died, so did our leader. Paich was the brains and tunesmith but Jeff was the spirit and soul. You can't do one without the other. These guys had *IT*! THE thing that you can't describe. It was like being with genius', not in a pompous way at all, just the real shit. The real heart and soul of music. Critics will never understand just how real this band was and still is! Yeah, after 4 lead singers and me being with the band from day one, I picked up the ball and ran with it! Someone had to! I have NEVER been or will ever be the "leader" of Toto... No one guy is, but I will take the bull by the balls and try and keep this legacy alive." (Lukather, 2005)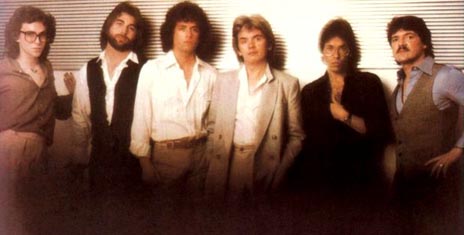 In September 1977 Toto released their first album Toto that generated the hit singles Hold the line, I'll supply the love and Georgy Porgy. With the album David Paich and Steve Lukather started a more than 35 years Toto career. As the diagram in this website points out Lukather did some minor contributions to the songwriting in the first years of the Toto career. However his contributions increased by degrees. "I've been writing songs since I was a kid, but I kind of stopped writing when I joined Toto because Dave had all these incredible tunes. Every day he'd come in and say 'Dig my new tune' and when he played it, it would be a killer tune. To my ears anyway. But towards the second album, like the song Hydra, which was a group written tune and I came up with the riff parts. So it started with that album and on the third album I wrote three tunes and the fourth also had three or four tunes, and then gradually I'm writing more and more. And then there were a couple of hit records with other people, like with The Tubes I wrote Talk to ya later and She's a beauty and also the Benson tune Turn your love around with Jay Graydon and Bill Champlin. So I started writing different weird things for other people and that made me a little more confident about my song writing. Then we started co-writing in the band a little bit more, and by the Toto IV album we were really writing a lot together." (Lukather, 1986)
The year 1982 turned out to be the most successful (commercially) in Toto's and Lukather's career. Lukather, Paich and Jeff and Steve Porcaro contributed heavily to Michael Jackson's Thriller album, that turned out to be the most successful album in music history ever (over 50 million copies). The album Toto IV went platinum and the hitsingles Rosanna and Africa became all time classics. A year later Toto received six golden grammophones at the Grammy Awards in relation to Toto IV and Lukather gained a Grammy for best rhythm & blues song Turn your love around, co-written with Jay Graydon and Bill Champlin.
Although the next Toto albums were less successful than Toto IV, Lukather was (co-)writing more than ever and appeared to be more and more selective in his session work. "We did the sessions for a long time but we're not doing that anymore. It kind of bugs me that people still go, "Oh yeah, those studio guys." I'm tired of that label. I'm proud of a lot of the work I did and I'm ashamed of some of the other work. You know, sometimes you have to polish a turd. That's the bottom line. That's what it is, man - get out the brown polish, man, here we go. I just didn't want to do that anymore. I wanted to play music that I liked with people that I respected." (Lukather, 1993).
After touring with Jeff Beck, Simon Phillips and Carlos Santana in Japan, Lukather released in 1989 his first solo album Lukather, music wise a very heterogeneous album with contributions of lots of musical friends he respected and had worked with: Michael Landau, Danny Kortchmar, Randy Goodrum, Eddie Van Halen, David Paich, Steve Stevens, Jeff Porcaro, Richard Marx etc. In the same year he released the first (self-titled) album of his side project Los Lobotomys, live recorded with the cream of westcoast musicians like David Garfield, Jeff Porcaro, Vince Colaiuta and Will Lee for example. "I like to be making records or playing live. That's why I play with Los Lobotomys. We don't rehearse; it's just fun to get together and play in a club just to keep the chops up. I like to feel the tips of my fingers and it makes me feel like I'm doing something." (Lukather, 1993)
In 1991, right after the departure of Toto's fourth lead singer Jean-Michel Byron, Steve Lukather takes over the role of lead singer in the band. "There's certain techniques that you can learn from professional vocal coaches. I never lost my voice in the all the shows that we did. It was amazing to me. But I warm up properly. It takes me 20 or 25 minutes just to sing along with this tape while I'm getting dressed. Then I'd play the guitar for 20 minutes, have a beer and shoot the shit, stretch out and I was ready to go. It's like anything else. It's like playing guitar, man. If you haven't played for a while and you pick it up and you start playing all this stuff, after a while your muscles feel tight." (Lukather, 1993).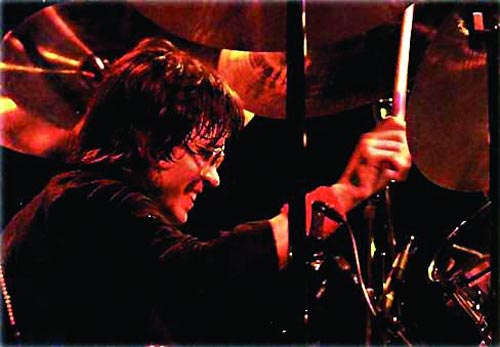 In 1992, right after the Kingdom of desire recordings, Lukather had to cope with one of the most heavy losts in his life, the sudden death of his brother and mentor Jeff Porcaro, who died of a heart attack after an allergic reaction to a pesticide he was spraying in his garden. "How can I equate this? It's so hard for me to actually come to grips with how to put how I feel into words. It's so hard. I'll never be the same without him. But he'll always be with me. I have pictures of him over at my house. I feel his presence." (Lukather, 1993).
"Lots of people think when Jeff died, so did Toto. True in some ways but... The rest of us left to noy play together would not bring Jeff back. We are trying to keep the music alive. I am the only guy that has made every Toto gig and been there from day one, nor have I backed off of trying to keep this thing burnin'. Maybe we will never write an Africa again etc... but we will die trying! We have been together as Toto for 28 years; more if you count High School. We have done amazingly well against all odds and critics hatred worldwide. Jeff lives in our hearts and the music he created with us, and Jeff was always the last word! He just happened to be the coolest and smartest and most together... despite bullshit rumours, of which there are many!!!" (Lukather, 2005)
A few weeks before the Kingdom of desire tour the three Toto members Steve Lukather, David Paich and Mike Porcaro decided to go ahead with the tour and asked Simon Phillips, who toured with Lukather before in Japan, to replace Jeffrey. This decision turned out to be a 'lucky' one, because Simon developed himself as an integrated member of Toto and a very stimulating musical partner for Lukather and his band Los Lobotomys. "But I'm still here to play and we've been playing. At one point of course we thought we should break up. We haven't had a record out in the States in five years. This record, Kingdom of Desire, is the last piece of work that Jeff did with us. He had something to do with the writing and the whole spirit of the four guys who went to school together, without the three lead singers who for various reasons just didn't last. That was always a big problem with Toto as far as identity. We started out as a hard rock band and we ended up with the record company getting way too involved with the choice of singles. Since we have a new record company it's like a new lease on life. Then Simon Phillips came out and played with us." (Lukather, 1993).
After the Kingdom of desire tour Lukather apparently had to change his mind, on his life and on his musical career. On the Toto album Tambu he and his musical mates did a lot of personal reflection in the lyrics of the songs. "Where do I go from here? How do I find my way? When is it loud and clear, that there's no turning back? No looking back. Where do I go from here? Nobody gets away. It's a new kind of fix, for the poor and the rich. You never know what's coming next..." (The turning point, 1995).
What's coming next for Lukather is a second solo album, Candyman (1994), actually a very coherent and heavy Los Lobotomys project with Simon Phillips, David Garfield and Fee Waybill, his third solo album Luke (1997), a very personal and musical journey through the past, his fourth solo album Santamental (2003), with very hazardous fusion and rock interpretations of classic and new Xmas songs, five new Toto projects culminating in the return of Bobby Kimball as lead singer on Mindfields (1999), Livefields (1999), Through the looking glass (2002) and 25th Anniversary Live in Amsterdam (on dvd and cd), and lots of interesting musical side projects. Contributions to projects of David Garfield, Richard Marx, Mike Terrana, Pat Torpey, Gregg Bissonette etc. and touring with his friend and musical mentor Larry Carlton and his mate Edgar Winter.
During their Japanese tour in 1998 Carlton and Lukather recorded a couple of shows. In 2001 they released a selection of songs recorded in the Blue Note in Osaka, in November 1998, on their live album No substitutions. They finally got their honour on February 27th 2002 in L.A.: Larry and Luke are the winners of the Grammy in category 11 Best Pop Instrumental Album for solo artists, duos or groups with their album No substitutions. Luke stated that this award was particularly meaningful for him because of who his winning partner is. "When I was just starting to play, Larry was my hero. To be standing here 25 years later on stage with him with awards in our hands, it's a dream come true."  
In view of his musical development, Lukather became more and more open, sensitive and pure. His voice developed strong and warm and his guitar sound became more and more direct and sharp, no matter if he's raging or playing tender ballads. All these developments seem to come together on Lukather's contributions to the album Inertia (2001) by Derek Sherinian, with Simon Phillips, Zakk Wylde, Jerry Goodman and Tom Kennedy. "Derek's cd is probably my best recorded work in my whole career. Simon got the best outta me. It's just me playin thru a 1/12 Marchall with my guitar, no efx, just a little delay from the board. Great cd! I'm very proud of it!" (Lukather, 2001).
In 2004 and 2005 Lukather contributed to new albums and songs of some old musical friends like Van Halen, Joe Cocker, Edgar Winter, Les Paul & Friends and Tommy Lee. On top of touring with Toto and his own band (with Steve Weingart, Oskar Cartaya and Joey Heredia), Lukather spent alot of time in the studio in 2005 with his Toto mates to record the new Toto album Falling in between, released in 2006 and followed by a major world tour in 2006 and 2007 and the first months of 2008, ending up with a Japan tour together with Boz Scaggs in March 2008, which makes the Toto circle round. Having Greg Phillinganes as an official Toto member, replacing David Paich at the live concerts, Lukather and his Toto mates have given their best for the new album. Lukather: "If this is the last record we ever make (it won't be, I hope), I can walk away knowing we threw DOWN the best we got. I hope the fans will all enjoy and appreciate the love and passion that went into making Falling in between. Our old singer Joseph Williams came back and did a duet with me that's total radio, almost like Africa part 2, plus there is Ian Anderson (Jethro Tull), the Chicago horn section, L. Shankar (Peter Gabriel), Lenny Castro, Steve Porcaro, jazz trumpeter Roy Hargrove and more guests. I think when people hear it everyone will have a smile on the face. EVERYONE in the band brought their best to the party!"
From September 2006 till the summer of 2007, during the spare weeks he wasn't on tour with Toto, Lukather worked on his 5th solo album Ever changing times, encouraged by his longtime co-writing friend Randy Goodrum. Lukather: "My writing partner / executive producer Randy Goodrum suggested that I should do this record. He got me excited to do something different and work with such great players and songwriters. I was also thrilled that my son Trevor co-wrote two of the tunes with us and my daughter sang on a tune and all my friends and amazing musos came out to support". The list of special guest also includes former Toto singer Joseph Williams and Chicago's Bill Champlin on background vocals, Leland Sklar on bass, Steve Weingart, Jeff Babko, Randy Goodrum on keyboards and synths plus a Steve Porcaro cameo on the instrumental track, Abe Laboriel Jr. on drums and other friends and guest stars who all lent their talent to ensure a truly exciting and fresh result.
The results of this new studio effort, released in February 2008, are eleven songs which incorporate all aspects Steve Lukather is well known for. "The record rocks harder than Toto, but there is enough melodic stuff on there to please any Toto fan. There is also music that sounds youthful because my co-producer Steve MacMillan and my son were keeping me honest and up to date" says Lukather, "It shows a lot of my influences and music I like. If it sounds good, then I keep it". Of course the release of Ever changing times will get a follow up by a solo world tour from June 2008. Lukather: "I'm the guy that's really gonna go out and go for it right away. I have a cool product and I'm putting together a great band and I got dates on the books. So I'm hoping that the record does well and I'll be able to build on that and stay out there for a while and get my own thing going on."
After the release of his solo album Ever changing times in 2008 Lukather decided to leave Toto, which meant the end of the band, and focus on his solo career. After two years of touring with his own band (Steve Weingart, Eric Valentine & Carlitos del Puerto) he started the recording of his 6th solo album All's well that ends well in January 2010. The album has been released fall 2010.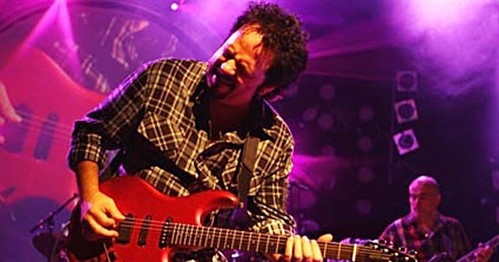 In April 2010 he got the international Eddy Christiani Award for 33 years of guitar mastership. In the meantime Lukather started a heavy touring schedule with Bill Evans (Soulbop), Goodfellas, his own band (with Renee Jones on bass, replacing Carlitos de Puerto) and Toto. The small Toto tour in Europe was set up to help out Mike Porcaro who's suffering from ALS. The tour was that successful that Toto decided to be back in 2011 and 2012. They even decided to tour more heavily from 2013 to celebrate their 35th anniversary.
In 2012 it seems Lukather started a new career with invitations from Joe Satriani and Steve Vai to join their G3 team and Ringo Starr to be part of the 2012 and 2013 version of Ringo's All Star Band. In the spare time left Lukather teamed up with CJ Vanston to work on his 7th solo album Transition, released in January 2013. "Transition is a turning point for the album and a turning point for me," Lukather explains. "As we were writing the songs, I was thinking about everything I've seen — all the people I've lost in my life, the great and the difficult experiences I've had, and how ultimately it was time to get it together and embrace things for what they are, because we've only got one life to live and we've got to make the most of it."
Also touring wise 2013 was a very busy and successful year. Started with Ringo Starr and his All Starr Band in OZ-New Zealand and Japan in February and then the European Solo tour promoting 'Transtition'. Then Toto Europe in the summer... Jumped on Peter Framptons 'Guitar Circus', back to Toto USA and Curacao and then Ringo and his All Starr Band in South America, Mexico and Vegas...
In 2014 Toto recorded a new studio album, Toto XIV, their first since Falling In Between (2006). Keyboardist and founding member David Paich shares, "The repertoire is coming together so naturally it is as though we never took a break from creating as Toto in the studio. For the fans who have been waiting patiently and continually showing the band support and love over the last decade or so, this one's for you. Collectively we can't wait to share these recordings with The World."

Late-spring 2014 "Toto 35th Anniversary: Live In Poland" has been issued via Eagle Rock with configurations that include CD, DVD, Blu-ray and a deluxe package which is revealed imminently. Filmed on June 25, 2013 in Lodz, Poland, the offering captures the band in the midst of a standing-room-only European tour. The two-hour plus performance features the band's hit stocked repertoire alongside other favorites.
In April 2014 Toto returned to Japan for a seven show headlining arena tour that takes them through Nagoya, Osaka, Tokyo, Sendai and Sopporo. In August and September, the band did hit the road as co-headliners with Michael McDonald, for their most comprehensive North American tour in years. In June and July Lukather again joined Ringo Starr and his All Starr Band on a new USA run.
During the last weekend of January 2014 Steve Lukather performed with Ringo Starr at the Grammy Awards. The following day, on Monday the 27th, he participated in The Night That Changed America: A Grammy Salute to the Beatles (Aired on CBS-TV February 9). Luke offers: "This is full circle for me. I started playing the guitar the day I saw The Beatles on Ed Sullivan, and now 50 years later I have been so graciously asked to be a part of The Grammy Awards with Ringo alongside playing and being a part of the 50th Anniversary show. I am beyond honored. I am also so excited about the future of Toto. So many things we have been trying to do have now all come true. A real USA tour, a new album of some killer new material, a new live DVD, and a World Tour to follow over the next two years. These are exciting times for myself and the band."
In March 2015 Toto released TOTO XIV, the band's first album of new material since 2006's Falling In Between. However, the band personally considered the new album to be the true follow-up to TOTO IV, which made the band global superstars. Toto XIV turned out to be one of their most successful albums ever. It charted all around the world showing the true dedication of their worldwide fans. The album landed in the Top 10 on the charts in nine countries (Germany #4, Netherlands #2, Japan #2, Denmark #7, Czech Republic #10, Finland #5, Norway #6, Sweden #4 and Switzerland #3). TOTO XIV also became the first new studio album to chart in the US & UK since 1988's The Seventh One.
During this hectic period of time the band's longtime bassist, Mike Porcaro, died at age 59 from amyotrophic lateral sclerosis, or Lou Gehrig. Lukather: "To say goodbye to another brother (besides Jeff Porcaro), it's always hard. And it was not an easy out. I don't know if you've ever known anybody with ALS, but it is a cruel disease. It takes somebody very slowly. (...) What can you say about things like this? That anything stupid that may bother me is just meaningless when you realize the bigger picture. That's what we're all doing right now. I just know that I'm a better man for having known Mike."
Where the years 2015, 2016 and 2017were dominated by touring with Toto, promoting the Toto XIV album and conquering the US market again, and with touring with Ringo Starr & his All Starr Band. The next years Lukather will focus on a new Toto album (after a new agreement with Sony), his autobiography (set for 2018) and touring with Ringo Starr in Europe and with Toto celebrating worldwide Toto's 40th anniversary.
The celebration album (40 years of Toto), due out Feb. 9 2018, coincides with a world tour whose European leg begins Feb. 11 in Helsinki, Finland, with North American dates slated for the summer. Toto will also be releasing a limited edition box set featuring remastered versions of all the band's albums and more unreleased material, including 1981-84 tracks recorded with the late members Jeff and Mike Porcaro.
Lukather: "We're still here, man, and I'm proud of that. We've taken every punch known to man. We have been running up a vertical glass mountain with butter on our feet for 40 years, hanging on for dear life. We were never cool; In fact, we were the antithesis of that. We came out the same time as the Sex Pistols, and that was a really unfair comparison. Just 'cause we were studio musicians and studied our instruments -- since when is being good at what you do a deficit?"
40 Trips Around The Sun will make the case otherwise with singles such as "Africa, "Rosanna," "Hold The Line," "I'll Supply The Love" and more in addition to the new songs from the Toto catalog. "Alone" is a brand new track that Lukather calls "a great representation of where we are at today," written and recorded by himself, David Paich, Steve Porcaro and Joseph Williams.
"We wrote four brand new songs from scratch, top to bottom, just the four of us sitting in a room," says Lukather, who played bass on the track. "We wrote everything, recorded everything, played everything together. ('Alone') is a real up, positive thing even though the song is called 'Alone'; It's about growing old and stuff like that, but it's really energetic and, I think, an interesting take on it."
Also on 40 Trips are the new "Struck By Lightning and "Spanish Sea," one of five vintage unreleased tracks Toto found in its vaults as it prepared the box set (the other four will appear on the box and may be released with the four new songs as a standalone album later in the year)."The reason we didn't use these (originally) is we figured they weren't up to standard," Lukather explains. "But they sound like they were recorded last week. So we were able to go in there and change the bass part, rewrite the chorus and just make those parts we didn't like up to standard. It was really cool to be able to go back and do that."
The 2018 festivities will also include an appearance by the band on Family Guy as well as the publication of Lukather's memoir, The Gospel According to Luke, which including material about his voluminous session and solo career as well as his life in general. But he says the tone will be celebratory, as will the rest of Toto's 40th anniversary activities.
"It's gonna be a big year," Lukather says. "The next couple of years could be the hugest in the history of the band. People are looking at us differently now. We're getting some respect for what we've done over the years. We have a big audience, much bigger than I thought, and it's like, holy shit -- our music has transcended 40 years. Forty years?! We never would've guessed it. And thanks to all who were on the positive side and, 'Ha, ha, ha, fuck off!' to all the other people. [laughs] Success is always the best revenge."
In the 1993 duologue with his good friend Eddie Van Halen Lukather sighed that he would have been more respected as a guitarist if he had just done Toto. That statement has got everything to do with the mind setting of the critics who tried to shadow the musical development of Steve Lukather. How easy and comfortable is it to get a musician into an explicit corner of the musical history? And how much trouble do you want to give yourself to sift out the versatility, the importance and the delight of the musical capacities of Steve Lukather?
Awards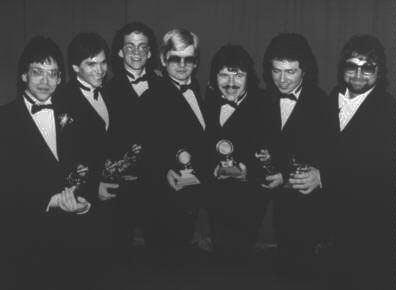 Grammy Awards:
•  1982, Best R&B song: Steve Lukather, Jay Graydon, Bill Champlin (for George Benson) - Turn your love around.
•  1982, Producer of the year: Toto - Toto IV.
•  1982, Album of the year: Toto - Toto IV.
•  1982, Record of the year: Toto - Rosanna.
•  2001, Best pop instrumental album: Larry Carlton & Steve Lukather - No substitutions, live in Osaka.
Edison Award:
•  1999, Lifetime Achievement Award, Toto, Holland.
Musicians Hall of Fame:
•  2009, Toto induction Musicians Hall of Fame, Nashville, USA.
Eddie Christiani Award:
•  2010, Lifetime achievement guitar award, Holland.
Guitar Player's Gallery of the Greats:
•  Guitar Player Magazine winning Best Studio Player 5 years in a row in the readers poll.
Guitar Player's Hall of Fame
•  2015, Lifetime Achievement Award
(Last update January 2018)