In 1983 alone, he played on several Top-20 albums, notably Lionel Richie'sCan't slow down, Olivia Newton-John'sGreatest hits, vol. II,Toto IV and one of the best-selling LP's ever, Michael Jackson'sThriller. He also saw his band sweep the 25th Annual Grammy Awards, taking honors for Album of the Year and Best Engineered Recording (Toto IV), Record of the Year and Best Vocal Arrangement (Rosanna), Producer of the Year (the band itself), and Best Rhythm & Blues Song (Turn your love around, co-written by Lukather, Jay Graydon, and Bill Champlin).
"Even though he's known for being a rock and roller, Steve appreciates what's going on in a lot of fields," assesses fellow studio guitarist Tim May. "He got started around 1977, and came on pretty quickly because he was very strong with rock and roll. People would always call him when they needed a wild solo. He was always real cool, a gentleman. He soon got heavily into record dates, not because he couldn't do the film or TV, but the record people just grabbed him up. He is probably known more for his solos, although he's a fine rhythm guitar player too. He's even played rhythm for George Benson (onThe George Benson collection)."
For Steve Lukather, the climb to the top began with childhood dreams. He was born in Los Angeles on October 21, 1957, and has lived most of his life near North Hollywood. He started out banging on keyboards and drums, and his father bought him his first guitar (an inexpensive Kay acoustic) for his seventh birthday. Buying a copy ofMeet the Beatles caused him to set his course in life: "I knew then that I wanted to be a rock and roll star, and decided that I never wanted to give up playing." Steve's mother presented him with a three-pickup Astro-Tone electric when he was ten. Armed with a Leo Krebs fuzztone and an Alamo amp, the boy kept busy copying solos from Jimi Hendrix' first albums and Eric Clapton's work with Cream. At eleven he obtained an imitation Les Paul guitar, joined a junior high power trio, and cut his first single. "We were playing Hendrix-type stuff," he laughs. "The drummer's father was an engineer, and he took us in the studios and recorded us. I was singing then, and I sounded like Michael Jackson. I don't even remember what we called the trio." During the next few years, Steve supplanted his knowledge of recording by playing on demo tapes.
It wasn't until high school that Lukather began taking lessons, but he made up for lost time by studying with Jimmy Wyble, a fabulous guitarist who had played western swing with Bob Willis and His Texas Playboys in the '40s and jazz with Red Norvo and Benny Goodman in the '50s and '60s. "He's a monster of a player," Lukather says. "He got it together for me. I didn't know how to read a note when I started; I didn't even know what jazz music was until then. Jimmy got me into positions on the guitar, notes, scales, and relationships. I could play pretty good rock and roll, but I didn't know anything about bebop or gut-string stuff, and that's what Jimmy's a killer at. I had built my own way of playing (the way I held the pick and the whole thing) because I was playing by myself. Jimmy didn't try to change my technique, so the lessons always felt comfortable. He did so much to open my ear to other music. He always said, 'Keep your mind open to anything; don't be stuck in a rock and roll thing, or jazz, or any form of music. Just listen to it all.' That stuck in my mind and now I'm pro-everything."
In 1977, keyboardist Jai Winding invited Lukather to his first professional session, an overdub date for an album entitledTerrence Boylan. Also at the session were bassist Michael Porcaro and his older brother, drummer Jeff Porcaro. The Porcaros, along with songwriter/keyboardist David Paich, were scheduled to accompany Boz Scaggs on his 1977Silk degrees tour. When Les Dudek quit the singer's band, Lukather was invited to take his place. Thus at age 19, Steve had his first taste of limousines, private planes, and the other accoutrements of big-time rock and roll.
Upon his return to Hollywood, the guitarist began applying himself in earnest to studio work. He received his biggest help from Jay Graydon, at the time one of the foremost studio rockers. Graydon explains: "When I first met Steve, he was already a good player. He had all of the necessary styles of playing to be a good studio guitarist. I was on my way out. I was shining record dates and getting more involved as a record producer, so I just basically gave him a lot of my accounts. They'd call me up, and I'd say, 'Call Lukather. I'm through.' This was really a weird thing for a guitar player to do because it is so competitive. When somebody has got their little niche, they don't want to give it up. But it was time for me to split, and the best guy to lay it on was Lukather. The ironic thing was that he didn't really need my help. He was already starting to get known. He was a great player as far as everything. His reading was his weakest thing, like it is mine. But we were well-geared for records. We're the 'feel' guys who could play the solos and parts. He was the perfect guy to be next in line, and he obviously did it."
Steve's reputation as a flashy soloist with a potent tone spread. Soon he was doing up to 20 record dates a week. By the time of his September '79 Guitar Player interview, his credits included performances on Alice Cooper'sFrom the inside, Boz Scaggs'Down two then left, Hall & Oates'Along the red ledge, Olivia Newton-John'sTotally hot, Diana Ross'Baby, it's me, Barbara Streisand'sSongbird, and Earth, Wind & Fire'sI am. Even fellow studio guitarist Lee Ritenour had hired him to play on his solo LPFeel the night.
Lukather surprised many observers when, in 1978, he announced that he was forming a rock band with some of his studio buddies. The event caused Tommy Tedesco, LA's number one studio guitarist, to call Steve "the fastest in-and-out studio player ever in existence. This is because he was a young kid breaking into the studios, and before you know it, he's successful with that band, and there it is." Joining Steve in Toto were Jeff Porcaro, David Paich, keyboardist Steve Porcaro, singer Bobby Kimball, and bassist David Hungate. (This lineup would remain intact through the first four Toto albums; afterwards, Hungate was replaced by Michael Porcaro.) The band recorded and produced their debut album,Toto, in 1978. Steve sang the lead vocals inGeorgy Porgy andAngela and displayed a seasoned understanding of economy, flash, and tonal variety in his guitar playing. He provided melodic solos inI'll supply the love,Manuela run andGeorgy Porgy (playing slide on this last track), while other cuts showcased his more aggressive side. He injectedHold the line (Toto's million-selling breakthrough single) with crunchy rhythm tracks and the album's most off-the-wall solo.
Toto released their hard-driving follow-up LP,Hydra, in 1979. Recorded with a fuller presence, Lukather's rhythm tracks added a new tension, and his solos became more intense. He soared throughSt. George and the dragon and provided screaming passages inWhite sister and the metallicAll us boys. The band's surreal video of the title track had them performing in a rat-plagued sewer while a futuristic sword slinger attempted to rescue a distressed damsel. A more straightforward performance video showcased Steve singing the ballad99. Meanwhile, each member of Toto continued to work on various session projects outside of the band.
Faced with less-than-favorable critical appraisals of their initial albums, Toto changed their strategy for their third release,Turn Back. Co-producing with Geoff Workman, the band dialed in a denser, more straight-ahead rock sound. Lukather's thick guitar rhythms were brought to the forefront of the mix, and he soloed on several cuts with an abandon more characteristic of heavy metal than studio pop. He wrote and sangLive for today and co-authoredEnglish eyes and the title track. The LP produced no hits and sold poorly, giving anti-Toto critics a field day.
Toto came back with a vengeance with their latest album,Toto IV, which yielded the hitsRosanna (with Steve singing the softer vocals) andAfrica. Lukather received composition credits forI Won't hold you back andAfraid of love and co-wrote and played piano onGood for you. More than four million copies ofToto IV have sold worldwide (matching the success of their first album,Toto). The album swept the Grammy Awards and finished #11 inBillboard magazine's Top Pop Albums of 1983. In addition, it brought the band the second-ever Golden Note Award for Outstanding Achievement in the Field of Music given by ASCAP (the American Society of Composers, Authors, and Publishers).
Over the years Steve has continued to play on hit records outside of Toto. He is particularly proud of his solos in Don Henley'sDirty laundry (fromI Can't Stand Still) and Boz Scaggs'Breakdown dead ahead (fromHits). He has appeared on albums by other guitarists, notably Peter Frampton'sBreaking all the rules and George Benson'sThe George Benson's collection. Lately he's been showcased on Joni Mitchell'sWild things run fast, the Tubes'Outside inside, Randy Newman'sTrouble in paradise (also appearing in the video forI Love LA), and Lionel Richie'sCan't slow down (adding the remarkable solo toRunning with the night). Steve's most prominent work outside Toto, though, is on Michael Jackson'sThriller. With the exception of Eddie Van Halen's solo, Lukather provided all of the electric guitar and bass parts forBeat it as well as the guitars onHuman nature. He also played on Jackson's hit ballad with Paul McCartney,This girl is mine.
As a result of the Jackson-McCartney session, Steve and Jeff Porcaro were invited to fly to London last April to appear in Paul McCartney's new movie,Give my regards to Broadstreet, and play a tune with the former Beatle. "It was fantastic!" Steve says. "What an honor to be in the same room with him and be able to hang with him and talk. I was picking (Beatles producer) George Martin's brain. It was an unbelievable experience. You won't recognize any of us in the movie. We're all dressed up in wild makeup and wearing wigs."
Steve's projects at the time of the following interview included recording tracks for the next Toto album, writing songs for the Tubes, and co-producing a Jim Crane album with Jai Winding for MCA. Steve adds that although Crane has two fine guitarists in his band, he couldn't resist adding his own instrumental voice: "I just can't sit there and watch people play; it makes me crazy!" The natural enthusiasm Steve displays as a player carries over to his conversation as well, as evidenced in some of the outspoken responses that follow.
....................................................................................................................
Obrecht: After all the success you've had as a studio guitarist, what's the appeal of being in Toto?
Lukather: It's a place where I can write songs and play. I can experiment with sounds and stuff I can't do on sessions. In sessions, you go and play. You can experiment around a little bit if the artist or producer is somebody you know. Sometimes they'll say, "Hey, freak out and do whatever you want to do," which happens quite a lot more these days. I guess they trust me. As far as Toto, the band is the ultimate. In fact, I haven't been doing many sessions in the last year or so.
Obrecht: What percent of your working time is spent with Toto?
Lukather: At least 80 percent at this point. The band is the most important thing to me.
Obrecht: As far as your session work is concerned, do you consider yourself a rock specialist
Lukather: Yeah, absolutely. Not in the sense of being arrogant or anything like that, but in the sense of that's what I do best. I come in and play; I do a lot less reading. I can read, and I think everybody should learn how to read, because it's very important just to be able to look at something and interpret it. But with most of the guitar playing I do, somebody will play something and say, "What do you hear?" and I'll come up with a part. About 90% of what I play is not written out. I guess because I've played a couple of solos on hit records or whatever, I've built my reputation. All it takes is to have a couple of hit solos, and people will be calling you all the time. I was very, very lucky the get involved in all this stuff. I'm overwhelmed by how much work I've done and who I've gotten a chance to work with. I've had a chance to work with just about everybody I wanted to, which is a hell of a thing just to be able to say. I don't want that to sound weird; I really mean that sincerely. It's wild.
Obrecht: When you get called to a celebrity-type session, will you usually be working with semi-finished tracks
Lukather: Yeah. They'll have just about everything done, which is great because I get to hear the tune right before it's out. I'll just tell them to save me eight bars and one track, or two tracks, if I talk them into going stereo, which I like to do most of the time.
Obrecht: When you record in stereo, will you play the same part twice?
Lukather: No. This is stereo at one time. I used to double a lot of things, and I just found out that that sound isn't really happening. For acoustic guitars, I still double things on our records, just little bits, but not like whole crunch guitar parts. On our first album, I tripled all my rock and roll guitar parts, all the fuzzed-out stuff.
Obrecht: That's become a prominent trait in heavy metal.
Lukather: Yeah, but it always has been. Listen to the early Black Sabbath records, or Free (All right now fromFire & water) is all doubled guitar. There's nothing new about that. You ought to listen to Eric Clapton on some of those early Cream albums (Disraeli gears andWheels of fire). Jimi Hendrix doubled a lot of stuff, like the rhythm parts inAll Along the watchtower onElectric Ladyland and some stuff onAxis: Bold as love. Hendrix never doubled a whole rhythm part, but there would be parts where you can definitely hear it. He was one of my heroes, still is. I couldn't believe it when he made his first album in 1967. That's almost 20 years ago, and the vocabulary of what he played is still very relevant today. People are still stealing his stuff. He's still the guy. Against guys like Edward (Van Halen), he's absolutely a giant. That's not take anything away from Edward; he doesn't sound like Hendrix. He's like the newest rock and roll guy to come along, and now everybody is copying his stuff. You can't walk into a guitar store without hearing somebody trying to do Eddie Van Halen, which is a big complement to him, but it must be hard after a while to hear everybody doing a bad impression of him.
Obrecht: People who imitate his style (particularly the fingertaps) almost automatically open themselves up for comparison.
Lukather: Yeah, but look at Allan Holdsworth. Here's another guy who does that sort of thing, but in a completely different way. You wouldn't listen to Allan and Edward and compare the two in the sense that they do the same thing, because they don't. So you can take that technique and weave it into your own thing. But blatantly stealing the licks, that's cool. Everybody steals. I've certainly done it a few times myself, to be honest.
Obrecht: What thought processes do you go through when soloing over someone's semi-finished tracks?
Lukather: I try not to go through any. I listen to the tune a couple of times without playing anything, and I'll get an idea of the sound, which I'll talk over with my tech, Dick Gall. I'll tell him something like I want this kind of flange-delay sound, and he'll go out and get the sound. I'll listen to it, and I might suggest, "Well, why don't we add a little more modulation to the delay," or whatever, and then he'll tweak it out. He's an engineer in his own right.
Obrecht: Could you describe your approach to soloing?.
Lukather: I don't really think too much about it. Take that Don Henley tune,Dirty laundry. (Producer) Danny Kortchmar is a great guitar player himself, a very underestimated guy who plays really tasty stuff all around, so I was really flattered when he wanted me to play. He said, "Luke, just go for it. Turn it up." So I just took a couple of Marshalls, cranked them all the way up, got a stereo effect, played it with a little tape slap, and just went for it. It was pretty much the second take, one combine some place in the middle of the track. Usually I play my best stuff when I plug in and play right away, when it doesn't get so labored that I start getting into my own clichés. When I get to the fifth take, I start repeating myself and getting hung up. That's the advantage (and the disadvantage, I suppose) of being in a band, because you can take the time to pick yourself completely apart. Like on some of my solos on Toto records, you'll hear basically a melodic play off the vocal melody. That stuff I work out. I'll work a little bit out at the end, like a climb kind of thing to get out of it. It's more like a part rather than a solo. But as far as just going for it, I never think about it. I just do it. The more I think about it, the worse I play.
Obrecht: So musical terms never enter your thoughts?
Lukather: No. I don't go, "Well, I'll use a pentatonic here to a dorian there." You start thinking like that, and everything is going to start sounding stiff and sterile, as far as I'm concerned. If I have any stylistic approach at all, I think I basically mix up little jazz influences into rock and heavy metal technique and sounds. I don't consciously think about it. I grew up listening to Hendrix, Clapton, Jeff Beck, Jimmy Page, and all those guys. They were my heroes; that's all I listened to. I didn't even want to know about most black music or R&B and stuff like that. I was locked into this "bang your head against the wall" stuff, which was great. I learned so much from it. Then I went through the Al DiMeola, John McLaughlin period in high school, and then I could turn on to Larry Carlton.
Obrecht: Is this when you developed your technique?
Lukather: Yeah. I was studying with Jimmy Wyble, who was brilliant. He really taught me a lot. I was a terrible student. I kept on going, "Yeah, I just want to be like Larry Carlton one day!" Jimmy would just look at me like, "Yeah, right. Buddy, your reading is a joke. Get it together [laughs]." Jimmy was great. He was very basic with me. I did learn a lot, because when I went to him I was Mr. Pentatonic. My ears had not adjusted yet. Then I heard Carlton, and that changed things. He was doing what I wanted to do. All I did, basically, was just turn my amps up louder than Larry does. But now I don't play anything like him; I don't want anyone to think I'm comparing myself to somebody that good. I loved the way he snuck in and out. His sound and Jay Graydon's really affected me.
Obrecht: Did any of Carlton's solos stand out in your mind
Lukather: Kid Charlemagne fromRoyal scam. I was into Larry when he was in the Crusaders, but I never heard him blow like on Steely Dan'sRoyal scam album. Guitar-wise that album changed my whole life. The only other person who moved me that much was Hendrix. Carlton had the rock and roll sound, but he was playing in and out of changes like a bebop player would. My mind was messed! I went, "Yeah, that's what I want to do!" I played around town and got to meet him, and he was always very nice to me. Then I met Jay Graydon, and Jay helped me get in the studio scene. He taught me how to get my sound together, and I loved the way he played. He was like Larry, but a little more rock and roll. So I stole everything (as much as I could) from those guys, along with what I stole from all the classic guys. I sort of threw it up in the air and caught it, and I guess that's basically where I'm at, if I may honor myself by saying I stole from those guys. But I did, blatantly, as a matter of fact.
Obrecht: Can you now play everything you imagine
Lukather: Yeah, pretty much, in the sense of when I think of something, I can sing it in my head and play it. In a melodic sense, absolutely.
Obrecht: Is what you play on your own different from what you play professionally?
Lukather: Yeah, because it's freer. I can play whatever I want. I wish I had recorded it sometimes, because when I'm sitting back on my couch and playing without thinking about it, it's like somebody else enters my body. I start playing stuff I never played before, and come up with ideas for licks. I'll try to see how sleazy I can get all the way up the neck, having one bend go into another bend, and that sort of thing. I'll goof around with that and maybe apply it to a solo later. I try not to repeat myself, but sometimes it's hard. It's almost like a stylistic thing: There are certain things every guitar player does, and will do more than once. There's usually a little bit of it in every solo they play. That's what makes it a style. I use a lot of chromaticism as well, to get from one place to another, which I stole from the bebop cats.
Obrecht: How can guitarists avoid repetitious soloing patterns?
Lukather: Don't get locked into blues patterns, all those classic licks that are a part of every guitar player's vocabulary. I use them, too. But don't be afraid to use 9ths and chromatics and weird ways to approach bends. Skip strings, go from the D string to the B to the G to the E, so you aren't just going through them in the same order, 1st, 2nd, 3rd, and 4th string. If you are locked into the blues, you can take it minor or major. Just start out slow. That's what's great about jamming and experimenting. You can try to not play the same approach, and you can get into something weird. Take your time and don't be afraid to play a bad note.
Obrecht: What do you do when you hit the wrong note?
Lukather: I realized it was okay to play a bad note when I saw Larry Carlton at Donte's six years ago. He broke his E string and pulled it off, and everybody was looking at him like "Oh, no." Then he took his clippers and clipped off the B and G strings and played a killer solo on the low three strings! I was on my knees with my mouth open, going "Huh?" He was cracking up, and he was blowing through the changes with a fully built solo. Then I heard him hit a bad note, and he didn't even flinch. It was like, "I'm blowing, man, I'm going for it. It doesn't matter. It's okay to make a mistake." Nobody winced. See, the worst thing you can do us make a face, because then all you're thinking about for the next ten bars is how badly you blew it in bar two. Inevitably you'll make another mistake because your mind is tripping out. You can psych yourself out as a player, everybody has. If you are nervous and make a mistake, then you go to pieces. You start breaking the guitar or biting the neck with your teeth! Somebody told me, "If you make a mistake, do it twice. Then they'll think you did it on purpose."
Obrecht: Do you ever feel like you're getting into a slump
Lukather: Oh, yeah. It's usually when I'm producing a record or when we're in the middle of our album and doing vocals for two months or something like that. I don't play that much, and when I pick my guitar up, it's like, whoa, man, back to school again. I get physically and mentally bummed out. I go home and practice. I can't let myself slide like that.
Obrecht: What's the longest you'll go without playing?
Lukather: A week. But if I'm working every day, I'm playing a lot. After 15 hours a day of concentrating on vocals and stuff like that in the studio, the last thing you want to do is go home and play more music. But if you're involved in any aspect of music, whether it be singing, writing, or whatever, you're constantly learning something everyday. I wish I had the time to practice daily. "Discipline" is more the correct word, but I'm basically lazy. As soon as we get more time, I want to take more lessons.
Obrecht: What do you do when you haven't played for a while and have to get back into shape quickly?
Lukather: I start practicing a lot of techniques and scales up and down the neck. I make up my own exercises that are real hard. If I can't play something, I'll work on it until I can.
Obrecht: How do you warm up
Lukather: I used to sit down with my guitar and just try to play as fast as I could to get my chops together. But I found the best way for me to warm up is to play a bunch of chords, like a bebop tune. I don't know that many of them, because I'm not really a bebopper, but playing through some rhythms helps loosen the wrist up a little bit. I'll play some of the hard Ted Greene chords and stuff like that. Then I can ease into some scales and practice a little bending and make sure it's in tune. It's like working out with weights: You don't just walk in and start slam banging 200 pounds. You work up to it. That way your muscles are loose when you start playing.
Obrecht: Do you do follow any special picking patterns?
Lukather: Not particularly. I really mix up my technique. It's legit, but not real legit. I hold my pick with my index and thumb, with the pointy end forward. My other fingers float. I used to rest them on the guitar, but it stopped me from moving faster. Sometimes if I'm doing pick harmonics, I'll pull the pick in lighter.
Obrecht: Do you warm up the same way for studio and stage?
Lukather: Mostly for the stage. In the studio I feel a little looser. I don't have that kind of pressure, and I can sit back. Often when you go to a session for somebody, you don't have the luxury of taking the time to go through the routines. If you're working during the week, your chops are up anyway.
Obrecht: Is there a difference between your studio and stage playing?.
Lukather: I can play a lot more live. I can take longer solos. If I want to go crazy, I can. It's a performance. I like to go for it. There are certain tunes that I'll play like the records, because the part is important to the tune. But as far as blowing, I never play the same thing every night. I couldn't do that. That would drive me nuts.
Obrecht: Will you take chances and go outside the realm of what you normally do?
Lukather: I like to do that. In fact, this was great: I used to play the Baked Potato every Sunday night. I took over Larry Carlton's place in this band with (keyboardist) Greg Mathieson, Jeff Porcaro, and (bassist) Pops Popwell. In fact, we made a live record for Japan as theGreg Mathieson Project. Playing there was heavy scene. I almost puked the first night. Everybody was saying, "Where's Carlton?" and I said (meekly), "Hi, I'm Steve Lukather." This was two or three years ago and it was the greatest thing for my playing, ever. You play in front of 80 poeple, a lot of whom are guitar players, musicians, or real music fans. It was all instrumental music; we didn't play any hits or any of that shit. We were playing like all blues, Miles Davis tunes. We wrote some stuff. We could just take it out, man, and go for a bunch of choruses. Mathieson was great. He really enlightened me a lot about building solos. I was so used to doing everything in 16 or 8 bars that peaked in two choruses, and I still had three to go! I'd have to use the wang bar or break the guitar like Pete Townshend (laughs).
Obrecht: What soloing philosophy do you apply to Toto songs?
Lukather: I try to do what's right for the song. I could probably play a lot flashier on our records; I tend not to be so flashy. It just doesn't come across most of the time. On something likeRosanna I played a solo at the end which was never rehearsed. This happens with our band a lot. We'll just play a take, and all of a sudden we'll start doing things we've never rehearsed or even talked about. The solo in99 (fromHydra) was never rehearsed; it was the second take. That's what's so bitchin' about this band. We're all best friends. People usually assume that people in rock bands don't really like each other because everybody is so egoed out, especially with a band like ours where there are a lot of studio players, people from different backgrounds who do the same thing.
Obrecht: What inspires you?
Lukather: Sometimes the other guys in the band, like Jeff Porcaro. As a drummer, he comes up with some of the best rhythm parts and ideas for guitar. All the guys are the same way. With the way our band works, I might come up with an idea for a keyboard part. I play a little bit of keyboards, and that way I'm not thinking so much, "Okay, as a guitar player, what guitar part would I play?" I also get inspired by other musicians as well -- a guy like (keyboardist) David Foster, for example. He knows how to talk to me and get the best out of me. He can say, "Why don't you go up to that G?" and that one note can open up a whole new flow of ideas. It's interesting how you get inspired by people. One little idea from even somebody who doesn't know anything about music can open it up. There are a lot of good producers who don't necessarily play. But they know how to talk to you, instead of, "Well, man, I don't know what I want, but I'll know it when you play it." That kind of attitude sucks, because inevitably they'll ask you to the play the first thing you did, and you forgot what it was.
Obrecht: How do you compose songs?
Lukather: Most of the time it's multiples, several guys in the band will write a song. We'll just come with the tune and start playing. We don't write out charts or anything like that. I mostly write on piano. I don't know so much on piano, so I tend to write simpler things. Plus, when you're composing on piano, you hear the full range of everything (the low end and the top end) and you can sing over it. I'm not talking about heavy rock and roll tunes, that's all guitar stuff, basically.
Obrecht: When do melodies come to you?
Lukather: They come at strange times. I can wake up in the middle of the night with one. Then I make the mistake of going, "I know I'm going to remember this in the morning," and fall back asleep and forget everything. I find writing lyrics hard; I'm a terrible lyricist. I experience blood, sweat, and tears trying not to make them a cliché or corny. I wish I had the knack to write teenage sex music, the classic sex lyrics. I love stuff like that, "Let's get it up," but putting it in new way, not so blatant.
Obrecht: How have the studio backgrounds of the musicians in Toto aided the band?
Lukather: They certainly have helped in the sense that we all know how to run a console. We can all mix a tune if we want to, and we know what everything does and how to use it to its fullest potential. We know about outboard gear, microphone selection, and what to use on what. I'm always keeping my eyes open. I'm an echo jockey, a closet engineer. I love to do rock mixes. I've also learned how you can overdo or underdo things. The time to experiment with sounds is not when you're mixing, because that's a real waste of time, but up until you're ready to record. You can try it real echoey or dry, try different delays and whatnot. That's what's so great about being in a band, man. It's your songs, your band. You can take the time you want. That's the joy of having your own studio. People think we are a bunch of studio jocks who sit here and write out our own parts and read them. That's not it at all. This is a real band. We take this very seriously. We're not doing this to make money. Even though this is very lucrative, we also had a stiff, too. Our third record didn't do well at all, in fact, it went plywood (laughs).
Obrecht: The success ofToto IV must have reaffirmed your faith in what you're doing.
Lukather: Yeah. We found that we had been getting away from what we had originally intended to do, which is just be ourselves. We started reading and believing bullshit criticisms of us and tried to alter our sound to that. At least that's where my head was at; I can't speak for everybody. I was getting pissed off at these critics. I'd say 90% of them are talentless clods who don't even know what they're doing. They couldn't tune a guitar or play a C scale on the piano. They couldn't sing anything; they've never written a song. They've never played in front of people or made a record. they don't know the pressures. How can somebody write that any album is a piece of shit when somebody's put his heart and soul into it, no matter what kind of music it is, from jazz to rock to classical pieces to Moms Mabley sings the blues? Whatever the background of the artist, whatever his technique, it's still somebody putting his blood, sweat, and tears (to use a cliché) into what he is putting out. This is his ass on the line. It doesn't matter if it stiffs. It doesn't matter if it sells any records at all. People ask, "What are they trying to say?" We're not trying to say shit! We're trying to make music to make us happy and to make anybody else happy who cares to listen to it. That's all.
Obrecht: Some people hold the view that studio musicians are less-than-creative players.
Lukather: How dare somebody say that! They don't know what it takes to come in a studio and do a date, man. People hear you play on something and go, "Yawn. The same old Toto shit on every record," because we all play on a lot of records. They don't realize the fact that you go in there and are told what they want you to play. That's why they hired you. You've got to play what they want. That's your job, like anybody who goes to work and does their job. I'm honored to do the work, and you make a lot of money and get to work with great people. But it's not always that way, by any means. There are a lot of people who just let you cut loose; they're great. I'd work for free for those people. I'm not thinking about dough when I'm doing something like that. Other times I'll do a date and make them happy, but I'll walk away wondering, "Why did you hire me, man? There are a lot of other guys who are eager to do this." I'm not saying I'm some old fart who's paid a bunch of dues, because I haven't, but I've done enough to know that it's unfair that they will hire me at this point only because I've been proven, because I've played on hit records. They think that maybe if I play on it, it will contribute to its being a hit.
Obrecht: Isn't it the song that sells?
Lukather: Absolutely. People don't buy a guitar solo. They buy a song. If you can add something to that song, then you've done your job well. I don't even get into the realm of the Tommy Tedescos, the Tim Mays, and those guys that do the real studio work. These guys have to anything right now, read it first time through. And we're not talking about little Bambi shit, they have to read some music, man! That's hard, intense work. I've done a couple, which was enough to let me know that there is a god who got me through it (laughs). I looked like the mole people, with my eyes out to here! The pressure is intense. There could be 80 people sitting there, and if you're blowing a part, you're costing people loads of money. I really respect all of those guys, Tim and Tommy and Dennis Budimir.
Obrecht: How can a hard rocker benefit from learning to read music?.
Lukather: Any musician can benefit from it. It makes it easier for you in general, easier for you to put down ideas you would normally forget if you didn't have a tape recorder. Reading music might not help you in your career, but it certainly can't hurt. But learning to read music isn't essential by any means. Look at the old blues players or Hendrix: These cats couldn't read, but you certainly wouldn't say they can't play! But if you want to be a studio player, you have to learn how to read at least enough to get through it. I'm not an incredible reader. I wouldn't embarrass myself by sitting down next to Tedesco and saying, "Sure, man, match you note for note." Forget it! I'd end up with my underwear stuck to the seat.
Obrecht: Do guitar schools, magazines, and even the players themselves tend to paint too rosy a picture of what studio life is like.
Lukather: No. Places like G.I.T. and Dick Grove are very valuable for a learning experience. I think what's a little misunderstood is that people from out-of-state will come in and think that if they go through this school, they are going to become a studio player. There are a lot of great players in these schools. There are a lot of great players everywhere. It's amazing that a guy like me even is working, because I've heard guys who can just blow me off. But it's attitude. Attitude is essential for getting into the studio. You can't be too pushy. You have to be yourself. You can't be playing up to some guy: "I love you man, you're beautiful," call him all the time and bug him. My advice to anybody is just play as much as you can, whether it be a top-40 gig or anything. Just play. I got into the studio by doing free demos. I was the demo king, used to make $25 a tune. But I learned a lot about sound and recording, which is essential. The more you hear yourself recorded, the more you learn about yourself as a player. You are your own worst critic. A lot of people can go, "Oh, man, I loved you on this solo," and you're thinking, "Yeah, but I was flat in that note, and they didn't put on enough echo."
Obrecht: You're not always in control of how your part is finally released, either.
Lukather: Yeah, that's another thing: You do three tracks of solos for people and they will just put one together. They'll use the first part of one, the middle part of another, and it doesn't really work sometimes, like, "That can't possibly be played." So people go, "Ah, that guy punches in all his shit, typical studio sausage stuff." But when you work for somebody else and walk away from that studio, you don't even know if they are going to keep your part. The first time I ever played on a record, I went out and picked it up and somebody had erased my part. I was crushed! And then Graydon told me, "Look, man, it happens to everybody." I figured if Graydon told me that, it's all right. He was the cat, the number one guy.
Obrecht: Have you noticed any changes in the studio guitar scene in the last few years?
Lukather: Yeah, there's some new guys. Mike Landau is brilliant, an incredible guitarist. There's another guy, Dan Huff. These are the cats who are pretty much doing all the records for rock and roll stuff. Carlos Rios is doing a lot of things, too. I haven't really been keeping up with it, because I haven't been doing that many sessions. I just basically do stuff for my friends now, because the band takes up so much of my time.
Obrecht: Are keyboard synthesizers taking away guitar parts
Lukather: I don't think so. Even if they don't have a drummer or a bassist, all the synth bands usually have a guitar player because there is still nothing that sounds like a guitar. Hey, I'm sorry. And even the drum machines and stuff like that are cool for a while, but I prefer the real thing. It can be effective on a tune, but I can't listen to a whole record of drum machine. It's stiff. But I can dig the Thomas Dolby stuff and anything with a sense of humor, because I'm a weird guy anyway. I'm looking forward to trying the new Roland GR 707 guitar synthesizer. Lee Ritenour used one on his new record.
Obrecht: Do you keep up with the latest developments in technology?
Lukather: I try to. I keep my ears open, and if I hear about something, I'll look into it. Sometimes people come to me with new ideas. I'm a sucker for delays and gadgets. I try to put as much studio-quality stuff into my racks as possible. Dick Gall keeps changing them, and he designs me things.
Obrecht: What are your views on using vibrato bars?
Lukather: I like them, I think they're great. Everybody in the world uses them to (imitates sound of a diving airplane), even myself (laughs). But I've been experimenting a lot with them. I'm trying to find some new stuff. Allan Holdsworth doesn't use his in the classic sense. He uses it to bend up to things, which sounds great and is very effective. There is a lot more to do with that vibrato bar than people have been doing, little subtle things, like using it on chords, which isn't new, either. I have a Floyd Rose tunable tailpiece on my favorite guitar, my '63 Stratocaster. I got one of the Floyd Rose devices when they first came out. I thought, "Ah! What I've been waiting for all my life." Wang bars were a drag before. You'd wang out, and your guitar would go so pitifully out of tune. It was terrible.
Obrecht: Do you play slide
Lukather: I just dabble in it. I have a '58 gold-top Les Paul that I use.
Obrecht: Do you use open tunings?
Lukather: I'm getting more into them. Waddy Wachtel turned me onto the Keith Richards 5-string open-G tuning. I pulled the low E string off my Fender Esquire and tuned the rest of them G D G B D (low to high). You have to have that tuning to make Rolling Stones songs work. It's good for real slam-bang rock and roll; it you play nasty. I also experiment with some wild minor 11th tuning.
Obrecht: How do you decide what guitar tone to use? Do you usually conceive it in your mind first?
Lukather: Yeah. I'm always trying to find something new. But for me there is still nothing like the sound of an amp cranked up all the way. But there are countless things you can do to just get weird sounds. Like you might plug your guitar in and get a completely cranked sound. Then you go up to a module where all the EQ is and at 10K [10,000 Hz, or cycles per second], you crank the top at 4dB and then you take 1k and pull 6dB out and add 2dB at 100Hz, and you get a razor-edge, fuzzed-out sound that still has got the hair on it. It sounds like a bitchin' fuzztone. I've found an old (Dallas-Arbiter) Fuzz Face, so I'm getting back into that. I'm looking for a Univox Univibe. I'm regressing back into the old stuff, the first three Hendrix albums. Come on, it worked then. That stuff still holds up.
Obrecht: How much does the equipment really matter
Lukather: It doesn't matter. You can't give somebody a $10,000 Les Paul who has never played and expect him to make it sound good. Then again, you can get a guy with a $10 Teisco guitar and he can make it sing, even if it has funky strings and the intonation is all screwed up. It's really the player who makes the instrument sing. A lot of it is in the hands. It's like having a hundred great players all play the same blues lick: They'll all sound like themselves. No two people sound alike, even if they copy the same solo note-for-note. You could learn the solo toKid Charlemagne and it would never sound like Larry Carlton. It would sound like you playing a Larry Carlton solo, which is cool because you learn a lot.
Obrecht: A lot of young players spend hours trying to copy the latest Ozzy Osbourne solos without trying to...
Lukather: That's incredible! That's what they should do. The best way to learn how to play rock and roll guitar is to copy people you dig. It is very valuable for a young player who has just been playing for a couple of years to get that vocabulary under his fingers, to understand wang bar tricks and how and why things work. Just learn how to do it. Like Pat Martino said, "Try to learn everything you can, and then forget it." Then just play your own stuff. Learning everything from a book isn't going to do you any good. You need practical application of what you learn. When you are out doing a Top-40 club gig six nights a week, three sets a night, and learn an Ozzy solo, eventually you are going to start playing other stuff. You are going to start permutating those little things. That's how you develop your style. I'm sure Carlton learned solos from old jazz guys like Wes Montgomery. You can hear the same elements in everybody's playing; everyone has the same blues vocabulary. But it's the vibrato and the touch that makes the style. You develop what pleases your ear, and if you're lucky, it will please someone else's ear.
Obrecht: What's the biggest reward in your line of work.
Lukather: There are so many of them. I flipped the first time I heard myself on the radio. My mom called me up and said, "Turn on KLOS." It was the songHold the line, and I started running around the house in my underwear, screaming, "I'm on the radio!" My wife was cracking up. It was just a thrill. The other thing is to have someone come up and say, "Hey, man, I really dig your playing," and really mean it.
Obrecht: is it ever difficult to keep a perspective on yourself after being on so many hit records and seeing your band sweep the Grammys?
Lukather: My wife always kicks me in the ass if I start getting the least bit arrogant. She's great. She's patient, and she's been through the whole bit before, from the beginning.
Obrecht: Has the success ofToto IV caused the band to feel that they should duplicate that style of music?
Lukather: Nah. The new album will be an extension of that, but we experiment with lots of different kinds of music and cover it all up with a rock and roll edge.
Obrecht: Have you considered a solo album
Lukather: Yeah. It probably wouldn't be like an Al DiMeola solo album, where it's all guitar. It probably would be a rock and roll record, a lot more rock and roll than Toto records. I'm a metal fan. I love heavy rock and roll. I like it so loud that my ears bleed, not all the time, though, because you can hurt your ears doing that. But I listen to it all the time. I have an extensive heavy metal collection. Metal is guitar music. My favorite is Van Halen. More than just Eddie's guitar playing, which is obviously brilliant, I love the spirit of the band.
Obrecht: Are you happy with the way your career is going?
Lukather: Very happy. My life is real together, and I'm very honored with what's happened. I take it seriously. I'm not the kind of person who walks down the street and people recognize at all.
Obrecht: What would you like to be doing in ten years?
Lukather: Same thing. Just playing and grooving with making music. More important, I want to be respected by my peers. I'd just like to be remembered for being a good player. I have nothing political or intense to say to anybody. I just love to play music and be with people who love to play music. That's it.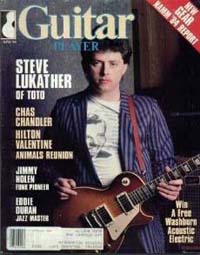 Guitar Player, April 1984