Tambu (1995)
Creative direction: Doug Brown, Art direction: Eric Scott, Cover illustration & portraiture: Daniel Brereton
In 1995 Sony Music International, in association with Toto's representation Fitzgerald-Harley, issued a powerful comeback campaign directive for the band; the first result was Tambu... Inspired by the band's fascination in invented word-hybrid... "Something which could mean something brand new unto itself," a cross between "taboo" and the tamboe, an instrument played by percussionist Simon Phillips.
Tambu – the album – was a conceit born of a love for pulp-fiction covers and tawdry bedside reading. The album concept, devised by Eric Scott and Doug Brown (WorldWest Communications), involved a period juke joint setting, in which the band were to be filmed and photographed while performing, for both their album photography and music video I will remember... The design of the sleeve itself was a laborious affair, involving the creation of a custom typeface "5 4 0" (a distressed variation on Caslon) and many coffee-stained and soiled pages of a lyric booklet; representing the innards of the same pulp novel...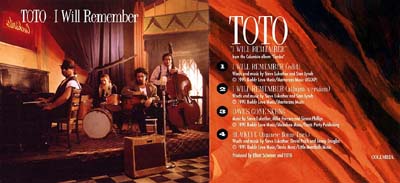 Dan Brereton is an award winning and critically acclaimed painter, illustrator and comics writer from the West Coast. He is best known for his work on Nocturnals, a comic book property he created ten years ago, which is now published in various volumes by Oni Press and can best be described as "Spooky Noir Superheroes". He's painted hundreds of comic book covers and over a thousand comic book pages and worked on such titles as Buffy the vampire slayer, Clive Barker's dread, Batman, Ultimate Spiderman, Justice league, Superman, Conan, Giantkiller, The psycho, Birds of prey and many more. Outside the comics field, his work includes art for Rob Zombie's CD Hellbilly deluxe and Toto's Tambu.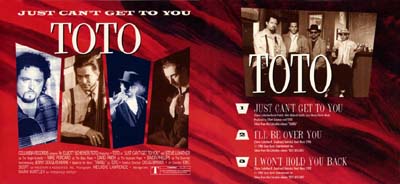 Dan Brereton on the Tambu illustrations: "A design firm entrusted with the job of creating the look of the new album and it's cd designs, etc, hired me, after seeing my work in a DC comics project called Legends of the world's finest. They liked the style of my art and wanted me to do a "pulp" style lurid romance cover, like a 50's style paperback, for the cover. They had examples of the kind of thing they were looking for and one cover in particular stuck out. It had a couple dancing in front of a small fire. We recreated the figures shooting photos of two models in front of a bonfire and I did two different paintings (the first was slightly more passionate and racy than the second, but not all that different). After that part of the project was approved, I went to work on the portraits of the band members."
"I did 9 different portaits. Steve's portrait I painted three times and the rest I painted twice each. What had happened was originally the deadline for the job was like two weeks, so they had little photo reference to send me of the band. They sent me some pictures that werent recent at first, and after I did those, two or three of the band werent satisfied with what I did. Simon said I made him look 'too good". Dave said the photo I'd done my first portrait from reminded him of a "bad time in his life, he'd rather forget". They liked the art just fine, but I think were a little self-conscious of the possibly over-favortable light in which I portrayed them (the designers had asked me to purposelfully make them look "good", as they "weren't getting any younger", etc, etc.. so I tried to oblige them). The record company wanted to package them as sexy older rock stars, and I think the band wanted to be seen as serious musicians. I thought they looked fine, like a solid bunch of mature rock guys, but , hey, I was just a hired hand! I did what they asked me to."
"At this point it looked like they had a few more weeks to spend on the project, so they photographed the band in an LA "juke joint" and sent me several head shots from that session. I finally had the good photo ref I needed and I went to town. The designers and Steve werent happy with his second portait (said he looked too Asian or something, search me) so I did one last version, which you can see inside the CD jacket. The job took much longer than expected, but in the end everyone was happy. They gave me the actual paperback that they used in the CD cover's photograph, I have it on my wall."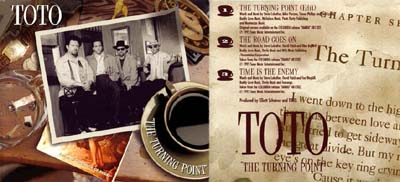 Luke (1997)
Creative direction: Doug Brown, Art direction: Eric Scott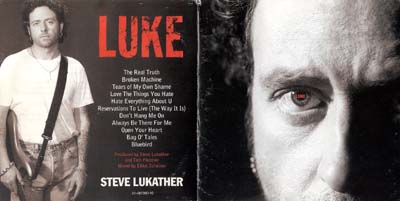 1997 proved to be a strong year for Steve Lukather, when Sony Music International, in association with Fitzgerald-Hartley, devised a solo identity for the singer-guitarist, in the form of Luke. Luke – the album – is a youthful-sounding album, full of energy and raw power. To hone the album concept, creative director Doug Brown (WorldWest) commissioned over 100 cover treatments and designs from Eric Scott , in an effort to bombard the decision-makers with choices of all varieties.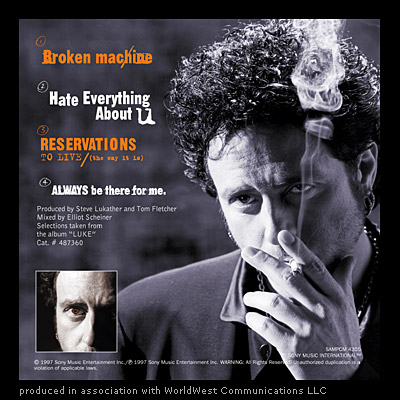 Eric Scott: "We completely plastered the conference room wall in designs, right before Steve (Lukather) and (manager) Mark (Hartley) arrived for the presentation. A 20-foot wall with hundreds of great album designs, all representing Luke with a different photographic and type treatments. There were over a hundred, and I was exhausted, since I'd been generating these for just about two weeks solid, doing about 7-10 new ones each day. And each time I showed a round to Doug, he'd smile and nod, then say "Now do ten more." So I snuck in quickly, and stuck one more up there, which I had just done, quite literally minutes before they arrived and this one was the one with the word "Luke" inside of Steve's iris, and sandwiched it non-chalantly in the middle of the wall... And somehow, everyone, ironically, went straight to that one. Go figure, except that it was my favorite too."
XX (1998)
Creative direction: Doug Brown, Art direction: Brian Peterson, Eric Scott, Title illustration: Magdy Rizk
In 1997, the successful Tambu campaign and tour were followed in 1997 by a collection of the Toto's archival XX. This collection of unreleased, rare and live tracks from the band's career necessitated the journey through a vault of photographs, recordings and collectibles, in search of the perfect career snapshot to satisfy both fans and collectors alike.
Eric Scott: "To create the dream-collage shown in the album art, many "new" historical artifacts were devised, as micro-cassettes, 8-tracks and tchotchkeys appeared for the first time ever, by use of Photoshop, and by the good graces and creative license this project had to offer. So don't go looking on eBay for a Kingdom of desire London Tour Bus anywhere... you probably won't find it."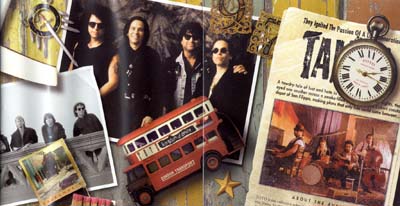 Brian Peterson, who designed the artwork for XX: "This is a cd of collected tracks from over the years. I thought it would be good to collect images from the past 20 years and lay them out in a loose timeline.
The base of the illustration is a multicolored and weathered (read - passing of time} wooden wall. Most of the items shown are ficticious. I created the 8-track, the IV tour pass, the matchbook, the paperback, the yellow 45, the toy bus, the Whiskey-a-go-go flier, the polaroid, the Seventh one pin etc.. all in Photoshop. The collage is completely digital. The band sent me a box of tour books and other odds and ends as a starting point but with Photoshop I can create a sort of hyper-reality where everything is in sharp focus. As for the cover, the normal process of designing an album package starts with just the covers. We showed them many different designs and the drum texture was one of them. We actually balanced a bongo drum on my flatbed scanner! It came out good.
Illustrator Magdy Rizk created the cover logo. I came up with the timeline idea after that. Obviously, the group shot is made up of several different pictures. It's the only element I'm not happy with, too many different light sources and perspectives."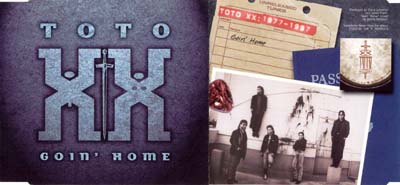 Watch the male and female symbols on the front cover of Goin' home!
Mindfields (1999)
Creative direction: Doug Brown, Art direction, illustrations, design: Brian Peterson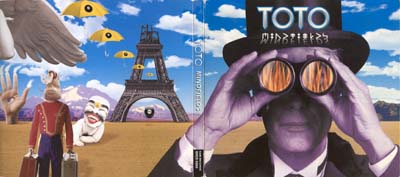 David Paich: "With Mindfields, Toto wanted to go back to a 'lost art': (...) I don't know if it's even surreal, it's just that this art director, Doug Brown, came up with some stuff, and we were looking for something that was imaginative, that just was interesting and had a lot of different pictures. 'Cause pictures are so one-dimensional to me - with album covers - and we wanted to kinda let people use their imagination. And it seemed like a nice starting place what he had done there, 'cause we always liked the Sgt. Pepper albums, Captain Fantastic, Pink Floyd album covers which you can look at when you're listening to the record. And it seemed to reflect this a little bit, and we worked on the album cover for a long time with input and output, so the whole package just kind of like leads back to the days when you had actual vinyl albums with covers that you can look at and enjoy. I think that's a lost art, people don't do that too much anymore."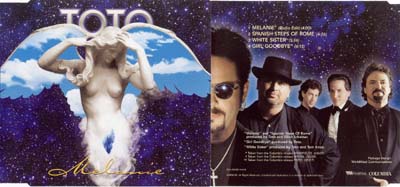 Brian Peterson: "Typically, the band lets us (WorldWest Communications - basically myself and Doug Brown, the owner, creative director and long-time friend of the band and management) take total control of the creative process for their albums (Tambu thru Livefields). We threw many ideas at them for the cover, many of which were really out there. Toto has the ability to appear very sophisticated and at the same time not take themselves too seriously. A crude version of the Mindfields cover, using an existing photograph, was the one chosen.
A different cover had the title Minefields and Miracles, but I had misread the title when I was creating the covers and typed in MinDfields and Miracles. Dave really liked Mindfields by itself, and that was that. The title opens up a wide range of possibilities and seemed to fit well with the variety of songs on the album, some of which hadn't been written yet. It was a real thrill to find out that my designs had inspired the guys to write the song Mindfields.To go with the name, I decided to create a surreal landscape that existed in some other dimension, perhaps in our heads (even blue ones!). I originally set out to create something not unlike the Hipnosis designs of the 70s (Pink Floyd, 10cc), but I eventually turned to the original masters: Salvador Dali, Rene Magritte and M.C. Escher for inspiration.
It was difficult designing the layout because anything and everything was fair game as far as imagery. I eventually realized that certain basic, iconic images had the most impact. Images of the human body, religion, nature, architecture and the mind are accessible to everyone and open to individual interpretation. As far as the band's input, they pointed things out they didn't like and I removed them. I had a Stonehenge with hip-hop graffiti and Simon thought it looked too Spinal Tap. For a joke, we modified a portrait of them with giant heads and they loved it! I ended up putting it in the picture.
You're right about the numbers. 5 is the magic number (Bobby rejoining the band), pyramids (some got hidden), derbys, fingers, windows, umbrellas, 5 o'clock, bombers, elevator floors. The Infinity Ball is just a twist to the 8-ball. The ring of fire, where the disc resides, is the last remnant of an earlier freakshow concept we were doing. We created circus posters for each of the guys, but that got eliminated. I also did some cool images of the guys as magicians but they got a little cold feet (too silly) and scratched them."
Livefields (1999)
Creative direction: Doug Brown, Art direction and design: Brian Peterson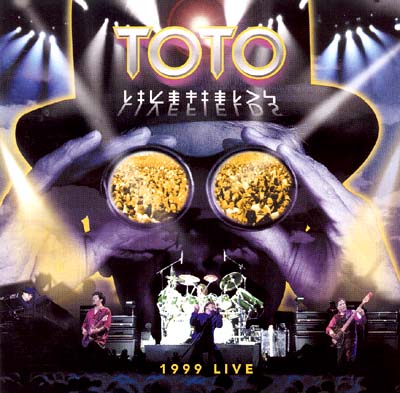 Through the looking glass (2002)
Creative direction: Doug Brown, Art direction and design: Brian Peterson
Lukather: "When coming up with the title we were throwing around alot of different ideas and Through the looking glass really made sense with the music we are making. It's like looking back in time at some of our favorite artists. It's gonna be a really cool album cover. We are going to write a small paragraph on why we chose each song with a story of our connection with the material we chose. These songs were more than just a random choice of tunes. It will be explained song by song. The connection with Slipped away (Tambu) is an accident but a cool one. It makes for a better story."
Sources: WorldWest Communications (Doug Brown, Brian Peterson), Nocturnals.com (Dan Brereton), Dayfornight.com (Eric Scott), David Paich, Steve Lukather
Arend Slagman, Toto and WorldWest Communications, SteveLukather.com, November 11th 2004