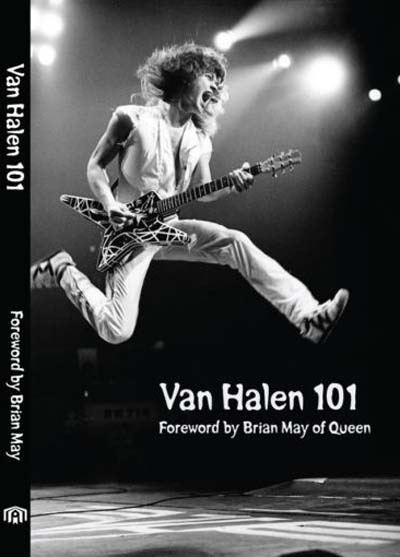 From the birth of the VH brothers all the way up to the recent 2004 tour, it's all here. Includes a Foreword by Brian May of Queen, as well as a tribute to Edward Van Halen by over 100 of the world's greatest musicians! From Allan Holdsworth and Steve Vai to James Hetfield and Zakk Wylde, all the greats came forward to personally share their thoughts, memories and stories about the man simply known as "King Edward." There's plenty of commentary on VH, the band, too. In fact, here's a small sampling of some of the incredible commentary provided by just a few of the more than 100 amazing musicians who participated in the tribute:
"Without a doubt, Eddie Van Halen is the greatest guitar player who has ever lived." -- Zakk Wylde
"I always thought Edward was great. He's a fantastic guitar player." -- Allan Holdsworth
"I am honored to call Ed and Al my soul brothers. It's inspirational to be near greatness like that." -- Steve Lukather
"What a wonderful musician...absolutely the pinnacle of guitar playing in our lifetime." -- Brian May
"EVH is certainly one of the top innovative virtuosos in history." -- Ted Nugent
"I think Eddie Van Halen is the Godfather of shred guitar. He is 'the one.' -- Mark Tremonti
Basically, there has never been a book of this nature done. Ever. Until now. This project was put together by a fan, for the fans. As Guitar World magazine's Alan Paul recently stated after receiving an advanced copy, "I liked what I read a lot. This book is a labor of love and all true VH fans will love it."
So if you're a true fan of VH, a true fan of hard rock, and a true fan of guitar, this is the book for you. Not only because it covers and discusses Edward Van Halen & the band in great detail, but because it also covers, discusses and gives major respect to many different players. We talk about Jimi Hendrix in this book. We talk about Eric Clapton in this book. We talk about Allan Holdsworth in this book. We talk about Randy Rhoads in this book. In fact, there is even a chapter dedicated to the late-great Randy Rhoads where the author brought in none other than Kevin DuBrow, frontman for Randy's original band, Quiet Riot. Kevin discusses everything from how he and Randy met and formed QR to what it was like to play the same club scene as VH during the mid-late 1970s and witness their growth as a band. The book includes a detailed album-by-album discography, too. And there is even an "FAQ" section which focuses on and breaks down everything from the elements that make EVH a great guitarist and the story of the frankenstrat to the story of Edward's (and Steve Lukather's) legendary collaboration with Quincy Jones & Michael Jackson on "Beat It" and the story of "Eruption." Along with much more! There's even a chapter dedicated to "Tapping" which explains the history of tapping and includes fresh commentary from such legendary players such as Steve Hackett and Harvey "The Snake" Mandel.
Arend Slagman, Stevelukather.com, August 12th 2005