Upon entering the Steakhouse Studio for my second visit during Steve Lukather's latest recording sessions, I immediately gave Luke some greetings from some fellow "musos". While I was on a trip to Nashville, TN I met Larry Carlton (solo artist, Fourplay) & Paul Taylor (Winger). They both told me to say hello to Luke. Luke said "Larry is out here for the Grammys. He was nominated for a Grammy with Fourplay. Paul Taylor. I haven't seen him in years. Taylor told me how much he liked Luke as a guitar player and person. Larry Carlton called his manager Sonny Abelardo who later was a visitor to the studio. Luke talked to him on the phone & wished him well & wished him luck at the Grammys.
The new album by Luke is much closer to completion than it was on my last visit to the studio. This time the chart was 80% crossed off with a couple of more songs to be added as they are finished being written. This day was Jeff Babko's day to do some more keyboard work. The basic track keyboard parts were recorded mostly by Babko earlier. Most of todays time was spent searching for the right keyboard sound for every part of the songs. All three (Luke, Babko and Steve "Mac" MacMillan) worked together to find the sound in question. Just like when everyone in the studio knows when a certain sound is right for a song they also know when a sound doesn't work. But with this trio there were many more nods of approval than disapproval Luke whipped out an acoustic guitar and started playing to help Babko get a feel for what sound he wanted. My last time in the studio Lenny Castro was tracking. Lenny was on the other side of the control room glass. Today Babko was in the control room with Luke and Mac which seemed much easier in the recording process. Once everyone agreed on the right sounds for the first song it was only a matter of a few takes for Babko to get the final sounds down.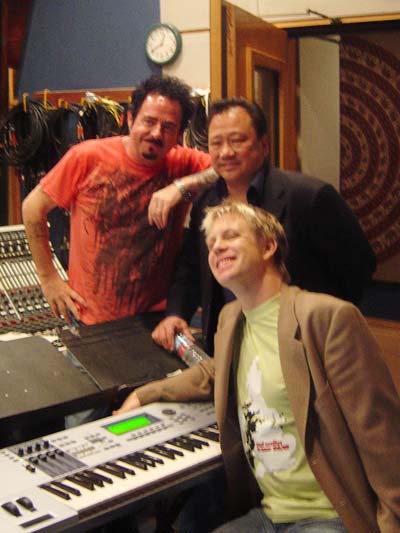 Steve Lukather, Sonny Abelardo, Jeff Babko
A day of work turned into an impromptu Steve Lukather CD listening party. At one point in the studio working was Luke, Mac & Babko with visitors Sonny, his wife Nina, high school chum of Luke and the Toto boys Lonn Friend (RIP magazine, hard rock/heavy metal guru), another pal of Luke's and myself. Luke said "It's a circus in here. If I was recording vocals today I'd have to kick you ALL out!" As the Steely Dan inspired Stab in the back was played EVERYONE was tapping their toes. The guys were running through the track to see if any of Babko' touch was needed for the song. There were some amazing guitar parts on the song and Babko pointed directly at Luke when those sounds hit his ears and said "Wow! That's cool!" He also asked Luke "Is that a real talk box guitar?" Luke replied "Ya, it's the real thing. I made them cut the top of the mouth piece off because you don't know who or what's been on it!" When some very cool drum sounds came on Luke said "that's Abe ,man!" Luke said "the closeness to the Steely Dan sound." I took a part from EVERY Steely Dan song and put it all together. But I didn't steal a note!" During the listening session on another heavy rockin' track Luke said "That's my son kicking my ass. He wanted me to prove I could still rock".
The next cut things began to roll along even faster. As the day went on everyone was on the same wavelength. Mac suggested the keyboard sound on this song. Babko told Mac "That's great! What a GREAT call!" Luke told Babko "Nice, very cool". It only took Luke half as long as last time to bust out the Sammy Davis Jr. impression as he told Mac "Gee man, you ought to do this for a living!" As Babko got into a great groove it made the days work that much more fufilling. Luke encouraged Babko after only a few minutes work on the cut. I ALREADY dig that better! It's adding more than you think. It needed a little something, something." Babko is a close friend too as he timed out from a very busy schedule to help out his pal Luke. Jeff waited until the last possible moment to leave before he had to go to a scheduled rehearsal.

Luke & Lonn Friend
Talk in the studio turned to the nights big gig at the Baked Potato. Luke, Abe Jr. Lee Sklar & Greg Mathieson were playing a gig later in the night. Luke said "I was listening to the old songs and they were GREAT! I was a punk ass 23 year old kid! Jeffrey (Porcaro) was great. He nailed it! I heard all the sounds in the crowd, all the laughing and cheering. It brought back great memories. Babko added "Greg got his mini Moog out of the shop just for this gig. Whippin' out the old gear!" Luke told me "I'm REALLY looking forward to gettin' out there with the guys and playing live! We're gonna play shit we haven't played for 26 years! We're just gonna go out there and play. No rehearsals! It's gonna be fun!"

Steve MacMillan, Steve Lukather & Jeff Babko
Once again I was reminded of the amount of effort and energy that's being put into this C.D. Luke and Mac were even clicking better than the last time I was here. Sometimes they didn't even have to talk to each other. They could tell what each other was thinking by just looking at each other. Mac was introduced to visitors to the studio by Luke as "my co-producer and pal for this little extravaganza". Hearing the vocals on this C.D. even painted a broader picture for this much anticipated production. Mac said "It's good that Luke got a break from singing today. Singing too many days in a row gets to be a grind".
It was going to be a very, very long day. After I spent a few hours taking in the days activities with the guys it was time for Mac and Luke to spend time by themselves working even harder. It was only a couple of hours away from soundcheck at the Baked Potato with TWO SETS to follow that would end early the NEXT DAY!
Reggie Boyle, Stevelukather.com, February 10th 2007