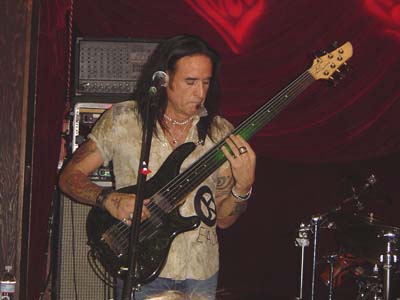 I contacted Marco Mendoza (Whitesnake, Thin Lizzy, Ted Nugent, Soul Sirkus, Delores O'Riordan) about doing an interview for his new CD "Live For Tomorrow". Marco invited me down to La Ve Lee in Studio City,Ca. to watch him perform with his Latin Jazz Trio (Marco b, Joey Heredia d, Steve Weingart k).
If you haven't seen the Trio you don't know what you're missing. This is a must see show with the talent level at extreme high. The Trio has been playing here for years. Usually it's Tuesday nights when everybodys' not touring or busy with other projects. If you are picturing Marco as a pedal to the metal rocker you wouldn't be wrong. But this is a man of many talents. This is Marcos' baby and he uses his voice as another instrument to wow the crowd. Steve Lukather compadres Heredia & Weingart round out this top notch trio. Heredia plays in El Grupo and has played with Stevie Wonder & Frank Gambale among others. Weingart is also in El Grupo & added keys to Lukes' new solo CD. Before the show I talked to Marco about numerous things.
Reggie: "Could you please tell us how your solo CD "Live For Tomorrow" came about?"
Marco: "I was touring with Whitesnake in London when I was contacted by Frontiers Records. They asked me if i was interested in a solo project. I had a meeting with them & gave them a copy of my work with the Trio. They said they loved my voice but the recordings were too "Jazzy". I don't know why the whole thing took so long but it was about a year before we got going. They had gotten in touch with Richie Kotzen, who I love,about doing a project together. We were both pretty busy but finally got some time to do a record. I went into the studio with some songs I had laying around. As soon as I got into the studio with Richie we had great chemistry. He is very talented and a great guy. He is a great singer and song writer. I love to be creative and this gave me the chance to do that. It was great working with Richie. I wanted to call the guys I love and respect to play on the record. I called Luke and he said. Sure let's go!He didn't hesitate at all. We had great people on the record. Luke, Tommy Aldridge, Brian Tichy, Steve Weingart, Ted Nugent ,Doug Aldrich & of course Richie. I've learned over the years not to take this stuff too seriously. If it works it works. If it's gonna happen it's gonna happen. There's a reason everything happens. I am grateful and humbled by everything and everybody on this project."
Reggie: "Could you tell us about Steve Lukathers involvement on this CD and your overall relationship with him.?"
Marco: "Luke is just one of "those guys" He is a great spirit. He is a monster player. He ALWAYS has been. He puts so much effort and energy into his playing. He's a busy guy. I'm a busy guy. It was great of him to play on my record. I actually didn't even see him play on the record. I got caught in traffic! I really wanted to be there but it just didn't work out. Richie told me it was great. Then he played it for me and I said there it is!. It only took Luke one pass! I think he was at home takin' out the garbage and then came down played and went back home and finished taking out the garbage! The take was happening. I called him and told him I loved it. Luke can do anything! It meant more to me that he was willing to come down and do it. It made me feel proud. I first met Luke on Tour in '92 or '93. It was with the JBL All-Stars. It was the Tower of Power Horns, Steve Stevens and I played bass. We had a lot of mutual friends. We had a blast on the road. I would like to work with him more just to get to know him better. I look up to him. He ALWAYS plays his ass and heart out. He's a great person and great musician."
Reggie: "There seems to be a cool brotherhood among you guys. I've seen Kotzen, Phil Soussan and the Whitesnake Boys at your gigs. I've also seen you at Lukathers gigs. Everyone seems real supportive of each other."
Marco: "We all know what it's like in the trenches. We all get caught up in the business end of it. I wish sometimes it was more about the music. I wish we could just play and forget about everything else. That's why I like playing with the Trio. I miss my friends. I just have fun playing with them. I've been blessed to play on some major projects. But sometimes that's where the music end of it gets lost. I wish the music end of it was always the #1 focus and it isn't always that way. I love supporting my brothers and my friends. Before I moved I could walk to the Baked Potato. I'd always check out who's playing La Ve Lee. I'd keep track of where my friends were playing."
Reggie: "You and Kotzen have the reputation of being great musicians. But I think a lot of people don't realize what great singers you BOTH are."
Marco: "Thanks,man! Richie and I have been in projects with lead singers. That's what attractyed me to this project. I wanted to sing. That's why I put the Trio together. Richie is AMAZING! I want to do more with him. Maybe Tour a little. Put a band together. Maybe with a drummer that sings his ass off. My hope and dream is that we'll all have time to write some more songs. I secretly yearn for there to be no business end to it. I wish we could just go out there and play and not worry about everything else. I want to be proud of my stuff. In 20 years from now I want my stuff to still mean something. I want people to still like it. I was watching a T.V. Special on Queen and I was trippin' on it. Freddie Mercury and the guys were so talented. I was inspired by that. I want my records to last a long time."
Reggie: "What does it mean to you that someone that's such a legend as Ted Nugent calls you the Worlds Greatest Bass Player?"
Marco: "It means the world to me. I am humbled. I don't agree with him. But I will humbly accept it. I told him after he told me that. I've got to show you some people then! Ted is great. We toured together for awhile and then he went hunting for a year! That's when I got the Whitesnake gig. But it really means a lot coming from Ted. I was able to show him many other sides of me. I would look forward to working with him again."
Reggie: "Could you talk a little more on some of the other guys that played on the CD."
Marco: "Doug Aldrich is a brother too. He was great. I want to be able to return the favor for everybody. Those guys are real people. It means a lot to me that everybody came down and took the time. Ted Nugent made himself available to me. He is a close special friend. Steve Weingart is another Cat who is an unbelievable talent. He added some amazing keyboards to the record. He was great because he made himself available too. He is another brother to me. My son Marco Renteria was a part of the record too. He played some bass. I want to be an inspiration to him. He's got his own thing going. The Jaguares from Mexico. You can check it out at jaguares.com Tommy Aldridge and I have played together for a long time now. I love playing with him. We tried to get him on more tracks but it just didn't work out."
Reggie: "I find it hard to think of too many people that play with such diverse artists as you. You go from Whitesnake/Ted Nugent to Delores O'Riordan to the Trio."
Marco: "That keeps coming up. It's like you get Chineese one day.It's beauty,flavor and spices. Then the next day it's Italian. I just want to make sure that I do every style justice. If I'm gonna do a gig of a certain style I listen to that type of music. I havn't tried a salsa gig yet but I'd like to. I ended up in L.A. doing many different sessions. They were different styles of music. I made sure I tried everything I could do to get it right."
Reggie: "Is there anything else you wanted to add or say?"
Marco: "I want to thank the guys that played on my album. Not everyone I asked was willing to play on the record. I was surprised. I was disappointed. But I am very,very happy for those who took the time to play. Most of these guys are very busy. Sometimes true talent is not compensated. If I can return the favor to anyone of these guys I will. It meant a lot to me! If anyone is looking to work with me they can contact me through my business number at 818 508-5216. They can purchase the new CD at marcomendoza.com."
I also talked to Steve Weingart at the La Ve Lee gig. I asked Steve about his involvement on the new CD. He said "We just sat around and played it. We experimented with some different sounds. We eventually came up with some great sounds. I played on two or three tracks. What I heard before the final mixes was great. Marco has a great sound. He's a great singer." Steve asked me if I heard about Steve Lukathers' new baby. I said yes & that I saw the pictures on the site. Weingart said "Isn't it great, a new life has started!"
I also contacted Luke about the interview & let him know what Marco had to say. Here are Steve's thoughts "That's very nice of him to say. Marco is a rare musician that has the ability to groove in many arenas. He does the latin jazz thing and has unreal bass and vocal chops AND he also rocks hard! He is also a really soulful guy and I hope we can work together again in the future."
stevelukather.com, September 23rd 2007