From Steve Lukather: "Fee Waybill... one of my oldest friends. I don't get to see him much. But I don't get to see a LOT of my friends that much. We have always had a great connection with our music and humor. He is a true original. He is not only a great singer/front man (actually one of the best EVER) but his lyrics come from the demented side that I can relate to. Our best songs were written in like ten minutes. He labored over the lyrics longer because he is so fucking clever and off the wall. I am honored to call him a friend and a great writing partner. He has done some stuff with me, The Tubes and his solo records which SHOULD have been HUGE as they were so good! Fucking Record Companies! His talent and heart are very large. He is soulful, funny and a great guy. I can't wait to hit it with him again. Richard Marx is also a great cat, a massive talent and is Fee's best friend. I can see why. Please send huge hugs and have him find me in this little box in Indonesia."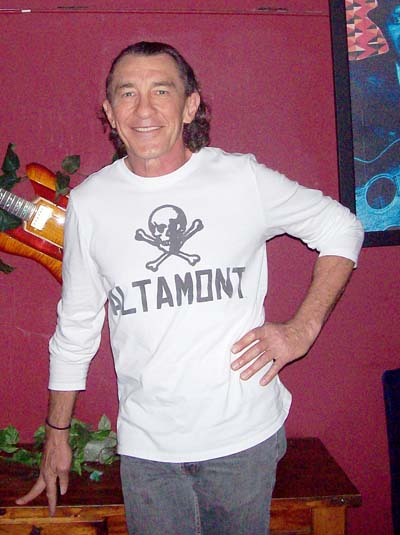 Hi Fee, can you tell us how you met Steve Lukather and give us an insight in your musical relationship with Luke?
Fee: "We were both managed by the same management, Fitzgerald/Hartley. Larry Fitzgerald and Mark Hartley. We really didn't become friends until we got together with producer David Foster. All the Toto guys were doing a lot of sessions. Steve, Jeff Porcaro and David Paich were all working for Foster. David only wanted the best and they were all the best in town! They were doing session work as well as Toto. The Tubes were making their first record with David Foster "The Completion Backwards Principle" back in 1980. We had just about completed the album and David said 'we have all these wacky songs. "The Attack of the 50ft. Woman", "Sushi Girl". All these weirdo songs. We just don't have the undeniable Rock radio hit. We really need that'. The band had a few suggestions. We tried to write a couple of songs and they didn't really satisfy David. David said 'let's just try something. Let's just experiment. And I said okay. David said 'I have this friend Steve Lukather who's a great guitar player and great songwriter.' I said I know Steve we're with the same management company. David said 'how about one Saturday morning I tell the band to come in at 3 o'clock for the day. Why don't you come in around 11. That way you, Steve and I can sit down and see if we can write a tune.' I agreed. We were recording at a studio called "Good Night L.A.", which isn't around any longer. That's how I really met him. We showed up at 11a.m. and wrote "Talk to Ya Later" in about two hours! Luke came up with the lick immediately. He's so talented. He's so fast. Luke had the lick and Foster added this and that. He added the chorus. Then I started working on the lyrics."
"We had this engineer at the time, Humberto Gatica. He was Davids' engineer. The band would always ask Humb 'What's this? What's that? What does this do? What does that do? Humberto would NEVER answer you. He'd always say 'talk to ya later. I'll talk to ya later.' It was his way of avoiding answering dumb ass questions! So I thought that was funny. So I said let's call it "Talk to Ya Later". We wrote and recorded the song by the time the band showed up at 3 o'clock. At one point Foster called in Prairie Prince and told him to come in early to play some drums. Lukather played guitar, bass and the leads. Prairie played drums. I didn't really do a vocal. I was working on lyrics. But by the time the band came in we had the whole fuckin' track done! When the band came in they said 'Wow, jeez man. How long you been working on that?' I told them TWO HOURS! They said 'WOW!' That's amazing!' There's just no denying it. It's a great tune. That's kinda how we became friends."
Then we did it again on the next record. We did the same kinda thing. David said 'it worked so well that let's do it again.' So we wrote "She's a Beauty" the second time again with Steve, David and me. It was in the same ridiculous amount of time. And the band just went 'fuck, Jesus Christ!' That's how we met. We've crossed paths from time to time. We've actually played gigs together over the years. We were both at Fitzgerald/Hartley for many years. We stayed in touch. We kept writing. I moved to Sherman Oaks and he was living on Vineland. So we just lived down the street from each other. So we used to hang out. This was before he was married to Shawn, when he was raising the kids, Trevor and Tina by himself. I wrote some Toto songs with him."
"Back in '97 The Tubes did another studio record and Luke wrote another song with me, "Big Brother Still Watching". We went to his house and sat down with an acoustic guitar. He fuckin' whipped out the lick in ten minutes. It's a joke! He's AMAZING! In 2001 the band did a live record "Tubes World Tour 2001". It was live but we didn't want to do the same old thing. We were working with Greg Ladanyi and we wanted to write a couple of studio tracks. By this time Foster had quit writing and quit producing. He was running a record company at the time. He was running "143" this Atlantic Division Records. I think it was Atlantic. I called Foster out of the clear blue sky and said, you know Dave it's been 20 years since we first wrote together! Let's do a 20 year reunion! You, me and Luke write a song together for The Tubes record. He said 'Sure, okay'. He hadn't produced in a long time. As a matter of fact he had just broken his wrist and was whacked out on Vicodin. He was in such pain that he couldn't play. So we went out to his studio in Malibu, Chartmaker and wrote another song "Loveline" which is on 'The Tubes Live World Tour 2001'."
Did you know when you wrote "Talk to Ya Later" and "She's a Beauty" that they would be such huge hits?
Fee: "Honestly I'd have to say yes. Some tunes you just know. The day we wrote "Talk to Ya Later" I was so excited about it. The band was excited about it too, on one hand. On the other hand they were kinda pissed off because they didn't write it. It was a song written outside the band. But there was just no denying the song. I remember a guy named Ricky Farrar at the time was managing us. This was before Fitgerald/Hartley. It was the last record that he managed. I was living in San Fransisco at the time. But I was staying down here in Los Angeles at his house in Toluca Lake. I came home at like two o'clock in the morning. I was so jazzed! I went into his bedroom and woke him and his wife up! I said Ricky you have to listen to this. Lukather and I wrote this fucking song! It's incredible! I was so excited! He said 'What? Can't it wait until the morning'? I said NO it can't wait until the morning! So I drug him into the living room and played the track for him. I said this is going to be big! At the time we had just been released from A&M for NEVER having a hit! We had just signed to Capitol, Bobby Colomby. He had put us together with David Foster. It was the first time that we ever worked with a producer that was as high end as David Foster. The guy is a genius,you know! We write this song and I go, Oh my God! That is a hit! I told Ricky that this song is going to be a hit! We finally have a hit! Radio is going to love this song! They're going to go crazy! And sure enough it went to #1 on Rock radio in pretty much every country in the world! Then we did "She's a Beauty" and it was the same kinda feeling! I just went, oh man, this is going to be a hit too! And Foster said the same thing! 'This is a hit. This song is going to be #1'! You have this feeling. You just know! I haven't had that feeling since! "(laughing)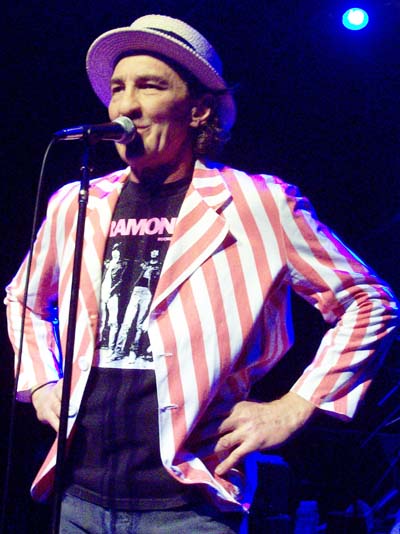 I recently listened to the Steve Lukather album "Candyman" that you worked on with Steve. I had forgotten how great that album is. Can you tell us about that experience?
Fee: "I pretty much wrote all the lyrics on that record. I think I wrote all but one or two songs. I wrote the whole record with him and then I went in and recorded with him. I sang a lot of background vocals. Luke was working with Dave Garfield at the time. It was really cool. Everything was kinda relaxed. There was no rush. we had the studio locked out. I was in a very metaphysical spot when I wrote that song "Hero with a 1,000 Eyes" and other songs, "Extinction Blues" and stuff. It was very weird. It was one of the best lyrical concepts writing wise that I've ever done. I really enjoyed making that record with him. Just from the very beginning Luke said 'Look man, I just want you to write ALL the lyrics on the whole fuckin' record!' I think there was one instrumental. There was one song he had recorded already. He said 'I'm just too busy! I don't have time to deal with this'! So from the very beginning I just felt very involved. Not like it was a one off deal. Write the song, see ya later. It was like every day going to the studio. It was really a great, great project! I still love that album! I still listen to that. It's fuckin' cool! I'm trying to remember. There were a lot of great players on that record. Garfield, Simon Phillips and John Pena. It was a really good time!"
A few years ago I saw you and another Luke musical partner, Edgar Winter at a Doves of Fire gig to see Luke play. You guys are true fans of each others work. Tell us about that.
Fee: "Oh, ya we always have been fans of each other. I loved that Doves of Fire gig! It was incredible! I've always wanted to do a group with Luke. As a matter of fact we were in a band together for a day! Did he ever tell you that story? We were in a band together for ONE DAY! It was after '86. I had left The Tubes. Toto had kinda split up at the time. Bobby had left Toto. Luke called me up one day and said 'Let's have a band'! I've always wanted to be in a band with Steve. He's probably the best guitar player I've EVER heard play! So we were in a band called the "Screaming Whities". Gosh, it had to be '88. Something like that. Larry Kline was the bass player, Mike Landau was the other guitar player. So we had the two best guitar players in all of L.A.! Carlos Vega was the drummer. I'm trying to remember if David Garfield was the keyboard player or not. I can't remember. We booked a rehearsal session. We just fuckin' noodled around all day long. You know those guys! I don't think we wrote a single song! They just kept playing licks back and forth and back and forth. I was just sitting there saying, fuck, Jesus! When are you going to play a song? Go to a verse! Stop playing leads so I can figure something out! What the fuck! That was it. We did one rehearsal session and I don't know what happened. Landau went off with James Taylor. Luke went off with somebody else. We never had a second session. So the "Screaming Whities" lasted one day!"
"Steve and I have always been very close. There's always been this thing about hanging out. We really enjoy it. I haven't seen him for a while. Since he had the baby. He's been very busy. We've crossed paths across the world. I saw him once in Germany. It's kind of a mutual admiration society. I used to go hang out at his house. I remember about a year ago the last time I was at his house. Toto was getting ready to go out to Europe with Lee Sklar and Greg Phillinganes in March of '07. I went to the last rehearsal session and Luke said 'We've gotta hang'! So he took me to "Sushi Dan", this Rock 'n' Roll sushi place. I have never been so fuckin' drunk in my whole life. I mean we ate and ate and ate and drank sake and beer. And we drank more sake and more beer. We just got hammered out of our gords! It was unbelievable! He said let's go to the house and continue the party. It was an occasion so I agreed. I ended up passing out on his couch at like 3:30 in the morning dead to the world with my clothes on. I was out cold! I didn't wake up until the next morning. Luke just left me laying there and went to bed! The next morning I just went, what happened? What did we drink? What happened? I didn't remember anything! I was just so hammered out of my mind! We have a lot of great memories. I haven't seen him in awhile. I haven't talked to him in awhile. I think the last time I saw him is when they had come back from the European Tour in 2007. Actually I did talk to him when after had the baby in September. So even though we don't talk all that regularly we remain close. We've just got so much history and there's so much love. He's sat in with us quite a few times over the years. He's played "Talk to Ya Later" and "She's a Beauty" with us as a special guest. I think the world of the guy. He's just incredible. I'm also really proud of him the way Trevor and Christina have turned out. He's a really good dad and really raised those kids. Trevors' a great guitar player also. I think the world of the guy!"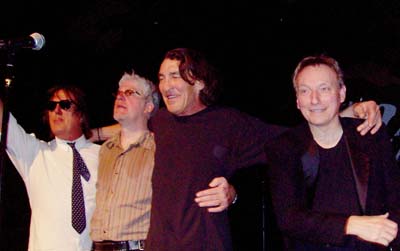 Could you tell us what you and The Tubes are currently up to.
Fee: "I'll probably talk to Luke now because I'm kinda working on a solo record again with Richard Marx here and there recording in the studio. I actually wanna write a tune or two with Luke for that. Not that it will sell any records but he doesn't give a shit! He enjoys writing I'm sure. So I'm kinda working on that in my spare time. I've been really busy. Polo season is in full swing so I've been playing a lot of polo. Also The Tubes are coming out with an anthology DVD that we've been working on for about three years. Mike Cotten has been putting together a lot of footage and interviews from the old days. We've got some great stuff with Luke! We're planning to release a two DVD package called "White Punks on Dope". We just got a big time producer involved in the project. This producer who did "Dogtown and "Z Boys", "Riding Giants" the surf documentary and the last documentary on The Who. Having a big time producer really kicks it up a notch.It's really exciting. So we're in the process of doing that. The Tubes are just doing dates, weekends. We don't wanna work too hard. We play about 35-40 shows a year. I invested in a commercial property management company with my ex. So I do that during the week. We have five commercial properties and I manage about 2,000,000 square ft. of property. It's pretty much a full time job. So on the weekends we're either playing gigs or playing polo."
Official The Tubes Web Site: thetubes.com
stevelukather.com, March 2008</p