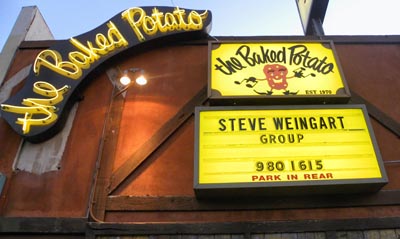 It was a true family musical event at the Baked Potato for the September 2009 Steve Weingart Group Show. The Steve Weingart Group consisted of Weingart (Steve Lukather, Dave Weckl, Marco Mendoza Trio, Warren Hill) on keys, Eric Valentine (Steve Lukather) on drums, Mike Miller (Bette Midler, Chick Corea, Gino Vanelli) on guitar, Jimmy Earl (Chick Corea, Jimmy Kimmel Show Band) on bass and Katisse Buckingham on flute & sax. Audience members in the family was the man himself, Steve Lukather, Lukes' son Trevor with his gang of friends and his solo band member, Renee Jones (Wengarts' wife) and Carlitos Del Puerto (Steve Lukathers' bass player).
They were all there to enjoy a sizzling set of instrumental music that even had guitar ace Luke up and shouting "Mikey" as he cheered Mike Miller from the front row. Later in the second set Luke and Carlitos sat a few feet away from Jimmy Earl as Carlitos watched him intently. Numbers that stood out above the rest that night were "MesmerEyes", "Market Place", "Before the Dawn" and the Jeff Lorber Tune "Surreptitious". Earlier in the night Luke looked at a few of the numerous pictures of himself on the wall and realized that in those pictures he was 22 years old! That is the same age that his son Trevor is now. Between sets the proud father took me out back of the "Spud" to play me two stellar cuts off his sons latest recording. As Carlitos was the last of the Luke band members to arrive at the Baked Potato he entered sporting a huge afro. Luke shouted at him "Dude, your 'fro is coming alive"! It was a fun night for all.
I had a chance to sit down after sound check to chat with Weingart and Eric Valentine. I also talked to Carlitos for a few minutes between sets. Luke gets tugged and pulled from all directions everywhere he goes but he was gracious enough to grant me a few moments of his "precious" time. I interrupted him as he was chatting with Mike Miller and Jimmy Earl. Everyone posed for pictures too.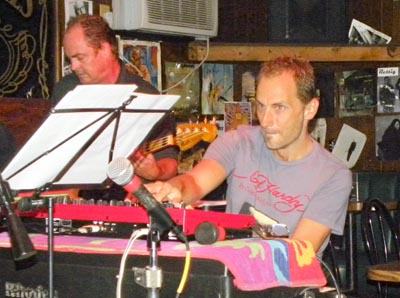 Steve Weingart
Reggie: I've seen you play with Luke in El Grupo, with Lukes' solo band, Nu Alliance with Frank Gambale and The Trio with Marco Mendoza and Joey Heredia. This group tonight is billed as the Steve Weingart Group. Tell us about this group and your ability to play in so many cool projects.
Steve Weingart: "I'm really fortunate and lucky to be able to play with so many cool people. First though, tonight the band is Jimmy Earl on bass, Mike Miller on guitar, Eric Valentine on drums and Katisse Buckingham on flute and sax and he does a really cool vocal thing too. He's a really cool dude. That's the lineup. Each guy has their own history. Katisse has played with the Yellowjackets from time to time. I'm actually going to be here in two weeks with his band. I hit him up to play with us and then he hit me up to play with him. There's a lot of hand shaking going on."
Reggie: You're also playing here with Marco Mendoza (Marco Mendoza Trio, Blue Murder, Whitesnake, Ted Nugent, Lynch Mob, Soul Sirkus) this month too.
Steve W.: "Actually I'm playing with Katisse the day after I'm playing with Marco. But back to the band with Jimmy and Mike. As you know I'm a big Chick Corea fan. I was living back in Ohio when this album came out, The Electric Band II. And these guys were on that album. That album floored me. It was one of my favorite Chick Corea albums ever. Just everything about it is so cool. New band. New vibe. These guys have a real depth in how they play and how they come across. Even in recorded music, it's incredible! And Eric of course everybody knows him from Luke's band. We were talking earlier about Marco. A lot of my good fortune, a lot of the cats I've met and had the opportunity to play with, have been through Marco and the Trio. When this Club down the street used to be opened, called La Ve Lee, Marco and Joey, along with another keyboard player named Renato Neto used to pack that place. But Renato used to split to play with other people like Prince and Shelia E. So I would go sub. So when I would go sub for the Trio that's how I met Luke and Dave Weckl, who I played with for years. It seems that all my good fortune would come from the Trio. I'm not the bragging type of guy, but I earned it."
Reggie: With the people you've played with. You've earned bragging rights!
Steve W.: : I've earned my right to play with the Trio and therefore the next level I've come to. There's a lot to be said to being social, being a good guy, being fair and being a stand up person. And when it's your turn to play, being prepared."
Reggie: Eric is playing with you tonight, Carlitos is coming done to check you out and Luke is coming for the hang. That's pretty cool. I've been around you guys enough to know you seem to all get along rather well.
Steve W.: "Again, it's one of those things that's kinda like I met these guys playing with the Trio. And then there's a lot of guys I've met and haven't had the chance to play with, just because of the musical family. You know. The hang. Going to the clubs. There's so many great musicians here. Like I said. I've been lucky. I've had some really good gigs across the way. And that gave me the opportunity to meet a lot of those people."
Reggie: How about your new solo CD you're working on?
Steve W.: "I have a lot of plans for this. Like some of the other opportunities I talked about. I was on tour with Victor Wooten last year in the States. I had a really great time with those guys and his band. I want to involve Victor on some of the tracks on this CD. I would love to have Mike Miller involved. Guys that I haven't talked to yet like Scott Henderson. I would love to have him come and play on my stuff. He's one of my favorite guitar players as well as Luke of course. Eric is going to play drums on a lot of it. I've got some other guys up my sleeve. I'm going to talk to Simon (Phillips) about it. It's kind of a Catch 22 because I've always been a guy that's believed in a band. Not so much of a solo artist. Even when we're with Luke. It's Luke, but we're the band, including Luke himself. There's no 'one person' and the rest of us. I've always been a big believer in that. And also since I've gotten these opportunities to play with these incredible musicians I want a chance to play with them. They all bring something different to the table. Simon plays much different from Eric. Simon comes from a different place and time than Eric does. It's the same thing with each guitar player that I mentioned. My wife, Renee (Jones) is going to be playing bass on the majority of the CD. I want to talk to Jimmy Haslip (Yellowjackets) about being involved. I've got all these plans but it gets to be hard to fit it all on one CD at this point."
Reggie: Talk to us about the three L.A. area Luke gigs.
Steve W.: "The band has gone through a little bit of a change. When we went out on our European run the last time out we went out as a quartet. So I think that's going to be a little bit different for the people here. The band feels real tight. The vocals feel real tight. Everybody's real happy. We were concerned. We were never worried because everybody brings so much music to the situation and their own personalities. There was concern about there being one less instrument and one less vocalist. We've really arranged the music to come together in a different way. It's really cool. The date at the Roxy is a Birthday Show for Luke. It's going to be interesting. I think there's going to be some special guests but I can't speak on Luke's behalf."
Reggie: How did Europe go this last time around?
Steve W.: "Europe was really cool. We went to some different places that we didn't go to before. Some new venues for me. I've been going to Europe now for years with different artists. Even with Luke we played a couple of places that we've been to before. We played a bunch of new places and new festivals. Audiences were great, the gigs were incredible. Every gig we played was another special night. There were some stories here and there regarding transportation that didn't go so smooth. Getting stopped at the borders here and there. Concerns about paperwork. There were some hiccups but the gigs were ALWAYS great! We did change some of the tunes. We added "I'm Buzzed". That went over great! That's a funny thing, man I always thought that this outing with Luke, "Ever Changing Times", was a much more vocal effort than an instrumental effort. But when we throw in an instrumental tune the people love it! It's funny because I have a different perspective. I stand in a different place on stage. I hear different things from where I'm standing. I see different things in the audience. It seems like there's as much enthusiasm with those instrumental tunes. That's really cool to me. I never would have imagined that!"
Reggie: Talk to me about playing here at the Baked Potato.
Steve W.: "WOW! It's legendary! There's so many stories about Luke playing here. His pictures are up there. There's four or five pictures of Luke in action. This place is a who's who of the modern music world. Anybody who's anybody has played here. Vinnie Colaiuta, Abe Laboriel Sr., Abe Laboriel Jr., Michael Landau and Alan Holdsworth. Everybody's played in here. So for me getting a chance to play here and have it be my band, that's pretty cool."
Reggie: Your name is up there on the marquee right outside as we speak.
Steve W.: "That's an honor! I'm flattered. I think that's pretty cool. I'm proud of that. Sometimes I've gotta keep myself in check. I see myself as a kid from Ohio, a small town. I feel fortunate in so many levels, as we've been talking about. The people I've gotten to meet and work with. And then I come here and my name's up on the marquee of a legendary Jazz Club. It's pretty cool. I never would have thought it."
Reggie: Is there anything that you wanted to add?
Steve W.: "Musically I just wanted to hone in on my next CD. I want it to be really good. I've met a lot of people. I've been exposed to a lot of people, thanks to Luke. My world has opened up quite a bit. I've done two CD's in the past. My second one was better than my first one by far. I learned a lot from the first CD and applied it to the second CD. I'm looking for the third CD to move incrementally in that progressive way. Having the people involved that I have included it's hard to go wrong. I'm focused right now on writing good tunes that will reflect the people that are involved musically."
Reggie: Who do you have playing on the CD so far?
Steve W.: "Eric, myself and Renee, my wife. That's the core right now. Like I said I have a guest list or wish list I should say and I hope some of them will come through. I'm sure some of them will come through as I have such a good relationship with them."
Steve Lukather was being pulled from every direction as usual. But he did allow me to interrupt him as he spoke with Jimmy Earl and Mike Miller.
Reggie: Everyone from the Luke musical family is here tonight. How about that?
Luke: "My kid's here, its great! Half of my band is on stage. The other half of the band up there are guys I wanna learn from. MY whole band is here! Everyone are dear friends of mine, comrades of mine."
Reggie: How about a quick few words on Europe?
Luke: "It went really well. We all had a really great time!"
Reggie: How about having Trevor open for you again in L.A.?
Luke: "My kid and his band. His stuff is deep man. He's out in the parking lot right now listening to his stuff with his friends. The guitar is glued to him. He just walks around my house with his guitar in his hands. He doesn't even live with me any more. When he comes over he breaks all of my strings and then he leaves! I tell him if you break my strings then you change my strings! If you break it then you gotta fix it!"
Reggie: What about these guys we're standing here with? (Jimmy Earl and Mike Miller)
Luke: "Jimmy Earl! One of the greats! An old dear friend. Los Lobotomys, what 20 years ago? He's one of the best!"
Reggie: How long has it been since you guys have seen each other?
Jimmy Earl: "Five years?"
Luke: "Since I've SEEN him? I thought I did the Kimmel Show with you?
Reggie: What's it like playing live at the Baked Potato and having Steve Lukather sitting five feet away from you?
Mike Miller: "DISTURBING! It's disturbing!
Luke: "No, no, no! It's the other way around! He's the Master!"
Mike Miller: "I'm the student. It's unnerving."
Luke: "Mike Miller is one of the great guitar players of all time. And I'm watching this cat (Jimmy Earl) reading the parts. I grabbed his chart to look and there's not a whole lot of chord symbols on this thing and he's making it rock! I am a fan with much respect."
Carlitos Del Puerto
Reggie: We've got the whole gang down here tonight. how cool is that?
Carlitos Del Puerto: "I know. It's fantastic! We don't get to do it that much in town. So, it's great to see the guys, man!"
Reggie: How did Europe go for you?
Carlitos: "Europe was a blast man! The crew and band were great. Now that we're a quartet we're even tighter. It sounds tighter. We've been playing together for a while so we know each other a little better."
Reggie: You've got some Luke L.A. shows coming up including the Roxy on the Sunset Strip. Talk to us about that.
Carlitos: "I can't wait,man! I can't wait to do it. We're going to be at home. It's going to be amazing! I hope a lot of people show up."
Reggie: I think it will be a great crowd, no doubt. Also it's a Luke Birthday Show.
Carlitos: "Actually Luke said he had some special guests that night so it should be fun."
Reggie: What else have you been up to?
Carlitos: "Man, I have a ton of things going on. I just did gigs this past Friday and Saturday with John Williams and the Los Angeles Philharmonic Orchestra. Now that is one of the most amazing experiences of my life!. It was really something. It was cool because it was for the people who grew up with that kind of music like I did. The movie stuff. The first set was the Harry Potter stuff which I did not play on. But the second set was the classics. It was Star Wars, Jaws, E.T."
Reggie: Are you having a good time tonight?
Carlitos: "Of course. I'm learning from the maestros!"
Reggie: How about Jimmy Earl?
Carlitos: "That's my teacher, Jimmy Earl! I learn millions and millions of things every time I see him. I just take in everything he does. He is a Master!"
Reggie: How about the hang at the Baked Potato?
Carlitos: "You will never go wrong at the Baked Potato. Never! Any night you come in it's something special. Everybody who comes and plays here has their stuff together. They're all great players."
Eric Valentine
Reggie: How was Europe for you guys?
Eric: "It was really great. Really fun! It was a little interesting, though! We did have a few problems traveling. But as far as the gigs, the band and everything in the circle, everything was great!"
Reggie: That's almost exactly what Weingart said! You're playing here tonight in Weingarts' band, Carlitos is coming to watch his band mates and Luke may show up. That's pretty cool. You guys seem to have a real tight knit family here.
Eric: "Ya, man I think it's important for the music especially when you're touring. You want everybody to be cool with everybody and support each other. It's because you spend so much time together with each other outside of the music interacting with each other. You're on the bus, at the hotel at the gig. So we try to stay as tight as we can."
Reggie: How about your upcoming shows with Luke on the Sunset Strip?
Eric: "It's exciting man! To be playing on the Strip, at the Roxy and playing with a legend in Luke's band! There's a lot going on and it's gonna be great, exciting!"
Reggie: How about playing here at the Baked Potato?
Eric: "It's always exciting and a little nerve wracking, because so many legends have played here! Also because when you're playing you can look up and you never know who could be sitting in front of you. Someone that you used to watch on video to study could be sitting right in front of you checking you out! But it's cool man as far as playing the Potato."
Reggie: What else have you got going on?
Eric: "I'm playing with Chris Standring here at the Baked Potato on Sept. 22nd. I'm doing some stuff with Mindi Abair, a couple of Contemporary Jazz and some Smooth Jazz artists. I'm kind of spreading the love around!"
Reggie: You do some behind the scenes stuff too, is that what you're talking about with these artists?
Eric: "Ya, I'm producing a lot of Contemporary and Smooth Jazz artists that are up and coming. I finished a couple of records recently. Actually I was working on this one project a guy named Art Sherrard, on the road. I was editing and working on his tracks and that came out really well. It's been kind of nerve wracking and fun but also exciting. It's because we're just doing what we do!"
Reggie: Anything else that you want to add?
Eric: "If you're not friends with me on Facebook check me out and at Myspace. Also at Ericvalentine.net But more so I'm hanging out at Myspace and Facebook. I try to interact with people and spread the love."
stevelukather.com, September 14th 2009