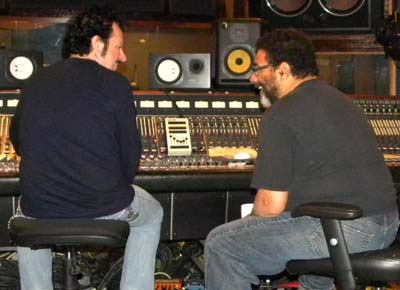 When I arrived Lenny Castro (Toto, Fleetwood Mac, Stevie Nicks, Bette Midler, Lopez Tonight) was at the studio and was nearly all set up. Castro is one of, if not THE person to call for any and all percussion instruments. While Lenny was finishing setting up I had a few moments to catch up with him. I was lucky enough to be in the studio on the "Ever Changing Times" sessions with Lenny too. Lenny is a true family friend as the last time I ran into him he was with his son and Lee Sklar at the Canyon Club in Agoura, Ca. for a Luke solo Show. I asked Lenny what he was up to these days. Lenny said "I'm part of the House Band for Lopez Tonight. I just did sessions for Ricky Martin and Kid Rock. Thank God there's still work out there. The live deal has kind of dried up. Fleetwood Mac and Stevie Nicks aren't on the road and Bette Middler closed her Vegas Show. I lost my Lionel Ritchie gig to Pro Tools. Percussion and vocals are the first things to go when people start cutting costs. But I do keep getting calls for sessions."
As Lenny reached for a tambourine that was purchased at a pawn shop in Finland this prompted more discussion. Lenny added "Paul Jamieson who teched for Jeff Porcaro, God rest his soul, used to go to pawn shops all the time. The first thing he would do in any city was go to a pawn shop and look for musical equipment. He'd ALWAYS come up with the best shit!"
After a few quick moments with Lenny, Luke rolled in. There were hugs and a few short stories from the past. Luke and Lenny reminisced about touring with Boz Scaggs in 1977. Luke said "We were teenagers! It was miniature versions of us!" But now it was time to go to work.
Luke and engineer Steve "Mac" MacMillan played the first tune for Lenny. After Lenny had listened to some of the cut he asked Luke "Who's playing on this?" Luke said "My band! Eric Valentine on drums, Carlitos Del Puerto on bass and Steve Weingart on keyboards." Lenny emphatically said "Wow, they sound great! They gave it everything they've got! They have arrived!" Luke said "Cool, thanks man. I will let them know what you said about them. This tuner was a nod to Steely Dan with screaming Luke guitars and many tasty guitar licks. The routine for adding the percussion parts was simple. All three would listen to the track in the control room. Then there was discussion on what instruments would work on the song. Next the discussion was what parts of the song needed which instrument and what parts didn't needed the additional sounds. It became very clear that Lenny, one of the most recorded musicians of our time, was very easy to work with. Luke was continually giving props to Lenny. Luke said "Lenny I love working with you! It's painless! I think you've played on every one of my records. Lenny is like one pass. Done!" Lenny began with the Congas and it immediately enhanced the cut. More props for Lenny as Luke shouted "your instincts are always right.' I saw Lenny as much more than a percussionist. He almost produces himself as he has over 1,000 sessions to his name. After his Conga parts on the Steely cut the tambourine and shaker were next. It became clearer to me why a Luke album was of such high quality from top to bottom. There was tremendous thought behind every little sound. If it was slightly off or just didn't feel right you didn't move on until they got it %100 right.
For the next cut Luke said "Add your Lennyness to this one" Then the subject of the cowbell came up. Luke added "The Saturday Night Live skit killed the cowbell forever!" With a few down moments Luke asked Lenny "How's (George) Lopez?" Lenny said "He's cool. He loves me! The ratings are good. It's a good gig. Michael Bearden (Michael Jackson) is the MD (music director)" Luke said "I want to dig it. I'm just so busy. He's a funny Mother Fucker!" The whole group knew in unison that the congas wouldn't fit in on a particular section of the song. Sitting in the control room with Luke and Mac and able to see Lenny in the Tracking Room I got a very clear picture to why this process was so smooth and how quickly they would move on. Everyone knew their role, did their part and there wasn't much need for discussion. One of the shakers Lenny had was a real homemade number made with tall Budweiser beer cans adjoined. Luke asked Lenny "How many records has that shaker been on? Lenny laughingly said "It's more famous than I am. Tom Petty loves this thing. I can't walk into his studio without it!"
When Lenny added his conga parts to the tracks as I said earlier it added to the song instantly. But when Mac isolated Lenny's addition from the rest of the music it captivated the Control Room. It was a hypnotic groove. You would never think something that was seemingly so simple could be so energizing. Luke summed up the feeling in the room when he said "only Lenny". Luke joked to Lenny "I HATE working with you!" Lenny joked back "sorry!" When the percussion part was completed on a song Luke walked over to "the chart". The chart was kind of a scoreboard for the CD. One side had a description or working title to the song and the other side had an instrumental category. The categories included guitar, solos, background vocals, percussion, vocals and additional keyboards. When the percussion part was completed Luke then proudly mark an X on the square signifying that they were one step closer to completion. With the next tune Luke had to eat his own words as he said "believe it or not this one may be good for the cowbell!" Luke was right on as the number was a nod to '70's oriented rock guitar. The added cowbell gave it an even further old school feel. Lenny said " I love the guitar on this" as he played air guitar along with the track. Luke said " I wrote this one with Fee Waybill". When the beer can shaker was attempted on a track Luke interjected "not that I don't love the beer can shaker but it's not working on this one. How about something with a deeper groove." Sure enough Lenny pulled out a larger more traditional shaker with a much heavier sound that seemed to fit the song.
After Lenny changed to the heavier shaker Luke said " that's a much groovier noise for me! You nailed it once again! That's why you are Lenny Castro!" Another detail that you would never think of is choosing the right shaker for the right song. And one step further in choosing the right shaker for a different part within the same song. The only time all day there was even the slightest difference of opinion was regarding the tambourine on a song. Lenny said from the start that he didn't think it would work on that cut. Lenny made a couple of runs on the song. But after a couple of passes Luke said "Lenny, you were right! That's the Leonard that I know and love."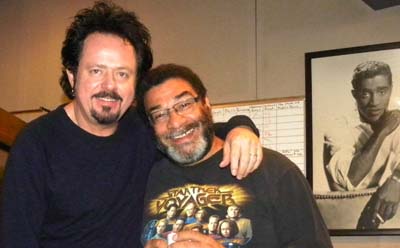 Even with no vocals or guitar solos yet it's a great sounding record. It's very melodic. The guitar sounds are groovin'! Toes were tappin' in the studio from the time I went in until I left. This visit gave me an even greater appreciation for all the time, energy, effort, dedication, attention to detail and sacrifice that's made in the writing and recording process. I am definitely looking forward to listening to this upon completion.
Reggie Boyle, Stevelukather.com, February 20th 2010