Part one
Reggie: Could you tell us about this new CD you are working on?
Steve Weingart: "It's really evolved. We've talked a little about it in the past. I had grand ideas about having different musicians on it from time to time. It really has kind of funneled down to a core. That core is myself, my wife Renee (Jones), she's playing bass, Simon Phillips (Toto, The Who), Mike Miller (Bette Midler, Chick Corea, Gino Vanelli) on guitar and Katisse Buckingham playing sax and flute. The guests that are appearing on it are Luke on guitar and Victor Wooten (Wooten Brothers, Bela Fleck and the Fleck tones) on bass.
Reggie: That's a great group of people
Steve W.:"Yes, I'm real happy with it!. In the same way that this has evolved in terms of personnel, it's evolved musically into something that it didn't really start off specifically in this direction. But this feels right to me. It feels very at home. I think really what happened was I got together with Simon and it just clicked. Musically it clicked. I think we have a lot of the same influences in our background. And Renee of course, she co-wrote some of the things with me. And we definitely have a lot of the same influences musically. It was nice and natural."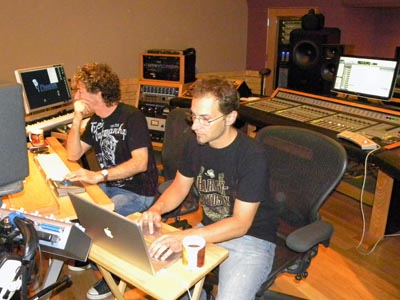 Reggie: What about the song writing?
Steve W.: "There were a couple of songs where Renee did the majority of the writing on it. I just came in behind her and added some things. She had written two of the songs for sure and I just put a couple of sections in here and there. It was kind of a thing where she said 'can you do something with this?'."
Reggie: You've already touched on this a little bit but tell us about your wife Renee. I have been to a lot of your gigs in different variations and she's always there and very supportive of you.
Steve W.: "She's my best friend. We were High School friends years before we started dating. We were buddies in band and in school. I think I met Renee in 1979 or '80."
Reggie: How does this project compare to your other releases?
Steve W.: "It has to do with living life. We do the best we can at the point that we are at. I see that as the current point that we're at right now. This one's really good compared to the other ones. Not that the other ones were bad. It's just at a point in time that I was exposed to different things in my musical development. The first one I was around (Dave) Weckl a lot. I was doing a lot of work with him. The second one I had stopped working with Dave. Then I was kind of doing a search thing. The people that I had on that album were Tom Brechtlein (drums), Jimmy Earl (bass) and Frank Gambale (guitar). Those were the guys."
Reggie: A lot of the Baked Potato Cats.
Steve W.: "Ya, that's right. There was a little bit of a different direction I was heading. In each of those cases, they didn't come together quite as comfortably as this has. This is a special one."
Reggie: I think that it's pretty cool that we are here in Simons' studio, Luke is here and the Toto guys have recorded here. You were just talking about David Paich being in here a few moments ago.
Steve W.: "Honestly, this place is great. We're sitting here on the couch. It's real comfortable. Normally in my past when I've done sessions, whether it was my earlier CD's, I've always felt this needs to get going. Let's go! Let's go! Time is ticking away. But here it's more about let's come here and hang out, enjoy yourself, enjoy the music, enjoy the friendship and enjoy the hang. You know what I mean?"
Reggie: Ya, for sure. It's real comfortable here.
Steve W.: "It's really, really cool here like that."
Reggie: How about Simons' involvement in the record?
Steve W.: "Like I said. We hit it off so well. I didn't feel like we needed to discuss what this persons' role is. The way it appears to me is that Renee and I brought these tunes in and we just kind of played them for everybody involved. Everybody then made suggestions about the music. We brought this music in from the computer world. We wrote the songs on a computer in demo form. So when you put it in peoples' hands that actually play the instruments everything changes. Simon is just living history. So when listening to his input it would seem really dumb not to listen to anything he's got to say. I'm not the type of person to shoot myself in the foot. He brings such a history of his experience. As I said earlier he and I have a lot of the same musical influences. Not to mention that he was one of my musical influences. I welcome anything and everything. I'm looking at this as a music person. I'm not looking at this like we have to this percentage of writers credit or these many points, or doing this part of the job or that part of the job. I'm just here to make some good music. And this has been a really successful method so far."
Reggie: You just got off the road from a run with Victor Wooten. How did that go?
Steve W. : Incredible! We did three shows across the Midwest. There were a couple of Jazz Festivals and one Club date. Actually I was going back out on the road with him at the end of June to midway through July. It's obviously a very different type of music. It's got more of a Jazz approach, Jazz feel to it. Victor has a following from the years on the road with the Wooten Brothers and also his participation with Bela Fleck and the Fleck Tones. He's one of the Cats so he has a big huge following. Not to mention all the big named Cats he's played with over the years!
Reggie: Well how about you playing with some big named Cats? Victor on bass, Luke on guitar and Simon on drums. There's really not a whole lot of bigger names out there than those guys.
Steve W.: "It's hard to beat that. I've got some nice feathers in my cap. I can't deny that!
Reggie: How was the Baked Potato's' 40th Anniversary Show on May 22nd this year?
Steve W.: "It was great! That was really, really, really cool. There were so many people on the bill. I took my Rhodes to the gig for Cats to play. As it turned out the only person that ended up using it was my friend Jeff Babko (Jimmy Kimmel Show, Toto). He's like a brother to me. He's a great player. He's just a great guy. He's a great hang. He's had such a rich history of gigs and sessions. So I got to see Jeff. He played with Jeff Richman. Scott Henderson was there. We played with Luke, Vinny (Colaiuta) and Tal (Wilkenfeld). And then Luke's' buddy from James Taylor's' Band Michael Landau played right after us. Also Alan Holdsworth played. It was just a who's who of guitarists. So it was a really cool day to see all that music. I ran into people I knew from across the Country. I met some people from Japan that day. From all over the World."
Reggie: Is there anything else you've got going on or wanted to add?
Steve W.: "Everything's looking good with Luke's C.D. I've heard the stuff. It's completely finished, with the mixes and master. It sounds great! Really amazing! I'm looking forward to going out on the road with that later this year (November) and next year. I've had a really busy year with a lot of really cool projects. I'm still working with Marco Mendoza (Whitesnake, Ted Nugent, Neal Schon, El Trio). That kind of always goes on. We all convene in town at some point and say let's get together and do some gigs. Whether it's at The Baked Potato or whatever the club may be."
"When I was on the road a few weeks ago with Victor I took some of the rough mixes of my songs on my I Pod and played them for everybody. They were all diggin' it! I let it go on for awhile and then said you know that's my wife Renee playing bass on that. I kind of set them up but they were all bobbin' there heads and groovin' to the tunes. So I'm really proud of her. This is her first ever project where she was completely involved. She played some and sang on Dark Blue Dream. But this is the first time she's been involved from start to finish."
Reggie: Well she got some props from Luke and Simon so she must be doing something right.
Steve W.: "She did really good on the C.D."
Reggie: Anything else?
Steve W.: "Go Jeff Burton!"
Reggie: I know that's a race car reference but not much more than that. You need to talk to my brother about that. He's number.............?
Steve W.: "31"
Reggie: Thank you so much for letting me come to the studio and letting me hang out.
Steve W.: "Any time. Thanks for coming out today."
Part two
Reggie: Since last time I talked to you, you went on a longer run with Victor Wooten.
Steve W.: "We went out for three weeks. That was incredible! We started in New York at a place called the Highline Ballroom. The funny thing that happened was Victor was doing a project called SMV. It was Victor with Stanley Clarke and Marcus Miller. We all got to town a day early so we went down to the club that we were playing at the next day and Marcus Miller was coincidentally playing there. So another coincidence was that Stanley Clarke was there too! So all the cats were there and we got to see them and hang out with them. That was pretty cool! Of course we played the next night. It was a great night. Then we did the Montreal Jazz Festival and worked our way down the whole eastern side of the U.S. We ended the run in Florida. Great trip. Incredible playing. We got to meet a lot of people. I got to see my family in Atlanta. When you get to that level then every night is an adventure! I started to first have those experiences when I first met Luke. The intensity is so amazing! The music is flowing and the musicians are all so good that it's always an experience and a blast!"
Reggie: What about your new C.D.?
Steve W.: "Right now I'm ready to go to mastering. We're completely mixed. I think one of the wisest decisions I made in my lifetime was getting on board with Simon and having him be a big part of this project, my C.D. I did my first two C.D.'s pretty much all by myself from the beginning. I did all the writing,arranging,editing but I didn't master it. I let somebody else do that. I even did the art work. I put all the pictures together and all the text. I did that because I didn't have anyone behind me to support me financially. I couldn't hire out those people to do the work. I simply couldn't afford it! With this C.D. I wanted it to be really special because there's a bunch of first time things that are happening. I'm singing, Renee is singing. I've never had such an intense collaboration as I did with Simon."
Reggie: Those are the things I think about when Simons name comes up. Intense, focused, no wasted time, no B.S. I mean intense strictly in a good way.
Steve W.: "In a very good way! It's easy because everybody's good friends. In the studio it's really easy to get nothing done. So that's why I love Simon's work ethic!"
Reggie: He isn't afraid to tell you whether something's working or not for the benefit of the project.
Steve W.: In my opinion that's a great quality to have. We're in a social time where it's not real cool to say what's on your mind. I think things would be a lot better if people would be honest with each other."
Reggie: Do you know what songs from the new Luke C.D. you're going to play live?
Steve W.: "Actually we're having our first band meeting for this outing real soon. I've had some conversations with Luke. We've hung out a couple of times. I've been on the road and of course Luke was on the road with Toto. Both of us have our hands in lots of projects. We talked a little about this stuff but mostly about being bro's and hanging out."
Reggie: When you guys are in the studio recording a song do you have a sense if it's going to work well live or not?
Steve W.: "That goes from song to song. There have been times where I said this song is going to be off the hook. I'm talking about Luke's C.D. at this point, 'All's Well That Ends Well'. There's a couple of songs on there that when we played I thought, man, this is going to rock the house right off the foundation. There are a few of those and then there are some that may take a little work to get into that form. But Luke's music is hard hitting all the way. We go into the studio and what we are trying to achieve on C.D. is the composers vision. That may be more than what can be handled live. In the case of this particular C.D. with Luke there are some cases where we will be able to play everything we did in the session in a live setting. But then there's a couple of production pieces with lots of atmosphere and vibe that need four or five pairs of hands. CJ Vanston did incredible work on the C.D. So I'm going to be talking to him in the next few days here. He's going to give me some assistance on some of the stuff he did. So I'm not going to be hunting and pecking to find that one sound out of 5,000 that are available."
Reggie: How about telling us about another really cool project you've got going with Luke: 'The Goodfellas'?
Steve W.: "It's with Kenny Aronoff (drums) and Fabrizio VZee Grossi (bass). It's another of those jam situations. My first time playing with Kenny Aronoff was at Marco Mendoza's (Ted Nugent, Whitesnake, Neal Schon) C.D. release party for his first C.D. It was at La Va Lee which is now closed. I'm looking forward to playing with Kenny again. It should be a gas!
Reggie: Kenny is another focused, intense dude like Simon.
Steve W.: Ya and funny too! He's a great guy! Fabrizio is a really cool cat too!'
Reggie: Did you want to add anything else?
Steve W.: "Just that I'm getting started on this Tour with Luke! It's going to be great! it's going to be a fun Tour!"
stevelukather.com, September 28th 2010