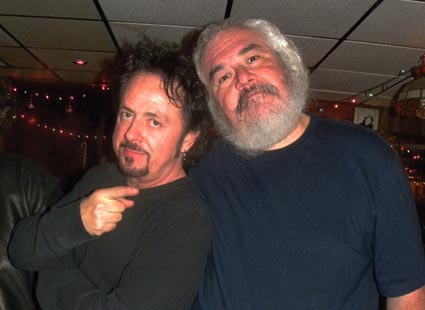 Steve Lukather/Greg Mathieson
It was another amazing night of music at the World famous Baked Potato in Studio City, Ca. This night it was billed as Steve Lukather. It could have been billed as Steve Lukather/Greg Mathieson. The nights line-up was Luke (g), Mathieson on keyboards (Larry Carlton, Robben Ford, Michael Landau), Toss Panos on drums (Larry Carlton, Robben Ford, Michael Landau) and Jimmy Johnson on bass (James Taylor). These guys have played with each other from time to time but this is the first time that all four of these talented musicians have played together as a quartet. One of the perks of this "job" is that I was one of the first three or four people in the World to see these guys play as they warmed up in sound check. It sounded as though they had played together for years. To Luke it was just a "loose jam" of friends at the "Spud". The crowd would look at it differently later that night.
I realized immediately on that all of these guys were super talented cats and that there were no huge egos involved. In sound check there was a lot of give and take. The attitude from all was what's best for the song or the gig not what's best for me. It only took a few runs through a couple of songs before things started to click quickly. A couple of times when things weren't quite working right all four musicians stopped at the same time knowing something was wrong. It was only a second or two before everything was fixed to the satisfaction of all.
This newly formed jam band played two all instrumental sets. The microphone was in front of Luke only to praise the cats and entertain the crowd with "Luke style" humor! The Baked Potato is a familiar ground for the Lukather Family. Luke's son Trevor was there with his friends as were CJ Vanston and Phil X (Triumph). These guys have all been around the musical block and were at times all amazed my Luke'sand the quartets' performance. CJ cheered Luke on. Phil X sat only a few feet away as Luke blistered through song after song. Mathieson was just as big a part of the musical magic as Luke. Jimmy Johnson And Toss were right there with them too. Jimmy just sat back there quietly and held down the groove with Toss. Panos has a style all to his own. He plays the Baked Potato all the time with many different artists and continually proves why he is so great. He fits in perfectly with everyone he plays with numbering many different styles. With all four musicians being so talented you find yourself locking in on Luke and then saying to yourself 'I'm missing Toss'. Or you lock in on Toss and realize your missing Mathieson flying on the keyboards. Every one in the quartet had numerous moments that amazed the crowd. I kept telling myself this is the first time these guys have played together!
As to the set itself "The Thrill is Gone" stood out as an amazing unheard of rendition of a true classic. "Bump Me" just flat out rocked the house down. The energy level was brought up a notch or two as the crowd came up in energy to match the song! Billy Cobham's "Stratus" & Herbie Hancock's "Butterfly" were numbers that grooved from start to finish. The guy's proved they could also slow it down a notch with "I'm Home". "Groove Buster" wowed the crowd too as I realized that EVERY single number had something special about it!
Both sold out sets were enjoyed by all. It was old school musicians playing old school gear to an old school crowd. These guy's schedules are always busy so it's hard to pin all four of them down. But the buzz was they may take another crack at it again in March. So if this gig happens again and you missed it the first time you won't want to miss it again! If you were lucky enough to witness this groovefest you will want to return for another look at this amazing group of "musos"!
Before the show I had a few moments to speak to Luke about the nights gig. Luke told me "it's a jam. It's what the Spud is all about from day one. I started it with Greg Mathieson. He said 'do you want to play' and I said yes. They put my name up there. Toss Panos is doing it. Jimmy Johnson, World class, legendary bass player is doing it. The four of us as a unit have never played together. But we've played with each individual person. The Spud is like home. There's a picture of me on the wall right above my head standing right where I'm standing tonight when I was 22 years old. There's something surrealistic to that. It's like what the fuck. Are you serious? Where did all the time go?"
Stevelukather.com, December 22nd 2011