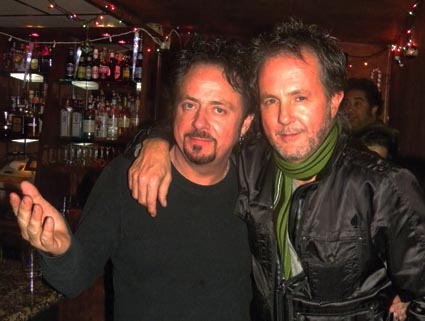 Reggie: You and Luke are working on a new album.
CJ Vanston: "We are. We're about five songs into it so far. It's kind of exciting because we're starting it from square one on this one. I kind of came in at the end of the last one (All's Well That Ends Well). We found a sound and kind of worked backwards. We thought that we would do one song, then it was two,then it was three. It turned out to be five songs we wrote together. This time we started from the beginning."
Reggie: What exactly is your involvement?
CJ: "I'm writing, playing (keyboards), producing. Everything".
Reggie: What else have you been working on?
CJ: I've been the Musical Director for Spinal Tap for 20 years. There's a lot of side stuff that's come out of that. I did a lot of Christopher guest movies. I do all of his scores. Harry Shearer is a prolific songwriter. I produce his records. I have a production company. I have three artists that are very young that I am producing and writing with them. We are starting from the ground up. I also have a project next year that I am working with Keith Emerson from Emerson,Lake and Palmer. It's really exciting. It's a synthesizer orchestra in probably April ."
Reggie: I saw you when Luke played and spoke at the Grammy Museum. You were there. what did you think about that night?
CJ:" It was actually really great because I took my dad with me who is a phenomenal musician. He used to play with Sarah Vaughan and Johnny Mathis. I had been telling him about working with Steve.
Steve and I go back over 20 years! I worked on a song called "Swear by Love" (From the Album "Lukather") in 1989. Then I worked on the Album "Kingdom of Desire" (Toto). I played keyboards on that record. We did a bunch of sessions together. This last record was a much more intimate working together. It's the first time we've written together. But getting back to my dad. I had been telling my dad about Steve. I don't think he quite got it. So Steve came on stage at the Grammy Museum. He's a great guitar player and his funny self. Then he started talking about playing with Miles (Davis) and Michael (Jackson). Then my dad started to get it. It was amazing to me to see my dad get who Steve is and how deep Steve is! It's something I've known since 1977. I've been a fan of the band (Toto) since the beginning. As a matter of fact I was a session musician in Chicago and we had our rhythm section. Everyone had to have our rhythm section. They called us the 'Toto of Chicago'! I've ALWAYS looked up to these guys. And to finally be able to work with Steve! I'm mixing the new Toto DVD by the way. The 'Live in Verona' DVD. That's an honor! I know those songs and the keyboard parts inside out. Steve Porcaro and David Paich have been huge influences for me. Steve has been a huge influence on me. And to finally be working with Steve is amazing. Especially this time starting from the first note. We live like 1/4 mile from each other. My studio is at the bottom of the hill. It's like Mayberry. It's like we're living in this small little town and we're making this record. Sometimes we have to pinch ourselves and realize that this record is going out to the World and a lot of people are interested in what we're doing. The last record was pretty well received. The energy of this one is just awesome. What I'm trying to say is that we reconnected. We worked together through the years. On the last record Steve was going through a lot in his life. My studio kind of became a safe haven. It became a safe haven for making music. A lot of those lyrics came out of the hangs we had together. The lunch hangs we had and all that. To be able to provide that for someone like Steve, that's what a producer does. Creates an environment where music can be created. We're like long,lost brothers. It's beautiful."
Reggie: It really is great that you've been able to reconnect with Luke.
CJ: "There's nothing I'd rather be doing than working on a record with Steve. It's the musical pinnacle working with Steve."
stevelukather.com, December 22nd 2011