The two set show covered almost all the songs off the stellar new release by the Weingart/Jones duo. The instrumental sets were highlighted by a yet to be recorded song '2012' and numbers from 'Dialogue', 'Busy Day' and 'Back Down'. Current Toto members Steve Lukather and Steve Porcaro were part of the jam packed, sold out, hard to breathe shows! Luke cheered the group on as he enjoyed the blistering grooves. To watch such musical virtuosity from such close proximity was a sheer joy.
I had a few minutes after sound check and before the gig to talk to Weingart about a few different subjects.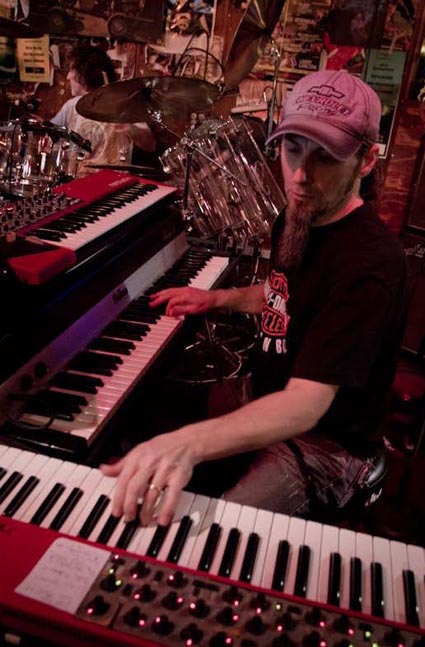 © 2012 Louis J. Spirito
Reggie: Please talk to us about how much work you put into the making of your latest CD "Dialogue".
Steve Weingart: "The work starts with the composition and the intention. Just the intention itself is a big step. You have to decide, do I really want to do this? You're working for yourself. The 23 hours of the day that you're working on this album. It's an emotional investment. You're using your logic and intellect. While it's not manual labor it's still difficult to put so much time into making everything work just right. The compositional aspect is difficult in a band situation like this is, Renee and I. I try to treat everyone in this situation as an equal member. Everybody brings such musicality with their instrument. I am not a drummer. I'm a frustrated drummer, actually! I played Sax at one time, when I was a kid. I believe it's in my best interest to let them speak. We do things in the compositional process. That takes time.
The actual reording itself took three days. We had a few rehearsals ahead of time, Simon, Renee and I together as a trio. To run the music, have a give and take, run a conversation and work on some of the arrangements. There was that much time going into it. It's a weird thing. It's like when you start a life. You are continuing the life of this song. You just were in there in sound check watching us rehearse. Even though we are just remembering and familiarizing ourselves with and old friend. We're making improvements. You can hear Katisse in the background checking it out. (We hear the sound of Katisse playing the flute)."
Reggie: I'm seeing a lot about this project on the internet and on radio.
Steve W.: "It's really great. We engaged a company named Wavelength Radio Productions. They are introducing us with their abilities and their experience in the music World. They are introducing us to radio stations and to people who write articles for publications online and in magazines. We were never exposed to these before. Shoot, I've been in this business forever! I moved to Los Angeles in '94. I've been working with a lot of the greats. Again I feel very fortunate to work with the people that I work with. But even when you work with top notch people you might not get the exposed as a composer myself, which in am in this effort with Renee in this CD 'Dialogue'. We are just trying to spread our wings a little bit."
Reggie: You are good at what you do and they are good at what they do.
Steve W.: "Exactly! It took us a long time to figure that out."
Reggie: What's it like playing live with Simon Phillips?
Steve W.: (Laughing)"I've been playing with Simon for a few years off and on. I first met Simon in Germany in about 2001. I met Simon because I was playing with Dave Weckl at the time. Simon was playing with Trilok Gurtu in a little duet concert. I hit it off with the guy. I was like, WOW! That's Simon! I've been listening to him forever. Here's a legend and I've been listening to him with all these cool people. He has such a wide and diverse background. And what a story this guy! These are things that occur to me when we're doing rehearsals. Again, it's like WOW! That's Simon! When I was a kid I was listening to him play on a Stanley Clarke album. He played with the Who and Jeff Beck! He played with the cats! And he's playing with us here. And I'm grateful for that. Not just because he's a great drummer, because of his great talent and experience. But because he's a great musician. He's not just playing his part. He's bringing more to the music than just beating a drum."
Reggie: He seems to know about every aspect of music.
Steve W.: "Not only that. He was fixing our sound boards, getting the flute to sound just right in the P.A."
Reggie: He doesn't hesitate to help. He just does it.
Steve W.: "He's like five guys in one. And on top of it he's one of the nicest people you're ever going to meet."
Reggie: How many times has this incarnation of your band tonight played together?
Steve W.: "This is the second time."
Reggie: You could have fooled me. I just got done watching your sound check and It's like you've been playing together for years!
Steve W.: "To be honest with you, Renee and I spend a lot of time rehearsing at home. It takes a lot from me to remember everything to do at the keyboards. Just that juggling act right there is a feat of it's own. I have sounds dialed in, I have splits assigned to the keyboards to bring about a certain tone. All of that takes a good bit of memorization. In addition to learning and memorizing all of the music. It's just lucky we're a husband and wife team, to have that luxury. So when we com into this rehearsal we come in strong. That's a big part of it right there. When you hear the CD you'll hear it. I'm not trying to be lead keyboardist. A lot of what I do dictates the feeling and the emotion in the music. And Renee as well. Even if these guys didn't come to the show knowing the music as well as they do. They can just contribute."
Reggie: What about the G3 gigs in Australia?
Steve W.: "It's going to be pretty cool. We're one third of the Show. It's Lukather, (Joe) Satriani and (Steve) Vai. We're going to do our set and then enjoy the rest of the evening. It should be great. I met Steve Vai in Japan. As a matter of fact I was on tour with Simon's band Protocol. We went over there with Andy Timmons. I met Steve Vai briefly. I met Satriani briefly when we played on a multi-bill with Luke last summer. I'm really looking forward to the whole thing. It's going to be fun."
Reggie: Luke is going on tour with Ringo Starr this summer. Can you talk about that?
Steve W.: "WOW! Holy cow! When we were at the Grammy Museum, we were in the hall that had the George Harrison Exhibit going on. That was breathtaking by itself. One of the Beatles that's still with us and Luke's going on the road with him and playing that music. That just blows me away!"
Reggie: This is the third Beatle that he is playing with.
Steve W.: "Not too many people can say that. That's really a cool thing. There's a lot of depth because of Luke's history is so legendary. And it just continues. I met Luke at a Club called La Va Lee that's no longer in business. He came in one night and was glowing as he always is! I'm just standing at the bar saying to myself 'Holy Crap' I'm standing next to Steve Lukather! I listened to all the stuff he played on growing up and the next thing I know I'm in Japan playing with him and Nuno Bettencourt (Extreme)! And after that we were best of friends! It just continues on."
Reggie: I thought it was really cool for Luke to come to another gig of yours. And this time he brought Steve Porcaro with him.
Steve W: "It's an honor! It's a humbling feeling to know that composers and players I respect so much come out to see our show. What's even better, is at the end of the night, he was so excited about the show, he came up to me. I hadn't even get off the stage and we started hanging out and talking about keyboard equipment and playing. Here is a true musician! And, for me that's one of the nice rewards that come from all of the efforts Renee and I put into our project. Of course, receiving compliments from a musician of his stature is always very cool! He is one of the nicest people I've known. I was really glad to see Luke and Steve there. It's a family feeling for me, and considering all the great adventures I've had with Luke over the years, he really is like a brother to me."
Reggie: Did you want to talk about anything else?
Steve W.: "We are just getting this project started with Renee and I. We are preparing for the next album. We are doing a debut performance of this song that I just wrote called 2012. Do you remember when Y2K was around and everyone was freaking out? They were buying food, water and storing supplies. Putting their offenses and defenses in place. Doomsday was coming. There is a certain amount of that going around already. The end of the Mayan calendar. All of the conspiracy theories that surround all of this business. The song enters the thought of I don't think we are alone as I look up at the sky. The song involves outer space beings. Outer space to us. The song is kind of rockin'. It rocks hard. It's meant to convey a message of how intense things are now in our lifetime. The song ends with the imagination of outer space aliens leaving. It's in our plans to record this album within the next few months, right after G3. We're going to come together and record this album and get it out so there's meaning to the title '2012' and the songs that surround it. I've got kind of a theme going on right now so I want to make sure it gets out so we can all enjoy it before the end of the Mayan Calendar."
Check out all the album at steveweingart.com .
SteveLukather.com, March 3rd 2012