Reggie: I just spoke to Steve Lukather and here's what he had to say about you. "Steve Vai is a close friend and a musical genius in a World where that word is used too often for so little. He is the real thing in and out. I love him so much. Ask him if he could stop being so good so that the rest of us mortals could still stay in the game!"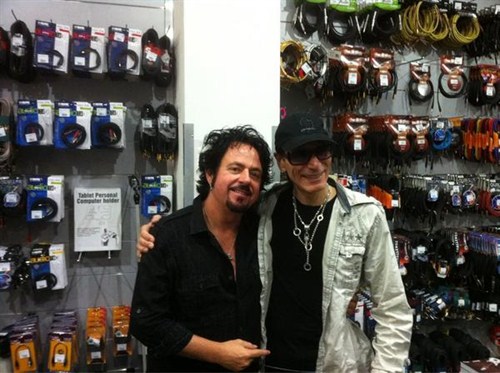 Steve Vai: (Laughing) "He's being too kind to me. Steve is one of most gems of a people I know. He's so special. He's the kind of person everybody should know. I'll never forget when I first moved out to California I was just this very naive, inexperienced kid. Steve was the real hot shot on the block. I remember I got this cassette that somebody had given me from one of his gigs at the Baked Potato. I listened to it religiously because I had never heard guitar playing like this. A lot of people know Steve from his studio and session work. He is obviously brilliant at that. In listening to this cassette over and over I learned the importance in the quality of how to build a solo to a climax. He would start out at one place and bring the guitar to another place. It was just astounding. I'd never heard that before. I've never anybody before go on and on for a period and build and build and build. It was sort of like an epiphany. He had this great mystique but when I met him I was so surprised how genuine and honest he was. He was a real sweetheart. The most amazing thing about Steve, besides his guitar playing, which is obviously brilliant is his amazing sense of humor and wit. He just lifts you up! He has really great energy. Watching him play. I've played with him many times. He's ALWAYS connected with what he's doing. He's such an inspiration. I have to say, and I want to go on record saying, with Steve joining us on the G3 Tour in Australia and New Zealand, was perhaps one of the best times I've ever had in my life on Tour. He's the life of the party! He's funny, he's interesting, he's warm, he's just the greatest guy. My life has been so enriched by knowing him. There are people that you just get a connection with. He's so complimentary, so supportive of everybody. He's genuine. He wears his emotions on his sleeve for the World to see. It's a marvel to behold. We've grown together through the years. He's just one of those guys that you meet in the business that you cherish because of that energy and of how supportive they are. I really love him. You feel for him. He's an amazing guy. He's tough too. He's nobody's fool. He doesn't let people take advantage of him. Which you have to be able to understand in this business. Considering everything he's been through. I think he's played on a BILLION records! He's able to balance those things. Even under circumstances that would crush most people in the music industry he can come back with something funny and uplifting! Almost like Frank. Almost like Zappa, where when you say something you're going to get something back that has the right balance of truth, humor and intensity. People with those qualities are GREAT to be around!"
Reggie: You have a brilliant new release out called "The Story of Light". Can you talk to us about that new release?
Steve Vai: "I have a particular approach when I make a record. I like diversity. I like real dynamic range. The songs on the record have a lot of diversity. Not diversity in the sense of there's a Blues song, and Rock song and a Jazz song. I try to keep it relatively unclassifiable. The record has what I consider some of my finest guitar moments. I haven't really said that in the past. I held back on certain things. I went for different kinds of climaxes. I was continuously trying to evolve my phrasing. That's another thing about Steve. Whenever you talk to him he still plays every day. He gets up early in the morning and practices all day or most of the day. And he's still excited about discovering new things. On the G3 Tour and you're up there and you're trading with these guys. It can be intimidating because they're so good. Steve so came out of his shell and was pulling things out that I've never seen or heard him do. He really inspired me. I know this was supposed to be about my new record. About my record. It just came out. It's a second installment of a big concept project that I'm working on, that I'm expanding over several records. I always try to look for some sort of alternative form of entertainment besides just the music. Somebody who's interested in that kind of thing. There's various kinds of stories to follow and characters. It's not necessary to follow all of those things. A lot of my material is rooted in my spiritual studies. A lot of my music can be esoteric sometimes a little eccentric."
Reggie: You put together some really cool packages for your fans to enjoy your new release "The Story of Light". Both for the CD and for the Tour. There seemed to be a lot of thought put into everything. Could you talk about these packages?
Steve Vai: "When you're in the business for awhile you carve your own sound. There is usually an audience of people that are attracted to what you do, across the board for most artists. Some of them really like those special little touches. I enjoy doing it because I'm a music fan. There are artists that I still follow that I still embarrassingly fetish everything they do. I love these little special things that they do. So It inspires me. I'm a big Tom Waits fan. Tom's last record, just the way that he does his record releases. The way he announces them. The way he announces his recent new video. It's creative. It's interesting. The fans find another dimension to the music. When we were planning this release since it's on my own label I can do whatever I want. If I want to create a special package with a bonus DVD, a 32 page booklet with a special kind of packaging I still make more money than if it was at a major label. I have a great management team, a great team of people at my label. I especially enjoy doing what we call the EVO premium package which you can buy for the gig. It gives you a bag full of gifts, hand written music, Tour booklet, picks. Then I get together with the them and I have a nice little intimate discussion with them for like 45 minutes. And then they're invited to sound check and I take photos with them. It's really nice. They enjoy it. I enjoy it."
Reggie: You have some truly talented artists on your Favored Nations Record label. Can you talk to us about Favored Nations?
Steve Vai: "A lot of times artists have different brain muscles than executives at labels. But I've always been fascinated with the infrastructure of the music industry. I wanted to understand it. I understood it at a very early age. I figured it out. A lot of that was my mentoring from Frank Zappa. I was always very independent. When I started to look for a record deal for my first record I realized how lopsided the whole conventional record deal was for the artist. I wanted to walk the walk. So I started this label almost 17 years ago. It was basically for very musician oriented people. People who had a vision. They know what they want. They don't need artistic cultivation. At the time I started the label I did a great study of record sales. I figured out a way that the artists that were only selling five or ten thousand units could actually get their music out and make some money and then go on and make another record. The deals that I cut were a 50/50 profit shares. So the label never made any more money than the artist. It worked for a while but unfortunately as the new technology came in, and I don't necessarily blame the new technology, there was a big decline in CD stores and CD sales. And distributors just wouldn't take anything that wasn't going to sell a certain amount of units because the stores wouldn't take it. The shelf space at the stores just vanished. I kind of evolved Favored Nations into more of a digital only distribution network. These days I don't sign artists for physical distribution because it's hard to sell. It's risky. It's a hard model. But the digital model is actually really good. There's nothing physical involved. Digital sales are rising. So if a person came to Digital Nations and uploaded their music in ten minutes they have their whole record in several hundred stores around the World including all the major i tunes stores. They would receive %90 of all the money that comes in and retain all their rights. It doesn't mean that it's going to sell. They have to get out there and work their ass off. That's ALWAYS the bottom line. It's evolving and I always try to stay in front of the curve. It's not like a big money maker. The label never made millions of dollars. It was always a profit share."
Reggie: It must have been a great night when the Steve Lukather/Larry Carlton Album Live in Osaka: No Substitutions won a Grammy for Best Pop Instrumental Album on your Favored Nations Label.
Steve Vai: "Oh that was such a thrill. I engineered that record and produced it for the guys with my buddy Matt Resnicoff. We had such a good time and being able to listen to that music in such an intimate setting and working through their music was fascinating because they are so great. They're powerful names too, Carlton and Lukather. We submitted it for a Grammy and we won! Which was fascinating. It's so nice, I have a photo of me on the stage with the guys. I was actually hosting the pre telecast for like five years. We present over 100 Grammy's during the pre telecast. I actually announced their award when they came up. It was a special moment."
Reggie: You recently played on the Deep Purple Tribute "Re-Machined". You played "Highway Star" with Glenn Hughes and Chad Smith. Please tell us about that experience.
Steve Vai: "Yes I get approached to do tribute records quite often and I usually pass because a lot of times they are just schlocked together. They're kind of just like 'for sales'. But this was a special, sincere one that only comes along once in a while. This Deep Purple tribute record was a celebration of "Machine Head". Its 40th Anniversary. When they offered me the opportunity to do "Highway Star" I couldn't turn it down because that song. It's "Highway Star'! There were some really great artists on the record. I said this is really legitimate. This is really solid. I'm going to give it the best that I can. I really took a lot of care in trying to be respectful to the original song. But it also has the characteristics of me. So I blew up the seven string on it. I really had a good time. And Glenn Hughes man, that guy is a GIANT! He is absolutely ASTOUNDING when he sings. It was really a great project."
Reggie: It's pretty neat that you're ending the American portion of your Tour with three "hometown shows". ( Oct. 11 Anaheim, Ca. The Grove, Oct. 12 Los Angeles, Ca. Club Nokia, Oct. 13 Agoura Hills, Ca. Canyon Club)
Steve Vai: "Yes I planned it that way. I like to play a lot when I'm on Tour. We can play up to ten shows in a row without a day off because I only sing a couple of songs. I love planning a Tour because I get to say give me a day off here and give me a day off there. I like ending on the West Coast because you get to go right home after the last gig. As a matter of fact the last gig of the Tour is two exits from my house! The Canyon Club is an interesting place. I never really thought I'd play there but the offer came in. I said you know this is right down the street from my house. I just want to do it."
Reggie: Can you talk a little bit about Eric Valentine, Lukes drummer who played some of the G3 shows with you.
Steve Vai: "Eric saved the day. My drummer Jeremy Colson was in a conflict because he tours with Billy Idol. It worked out perfectly because he's an amazing player. He's got great feel. He's really got great ears when he's playing. He listens to what you're doing. He catches it and it takes you some places and it's really nice. It worked out nice. The G3 Tours are pretty simple. We only do 45 minute sets. So it was nice to share Eric with Steve."
Reggie: I talked to Steve Weingart (keyboards) and Renee Jones (bass) from Luke's band. They both raved about how much fun they had and how well they were treated on the G3 Tour. They also said everyone on the G3 bill were truly fans of everyone else. They said it was almost like one big family.
Steve Vai: "Yes it is like family. Those G3 Tours are wonderful. A lot of it is based on our leaders emotional equilibrium. Joe (Satriani) is really easy. He's incredibly professional. He's funny. He's up and as a result it casts a demeanor to the whole Tour. It is like a family. It was very special. especially Steve and Renee. It was cute to see them together touring like that. And they're wonderful people. And they're great musicians."
Reggie: Is there anything else that you wanted to add?
Steve Vai: "I'm really glad that you're supporting Steve in this way because he's so deserving. I love him like a brother. And thank you very much for your support of him."
Reggie: Thank you for your time and support.
Website: vai.com
SteveLukather.com, August 18th 2012