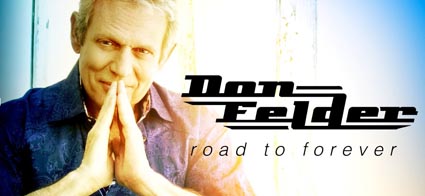 Reggie: It has been thirty years between solo albums for you. It's been well worth the wait. What are the differences between these releases?
Don Felder: "Well obviously I think I've matured a great deal over the last 30 years both musically, song writing and in life experiences. A lot of the songs that are on this record really came from life experiences that I've been through. Especially after 2001 when I left the band and wound up going through that divorce and separation and in a twelve month period a divorce and separation of my wife of 29 years. So life changed dramatically. A lot of the emotions from that were written out in these songs as well as in my book "Heaven and Hell My life in the Eagles (1974-2001)". So when I was going through that process of both writing the book and writing the songs it was a tool to both release the emotions. So there's a big difference there from the first record I did in '82."
Reggie: You had three of the main Toto cats playing on "Road to Forever" Steve Lukather, David Paich and Steve Porcaro. You also had two other touring members of Toto in Lee Sklar and Lenny Castro. How did that evolve?
Don: "Robin DiMaggio, who is co-producing on the record, was brought in pre-production meetings with Greg Ladanyi. Originally Greg Ladanyi was going to produce this album. Greg has an amazing history of all the records that he's worked on, engineered and produced throughout his longstanding career. We had been getting together in pre production meetings and in playing golf discussing about this record. What songs we would use who would play on them, what studio we'd be in, where's my ball I think it's off the fairway. Those kind of conversations for about three months. Then as you know Greg met with a very untimely and unfortunate passing and left me with this project that he had sort of laid out in those early discussions about some of the people who might play on it. Like Luke, Paich and Robin DiMaggio who he introduced me to. So Robin called me after Greg's passing and said 'we need to take these ideas and the road map that Greg laid out and go in the studio and start working on this.' We went in and recorded three songs just as a toe in the water so to speak. They turned out really well. I was very happy with them. So we just plowed on through and when it came to the song 'Road to Forever', it was a song I'd started writing when my father passed away probably thirty something years ago. It was this kind of pretty acoustic ballad, somewhat kind of spiritual in insight. When I got in the studio I said it really kind of needs to go from that pretty introduction to a Rock 'n' Roll track. I called everybody that Greg had talked about. Leland Sklar, Lukather and David Paich. All the people that played on that track were people that Greg had discussed with me about playing on the record. So we went in and recorded it and at the very end of that song there is this thing that I tried to create that sounds like this 'pool of souls'. It's basically if you could stick your head up in the Heavens and hear all the voices of the billions of souls that have passed this prior to us kind of swirling around your head. We went online and found this YouTube lecture of Greg at a recording engineer and producers conference and he's talking. At the very end of it he's talking about the difference between analog and digital recording. At the very end of it he says 'that's the difference between the two Worlds.' So we took that audio and put it at the very end of the pool of souls so you hear Greg say that. But it has a different connotation of how being the two Worlds, the living and the spirit. It was kind of an in honor of Greg on that song we got everybody to play on. It was a salute to Greg for his willingness to work on the pre production and I felt it was appropriate that he be on the record as well."
Reggie: Wow, that's a really cool, meaningful thing to do. I just saw your show here in Los Angeles at the historic Troubadour. Could you please tell us about that night.
Don: " Playing in L.A. is always a treat for me. But, actually playing in the Troubadour, where we all started out, getting our feet wet originally in L.A. is just a really historic, California music shrine there. When I came back to L.A. I wanted to do a very small, intimate, very poignant performance. So I decided to use the Troubadour. I think it's the very first time I've ever been in that room sober. (laughing) I called a lot of people that were available to come in and play. Crosby, Stills and Nash were going to come in and sing on a song with me as well but they extended their Tour and added two extra dates in New York City at the Beacon Theatre. They didn't end up finishing their Tour until Oct. 23rd or 24th. So it was to late for them. They were still in New York. They couldn't make it. But Tommy Shaw, who co-wrote the song 'Wash Away' with me is a great singer, great friend and a really nice guy. He sang with me. David Paich (Toto) and Lenny Castro came and played on 'Girls in Black' with me. Robin DiMaggio the co-producer sat in and played with me. I just had a bunch of friends that had worked on the record come in and play with me. It was kind of a special evening for me to be back at the Troubadour and sober, playing new songs from a new CD with some great friends."
Reggie: Timothy Drury of the Eagles and Whitesnake played a major part in your new CD. Could you tell us about your relationship with him?
Don: "Timothy is just a really unbelievably gifted musician. He is a phenomenal singer, phenomenal keyboard player, a great guitar player and a great writer. So when I was going through the separation from the Eagles in 2001 Timothy was also released from the Eagles accompanying band. So I came not only to value him as a dear friend but also as a great musician. When we left the Eagles we continued to work and write on projects. He was playing in my band playing keyboards and singing. We wrote song ideas in my studio. He brings a great deal musically to the table. He's a great arranger. We assimilated about 26 song ideas. Some with Timothy. Some with Tommy Shaw. Some I had written by myself. I had written out a whole pile of song ideas. I culled them down to what I thought were the best 16 songs. I went into the studio with Robin and recorded those 16 songs and then reduced it down to what I thought were the best 12 tracks we had. We put those on the record and the other four songs you can actually hear on i tunes as a bonus track or on Amazon.com or on Donfelder.com. Those four tracks that are not on the record are out and available."
Reggie: Could you ever imagine growing up in Gainesville, Fla, that you would write a book that would Top the New York Times bestsellers list and be a huge part of the Greatest selling album in American History? The Eagles Greatest Hits.
Don: "No I don't think anyone ever starts out in any career either playing music or doing whatever you love envisioning those sort of expectations or envisioning that level of success. I figured I would consider myself very lucky if I could just eke out a living and pay my rent and have food playing music. I was a really poor student in English Class in High School. I think I just barely slipped by on a C- to D+ average. Never in my wildest dreams would I ever anticipate writing a book that went on to the New York Times Best Sellers list. All of those events that took place, the accolades that we won as a band working together, writing my autobiography and writing and producing this CD. None of this success was never imagined or interpreted or much less expected. They all come as surprises. Like I had said at the Grammy Museum, the largest wake up call was when the RIAA (Recording Industry Association of America) awarded us with that recognition of the largest selling alum of the 20th Century. Then I started thinking about all the other people that had recorded. The Beatles, The Stones and Elvis Presley. Huge acts that had gone on to be so unbelievably Worldwide recognized. This included Michael Jackson. We had surpassed all of those in units on any one album. That was a big wake up call for me."
Reggie: The biggest thing I took away from your talk at the Grammy Museum was how much wood shedding you did to hone your craft. You originally turned down Bernie Leadon's request to come to California to play music. You stayed in Boston and worked endless hours on your music. Nowadays people win a few singing contests on TV and then are thrown in front of 20,000 people. What's your take on how different it is now?
Don: "I think that there are a lot of people that become famous without any talent. I think reality TV is a perfect example of that. People that can't act, sing, perform or do anything go on to become famous for a short period of time. The people that I admire and respect in this World who have been given an amazing gift to be able to write,sing and play. There are great guitar players. There are great singers. And there are great writers but when you get all three in a package you have a triple threat. It's like a hat trick. Like for example John Mayer. I think he is a great writer, a great singer and a great guitar player. Alicia Keys. A great writer, a great singer and a great player. I think Alicia is the Aretha Franklin of the 21st Century. With those talents that she's developed in all areas there she can have a longstanding career. To me there's a difference in developing those skills simultaneously. It takes a lot of work a lot of effort. It does for me. Some people are just born naturally to be able to do that. I not only have to be able to put in the 10,000 hours but maybe the 30,000 hours to be able to get to where I feel comfortable and confident in my ability to write, sing and play at a level that I want to. Plus you only really get one shot in this World. When you first come to L.A. or you first come to New York. Your first opportunity presents itself you have to be prepared in my opinion to be able to function at a %300 level. Not just %110. You need to be able to walk into that situation and just blow everybody out of the room. I did not want to come out to L.A. in a half prepared mode. I wanted to walk into here and know how every record was made, recording techniques, engineering techniques, my chops on fire and willing to kick in any door when I got an opportunity and be ready to deliver. I wasn't anxious to jump on the opportunity too prematurely."
Reggie: You've played on some amazing sessions. For example Barbara Streisand "Emotion" which both you and Luke played on, Diana Ross, Joe Walsh, Stevie Nicks, Bob Seger, Mickey Thomas among many others. Could you tell us about your session work?
Don: "A lot of that came about when we were down in Miami at this studio called Criteria Studios. There were four or five different rooms that were all tied together by a hallway. The Eagles would be in one room and Clapton would be in another, the Bee Gees in another room, Chicago would be in a room. Then the next week it would all change. Crosby, Stills and Nash would be in a room and all different acts would be coming through there. I wound up meeting and playing on a lot of peoples projects by just walking down the hallway. A guy like Albhy Galuten who was producing the Bee Gees or Barry Gibb would say 'you have to come in and play on this track. We need a guitar player'. So I'd go in there and play. So if we needed a horn part we'd go down and tap Jimmy Pankow the Chicago horn player to come play on stuff. So we all kind of worked together in the same facility. We made a lot of great contacts. Barry Gibb went on to produce Diana Ross and Barbara Streisand. So literally everything Albhy and he did together I ended up working on as well as the Bee Gees. It was just a bunch of friends making fun records and kind of having a fun time doing it."
Reggie: I guess that doesn't happen if everyone is making records at home.
Don: (Laughing) "I guess to a certain extent it does. Like when I invited Tommy Shaw over to my house to listen to this song called 'Wash Away'. I was kind of stuck on lyrics and he came in and brought a guitar and we goofed around and worked a demo of his that kind of sounded like Crosby, Stills and Nash that I helped him put together a bridge for. Then he helped me write some lyrics on my song 'Wash Away'. Then before he left I set up a vocal microphone and had him sing harmonies for the chorus. It still happens. I just don't think you walk down the hallway and bump into four or five artists like you used to at the Record Plant or get drafted into someone's session."
Reggie: I have two good friends in Vince Gill and Steve Lukather. Vince's daughter Jenny and Luke's son Trevor are both very talented musically and involved in their dad's profession as well as on their own. Your daughter Leah sang on your CD and is very talented as well. Can you tell us about her?
Don: "Sure, but before I talk about Leah I was living in Malibu, I built a studio there in '80 or '81 that I did my solo record and 'Heavy Metal' and a bunch of tracks out there. A friend of mine owned Shangrila. The studio where Clapton recorded, The Band recorded a lot of different people worked. So he called me up and said 'there's this kid in here and he really sings good and he really wants to come over.' So I said sure have him go over to my house, So in my driveway comes this car and this kid gets out with an acoustic guitar and comes into my studio and sits down and plays this really great acoustic guitar and sings this fantastic voice and it's Vince Gill. He was in a band called Pure Prairie League. They were recording over there and I will never forget being overwhelmed with his voice and talent even years and years and years ago. I was so happy to see him be such a successful artist because he truly deserves it. A brilliant vocalist and a great writer and a great guitar player. Oh ya,children. It's very A typical for children of musicians to go into music. Typically if the parents are kind of a hippiesque generation then their kids want to be lawyers. The opposite of what their parents do. I have four children. Two of which had a very strong interest in music. One of them, Cody Felder, my youngest son, went to Berklee College of Music in Boston and studied percussion and graduated from there. He was producing records in Los Angeles for awhile. Leah, from the time she was about four years old, she and I would sit and play piano and sing songs and just hang out together and sing music. I never really formerly encouraged her. She just loved it. We just lived down the street from a celebrity actor, who I won't mention their name. His daughter and my daughter Leah looked like identical book end twins. They were strikingly similar. They could pass for sisters or twins. I had a nanny at the time who wanted to take these two girls out to the valley to Patrick Sawyze's mom's dance studio where Patrick learned to dance. She would take these groups of kids and put on 'Showboat' and these kind of musicals where they sing and dance. So Leah said 'dad you have to come out and see Jennifer and I in 'Showboat'. So I said okay. I took this video camera, she was eight years old. We went out to this little Theatre. I got an early aisle seat so I could be right in the center there. I set up my camera and she came out and instead of just singing in this chorus she had three solo's. 'I went wow that's unusual.' I noticed that while she was singing that she was really in tune. Surprisingly in tune for an eight year old kid. So the next day I took the video cassette and put it in and went she's really in tune. She's had no training or anything. She just has a great ear. So I called one of those high profile vocal coaches that I've worked with. Steve Perry has worked with Elton John, everybody has worked with at one time or another. I called him and said I'd like to come in and see you for a half hour and have you look at my daughter. He said 'ya sure. How old is she?' I said eight. He said 'I don't take kids'. I said I don't want you to take her as a student. I just want you to listen to her. Let me pay you for a half hour and you just tell me if I'm being a proud Papa in hearing more in this little girl's voice because of my bias or if there's really something there. He said 'okay come in and we'll see'. We get in the car in Malibu and he lives all the way in Hollywood. We sit on this couch and Steve Perry is behind the piano singing. He sounds spectacular. He is working on his vocal range. So Steve finishes and he comes over and I introduce him to Leah and she is playing a Game Boy or something. She couldn't have cared less. So Steve leaves we go over and Joel comes over and says 'let me hear you sing. What do you sing?' So she sings a couple of songs A capella from 'Showboat'. So he started playing the keyboard and said ' I'm going to play something and I want you to sing it'. So he would play higher and higher and higher. He was trying to find the top of her range. And then played the lower scales down to where her bottom was. So then he said ' I'm going to play some of these 'Showboat' songs and I want you to sing them with me.' So he runs her through this stuff for about a half hour and says 'I want to see her every Thursday at 4 o'clock.' I said wait a minute you don't take kids. Mainly because I didn't want to have to drive in every week from Malibu drag her back and forth in traffic. So from the time she was eight until the time she was 18 she went in to see him. I was so happy when she turned 16 and got her license so she could drive herself. But he took this little girl's voice who had kind of a natural inclination to begin with and built her into a really great singer. And not only that she's really developed her writing skills. So all of the stuff that she does with this team now of Brandon and Leah, if you go to YouTube you can see three of their videos of songs that they've written and produced and shot videos for." Reggie: I checked it out before we talked here and she's really talented and there's some great stuff on there. Don: "She's really great to look at. She was in my band for about five years on the road. I wanted to get her feet wet. Get used to going on stage, using in ear monitors, developing her stage presence, getting over the fear. She's never really had much fear on stage. I could have literally set my guitar down and walked off stage and no one would have noticed when she was on stage singing. Everybody was so focused on her and her charisma and the way she looks. I didn't even need to be on stage. So finally about three years ago she said 'dad I can't work with you anymore. I have to put this project together with Brandon and I . We're going to go in the studio and start writing.' As a matter of fact she has a great Christmas album that's coming out this year that she did herself last fall. It will be out and it's a very cool Christmas record that takes a lot of the Christmas standards but does them like a very rhythmic hip kind of ,one of them is reggae, one of them is a kind of a Paul Simon South African groove. Some of it has got ukulele with Hawaiian guitar. It's just a very unique approach to a Christmas record. It's called 'California Christmas'. It's a cool new project."
Reggie: You have songs on the Movie Soundtracks for two of the most iconic movies of our time. "Heavy Metal", which gets a great reaction in your live show and "Fast Times at Ridgemont High". What are your feelings on that?
Don: "I think it's an honor. Anytime you do something that carries any length of time in the industry and sustains more than a year or so it's a real delight and honor. As well as those movies themselves are really classic movies. The original animated movie "Heavy Metal' was a great movie a lot of people like to see that at the late night show, smoke a doob and watch it and enjoy it. "Fast Times" was really fun to be a part of it. It was just an absolute classic 80's period piece. It captured the lifestyles, times and setting of that era. So to be wedged into those two movies is just a delight for me." Reggie: I saw your solo show in the perfect California setting. It was at Pepperdine University in Malibu,Ca. It has a magnificent view and captures the true Eagles feel. What was it like playing a gig so close to your stomping grounds? Don: "I used to go to Pepperdine all the time because my kids would go over and we'd play basketball, softball on Sunday on the baseball diamonds. I knew the Head of the Law School there who was coaching my kids soccer. I spent a lot of time around that campus there. I would go over and swim in their Olympic Pool when I was on the beach and didn't have a pool on my beach house. I'd go there to swim just for excersise and use their gym. So it was kind of like my second home out there. It was delightful to play some music for that crowd and that audience. Pepperdine is a beautiful campus. It has a kind of sweet spot in my heart. I spent so much of my time there in my earlier years. It's a great sounding room so it was a lot of fun to play there."
Reggie: The Eagles Greatest Hits has sold 30 million units in the States. When you were in Gainesville you taught a young Tom Petty guitar. He went on to achieve Diamond status by RIAA at 10 million units for his Greatest Hits album. How amazing is that?
Don: "There were an unusual amount of people who learned their music roots in Gainsville. Tommy Petty, Stephen Stills, we had a band together when we were 15. Bernie Leadon came and joined and replaced Stephen when we were 16 years old. The Allman Brothers would be together with us in the Battle of the Bands. I learned to play slide guitar from Duane just like Tommy took lessons from me. Lynyrd Skynyrd was around. They were based out of Jacksonville. Everybody kind of knew each other. No one ever envisioned us all going on to be so successful in the music business. But we all got our feet wet in that part of the swamp. Is the best way to put it."
Reggie: I have seen yourself several times live in concert as a solo artist along with Don Henley, Glenn Frey, Joe Walsh, Timothy B. Schmit and Bernie Leadon. As a solo artsist they all by far all hold up on their own. That's pretty amazing for one band.
Don: "It's phenomenal to have a band with so much talent in it. A band where everyone is a triple threat. Everyone can write, sing and play. Don Henley playing drums and writing songs and singing lead or Glenn. Anybody in that band could have fronted and had fronted their own band at some time or another. It comes down to just having an abundance of talent in that band. So when we're not working together as we are now everyone is still strong as a solo artist outside of the band. I would say that I don't believe that any one individual artist is as good as the Eagles as a whole unit. As a solo artist you get to see what everybody brought to the band. Individually the sum is always greater than the parts."
Reggie: It's kind of like sports. You may have great individual players but it takes a cohesive unit to makes things work.
Don: "Exactly. It's a team. That's what really made that whole band work. Everybody brought their own little special talent to the band. That's why it was so successful."
Reggie: Is there anything else you wanted to add?
Don: "It was a real delight to be in the studio with a bunch of really amazing players working on "Road to Forever". To have so much fun doing it like when Steve Lukather comes in. He's one of the funniest guys you know. From the time when he walks in to when he leaves your stomach hurts and your cheeks hurt from laughing so much. Not only that he is an amazing player. That goes without saying. The fact that we were in the studio with all these different people and there was no drama. It was a really unusual thing for me. I was so delighted to be in the studio working on a record that was very light and uplifting and fun. No intense arguments and yelling. The M.O. for making Eagles records."
Reggie: We have a mutual freiend, Michael Georgiades.
Don: "Sure, Michael Georgiades. He was really close to Bernie Leadon and lived in Topanga when I lived there. Bernie and I both had houses in Topanga and Michael used to live in Topanga. So we would hang out and play music together and go have dinner.I don't know what he's doing now?"
Reggie: He is working at a Studio here in the Los Angeles area.
Don: "Oh wow fantastic! Please give him my best. I always thought he was an overlooked talent in that whole area of California Music. Michael and Bernie recorded together, they did an album together. I always thought he was a brilliant talent and a great singer and a great writer. I'm glad to hear that he's still out there working at it. It's fantastic."
I did have a chance to talk to Vince Gill about Don for a few moments. I told Vince about the story Don told about meeting him and what he said about him and he said "That's really nice of him to say. I do remember going up to his house." About Don, Vince said "I always thought he was underrated as a guitar player. It was a great combination of the songs and the sounds that he got from his guitar. He made invaluable contributions to the Eagles. He didn't get near the credit that he should have gotten. His guitar sound is etched in music history. Those songs and his sounds are so memorable."
Website: donfelder.com
stevelukather.com, October 28th 2012