Reggie: You and Renee got what seemed to be a lot more press and buzz on your "Dialogue" release than you did on your previous releases.
Steve: "I think there is a couple of reasons for that. First and one of the foremost reasons is that Luke has really supported us. Being in his band and Renee coming aboard and being in the band. When Luke talks, people listen. Thankfully, he's been real supportive of the project. He has nothing but great things to say about it. When I hear that from him it's a very high compliment. He's helped spread the word. His posts on Facebook and Twitter and his links about us on his web site have been real supportive. That's one thing. Another thing that has to do with the press that you've seen is this publicist company, 'Wavelength Radio Promotion' that we brought along. They are doing really good by us. They have put us in places where we have never been before. I don't have personal relationships where they have the connections. That's what they do. They are associated with this magazine, that magazine, this web site, that web site. So by just virtue of being publicized and exposed with them I believe they've circulated us to many new places. Through their exposure of us on the Internet, it just grows and grows.
Reggie: Let's talk specifically about this new Steve Weingart/Renee Jones album "Observatory". Who is playing on it?
Steve: (laughing) We couldn't get anybody good so we got Simon (Phillips), Katisse (Buckingham), and Chris (Wabich), an all "B" cast!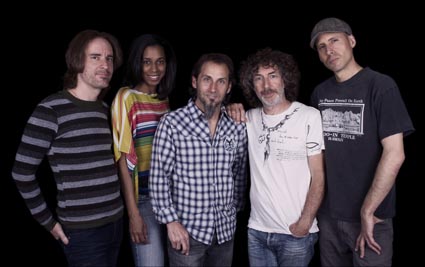 Chris Wabich, Renee Jones, Steve Weingart, Simon Phillips, Katisse Buckingham.
(© 2012 Louis J. Spirito)
Renee: "He's joking of course!"
Steve: "Yes, joking! In all seriousness, we got Simon again. We really liked what went on with the last CD "Dialogue". Simon is a brother to us on a personal level and on a musical level. I really believe his participation on 'Dialogue' really made it what it is. I enjoy hearing it. I listen to it now as a listener, rather than the 'technical guy' who's trying to make it just right. I can enjoy the music where as I can't really say that about some of my other projects. But with "Dialogue" I can. That's a credit to Simon. He made it sound great, he played great, his arrangement ideas, everything that he produced with us. We brought the raw materials in and he took that and ran with it. There were some places where he said maybe we don't need to have this section but let's do this. He has a really good ear. He has a very acute sense of focus. And at the same time, what we're trying to achieve here is not a typical sound. His ideas encompass the same feeling. We want to take elements of all of these things. There is some improvisation going on, but it's not about hammering, hammering, hammering how many notes can I play? If there's a lot of notes it's because it expresses that part in the song. It's definitely an instrumental music album.
Joining us again is Katisse Buckingham. He is playing better than ever. We've got a good team going here. In the same way that Simon contributed in arranging and musicality Katisse is right there. He is another brother that contributed musically and personally. So I'm really glad to have him along. We dropped the guitar on this project except for one song. It was just that in the compositional process, the instrument wasn't something I was hearing."
Renee: "The music this time called for this arrangement."
Steve: "It called for a quartet this time. We brought along a new percussionist/drummer as well. His name is Chris Wabich. He is a real interesting musician. He's really fun, and really clever. He plays great. And he is, again, a brother musically on an emotional level.
Renee: "And what Steve means by brother is that it's been our pleasure on both of these projects that the musicians have owned the music. They bring their voice to it. They're hired to do the session but once they're here they own the music. They feel responsible for it. They feel responsible for replaying it and portraying it the way we as composers or Steve as a composer intended it. And they take it very seriously. Their offers for arrangements are for the sake of the music.
Reggie: Well, in the short time I was in there today it's like there is four or five producers in there. in a good way, everyone contributing.
Renee: "Ya, that's exactly right."
Reggie: Both you and Steve went to Australia with Luke as a part of G3. How was that?
Renee: "What was great about it was, sometimes you hear these horror stories about amazing musicians. These guys are ALL above it. These were the funniest, most generous guys that you would want to meet. Steve Vai, Joe (Satriani) and all of their bands. Great level of musicianship. And really supportive. It was always a blast for me. We were the first set. So we'd look over and there is Vai and Satriani and their bands watching us play! And they'd say 'you guys had a great night'! They were really supportive. Really, for me it was like being at summer camp. It was like we were all at this big party together. The tour took great care of the musicians. Just the best of everything. And of course Luke was just on fire! He's such a great presence. All those guys are different in their approach to the instrument. Different tone. Every night all three of those guys brought it. it was just a blast!."
Steve: "You know what, we were musicians there, but we were also fans. We were audience members. I remember pretty much every night we would go down to the side of the stage while those guys were playing. We ended up having our favorite choices of songs. There were some songs that really spoke to us. And at the end when the three guys would go up on stage together they would play 'Little Wing'. It was really crazy because they all had different setups. Pedal boxes, amps, amp heads, speakers. The combination that makes each person individual sounding to me. It was astounding to me how I could pick each guy out. Even at a high volume. I could say that's Luke, Satch or that's Vai playing without looking. I've known Luke for I don't know how many years now. I've been working and I've been playing with him in my ear so I can hear Luke in recordings that I never knew he was on. I will say 'I wonder if that was Luke'? And then I will ask him and he will say 'ya'."
Reggie: Talk about your band mate and friend, Steve Lukather playing with Ringo Starr on his All-Starr band.
Steve: "It's great! It's so cool! I'm happy for him. I saw the band picture. I said 'that's Luke'! That's cool!"
Renee: "I'm so happy for him too! It's exactly where he should be. It makes perfect sense to me. He loves the Beatles. He's such a monster musician, monster player. He belongs there.
Reggie: You guys both played on Luke's new solo record. Talk about that.
Renee: "Ya, it was great. The music they're doing. I cannot wait to hear the finished stuff that I did. I played bass on a track. The music is great! CJ (Vanston) and Luke are a great partnership. And going over to the studio, I could have done that for weeks straight! It was only one little short afternoon. But it was so much fun. It was great. The experience was great. Amazing producers. It was really comfortable going in there to record. The fun thing was, and I didn't expect to do, some background singing on a song. It's really unique. I can't wait to hear it!"
Reggie: I was lucky enough to go in there one day. John Pierce was there.
Renee: "Did you get to hear it?"
Reggie: I heard the album at CJ's place and it was really great. I've talked to you a bit from time to time. But never for any length of time. Could you give us a little of your background.
Renee: "I've been a musician all my life. I started out like most of the musicians in Elementary School bands and High School bands. I played a bunch of instruments. My first instrument was actually violin. My training in my young years was playing Classical music. That's what I knew. When I went to High School there's obviously not a lot of room for violins so I picked up other instruments. I picked up saxophone and flute. That's how I met Steve. We actually met in marching band and symphonic band. After High School I kind of stopped playing. Then I decided I missed music in my life. Then I picked up electric bass. Steve had one in the house. I just started playing music. The music that I liked was Mowtown and James Jamerson. And obviously the biggest influence on me was Weather Report because Steve turned me on to that. I was also influenced by Jaco Pastorious and trying to play those tunes. And just loving that era of music, the 70's Motown Music. All the bass players with Weather Report. Current influences, pretty much anyone that is doing it great. There's so many great bass players out thee right now. The level of musicianship just for your working bass players is really good. A lot of our friends like Marco Mendoza (Whitesnake, Ted Nugent, Thin Lizzy), Hussain Jiffry (Sergio Mendez), Dave LaRue (Steve Morse), Allen Whitman (Joe Satriani)... You know those players."
Reggie: I sure know Marco. He's great.
Renee: "Those guys are great, monster players, great personalities and really unique on the instrument. So our friends are my influences. Certainly musicians like Tom Kennedy who used to play with Dave Weckl and Victor Wooten, Alphonso Johnson, Victor Bailey. Whenever Steve plays with Vic (Wooten) I sit there with my mouth open most of the time."
Reggie: You said you picked up the bass. Had you played the bass before that?
Renee: "No, I probably picked it up fifteen years ago. I never played out with anybody. I just wrote my own music. I played along to tracks. I played on a couple of Steve's records. Just a little drum and bass kind of stuff."
Reggie: You work and travel with your husband. How well does that work out?
Renee: "Honestly, it's the best. It really is. We're very lucky because I don't consider us only husband and wife, I consider us friends first. We're so fortunate that we really love Luke. He is the funniest cat! Aside from being a great musician, his bus hangs are all about having fun and getting ready to play great music for the fans who are there for us to play for. That part of the travel is spending time with Luke and Eric (Valentine) laughing a lot! And we get to spend time traveling the World. It doesn't really get any better than that."
Reggie: That's great. A lot of times when couples are working and living together it's really difficult.
Renee: "Somehow it works out for us. Probably because we started out being friends. We were friends before we dated. We both can sense about each other when it's time to step away. "Let me let her go. She's going to walk around the town by herself for a minute." Or "he's going to go to the back of the bus and hang out with the guys and I'm going to bed."
Reggie: Anything else you wanted to add?
Renee: "We're really happy with our new project 'Observatory'. It's always a challenge when you do a project that you're really proud of, which we were with "Dialogue". Proud because it's our music. We're proud because our friends contributed, Victor, Luke, Simon, Katisse, Mike Miller and Lenny Castro. It's always a challenge because you think, "the next time we write, are we going to be able to write something that we're just as proud of?" I think that we've done it with this record. Our goal is to tour on this album but there's always logistics. A guy like Simon is so, so busy. He's was going to mix this in a few days and then he's out of town for a couple of months. It's a challenge. It's our hope and goal to tour. But certainly we will be doing the music here in California. Lastly I can not wait to hear Luke's new record. And obviously getting back out on the road with Luke. It was great to see Luke with Ringo here in L.A!"
Steve: "I'm not much of a self promoter. I'm the kind of guy that thinks "let your work speak for itself". I don't like to brag about my work, but rather let it be heard and hopefully, it'll take listeners on a journey. But, having said that, this album that we worked on is our best work yet. I feel stronger about the compositions. I feel stronger about our playing. I feel more free about how everyone is performing on this album. It's more of a band effort. It's much more of a group effort than I've done in the past. It's always what I've wanted to create in the general atmosphere. I think that is being reflected in the recordings so far. And now that Simon had got new and 'old school' technology in the studio the sounds are even better. It was a really, really cool experience to hear this music completed."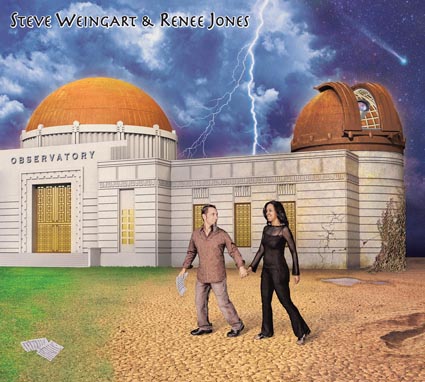 Reggie: Simon is a madman in the studio. He makes sure EVERYTHING is working to perfection. It was like watching a ping pong match seeing him run in between the control room and the recording room.
Steve: "He is the ultimate stickler for detail. And to your point, his great history, his wide and deep, lengthy experience brings about that behavior you're seeing. It's because he's been the guy behind the microphones saying 'why don't I hear this'? Or 'why doesn't this sound right'? He has such experience with all of the technology. He knows what button to push and what button is not to be pushed. It's really fun to see him at work while we're at work as musicians. And to see him switch hats from Musician to Producer and Engineer. It's really fun because he's really good at it."
Reggie: What are your thoughts Steve on taking this project out on the road?
Steve: "We are trying to get something going in the coming year. We want to draw on some of the people over the time we've been in Europe with Luke. I've been talking about touring for years now. And there's always been something to come up and block it. We are going to make a much more concentrated effort to get this underway. Every time we've played here in town, we get amazing turnouts. The response has been on fire. I've met so many new people in town who are just music fans and they've said "we've never heard this stuff. What's going on here? Why don't we know about you?" I really want to get this over to Europe. Feeling good is important, especially now. We're living in tough times right now. Any chance to give escape... It fulfills us as artists. It fulfills us as listeners. For whatever their needs are, I think this music, that we do on the stage fulfills those needs."
Reggie: The Ringo Starr All-Starr Experience is the ultimate escape. Anyone and everyone knows and loves all of those songs.
Steve: "You sure do! I think there's a lot to be said for that and I think that contributes to the legend of their work. We can listen to those songs now and remember our younger years and good times. "So and so was born because of this song.", "Oh, I met this girl on the dance floor because of this song." Good music is attached to so many memories in our lives."
Reggie: You have played with a very long list of amazing musicians. How about if I throw some names at you and if you could give me a short response to each one.
Steve: "That may be hard to keep it short, but I will try."
Robben Ford: "First saw him with Miles Davis. I did a tour with him. It was an honor, Luke was on that tour also."
Keith Carlock: "Wow! That guy's got pocket for days and he's loose at the same time. It's fun playing with that cat!"
Ray Parker Jr. "I did a gig with him up north at a winery. He's a happy character. He's fun."
Victor Wooten. "I could write a book about this guy! He is one of the bassist's of our time."
The Chicago Cats Keith Howland/Tris Imboden/Jason Scheff. "Unbelievable people. Brothers in terms of genuinely great people and players. Good souls. I just love 'em."
Chaka Kahn: "Voice of angels. She's just amazing!"
Jimmy Haslip. "Wow you're pulling out all the greats! Jimmy is great. We did some cool recordings and we did a lot of fun playing together. He is a very unique bass player."
Nuno Bettencourt. "Heavy rocker dude. I love him."
Will Lee. "One of my favorites."
Simon Phillips. "One of the drummers of our time."
Steve Lukather. "A legend! It's hard to sum up the people that you're mentioning because they're history is so deep and wide."
Vinnie Colaiuta. "Another one of those great drummers of our time. He's one of the historical guys. Fun to hang with."
SteveLukather.com, November 29 2012