March 3rd 2015
Official audio track Burn from Toto XIV on YouTube.
February 17th 2015
Official track Holy War single from Toto XIV on YouTube.
Joseph Williams: "My mind was focused on this thing that we are fed information to keep us afraid all the time and the lyric addresses that. It was a way of being sarcastic saying 'Okay, you've got me. I'm terrified.' That accounts for the first few lines in the song, but as it moves on I was trying to find something that fitted Steve's melody in the chorus, and 'Holy War' literally just came flying out of my mouth. It was the very first idea I had."
Steve Lukather: "It's a comment on the way some of us are using God as an excuse to kill people. They're missing the whole f—ing point. The first commandment is 'Thou Shall Not Kill.' There's no asterisk by the side saying 'Except in certain circumstances,' Y'know, all this 'My god is better than your god.' We have moved backwards."
February 6th 2010
Official video Orphan single from Toto XIV on YouTube. 
February 6th 2015
CJ Vanston about working together with Toto on the new album
January 8th 2015
Toto XIV trailer (Official/New Studio Album/2015) on YouTube:
January 8th 2015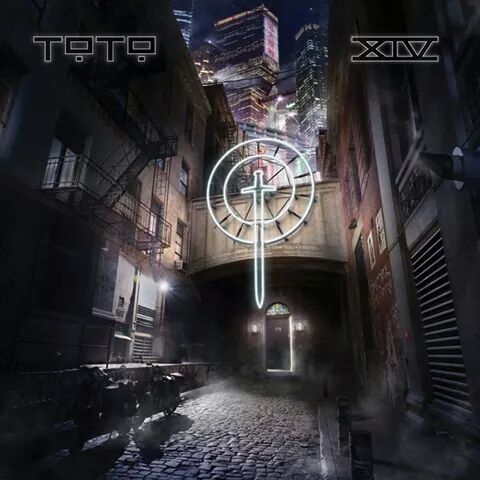 Tracklist
1. Running Out Of Time
2. Burn
3. Holy War
4. 21st Century Blues
5. Orphan
6. Unknown Soldier (for Jeffrey)
7. The Little Things
8. Chinatown
9. All The Tears That Shine
10. Fortune
11. Great Expectations
December 27th 2014
Lukather: "Toto XIV is definitely the title of our new album. We thought it looked cool, sword on the cover and roman numerals have been VERY lucky for us so we thought we would stack the deck ya know... And as the music is diverse on the new record, we did not want to name the album after one particular song.
We do NOT count live or any 'Best of's'. Records with un-released or new music only. 'XX' counts as 98%, it is all music no one had heard and 'Through the Looking Glass' was us doing OUR versions of classic songs we grew up with and in the Elvis Costello case... a piss take, hahaha."
November 11th 2014
Lukather: "TOTO XIV is officially done. We are mastering today and tomorrow. Spring 2015 worldwide release!"
November 7th 2014
CJ Vanston: "We're all excited as our first mixes for the new Toto album is finished. Good times at the Treehouse (my studio) yesterday as we were all digging the sound and direction we came up with. I couldn't be more pumped, these guys have taken everything up a huge notch on this one!"
November 6th 2014
Lukather: "This new music is amongst the best we have ever tried to make. It is everything people love and or hate about our band. Hahaha…
The songs have hooks and depth and the production and sounds and playing are filled with blood sweat and soul. We did NOT phone this record in for $ and a tour! This record was born out of litigation, pain and loss… and for Mike Porcaro who could use a miracle about now.
It has brought us very close as brothers reflecting back at a lifetime of amazing highs and painful lows.
Fans will be the judge. I hate hyping things! No one ever lives up to their own hype. We are proud of it though and have worked hard on it."
October 1st 2014
Lukather: "The record we're making is real hi-fi. It has that big, obnoxious production that people who love our music are really going to love: big harmonies, big synths, big guitars, big grooves, great virtuoso musicianship, and classic Toto melodies. Everybody sings on the record. It's very fresh-sounding." 
September 22nd 2014
Lukather: "Finished the last lead vocal today. A few bits and pieces and its time to MIX THIS!! It is feeling good. Cant wait for you guys to hear it!"
July 29th 2014
Lukather: "Four tracks done with the amazing David Hungate and now rehearsals start today with Shannon Forrest and all. Jenny Douglas is back as well. FUN!"
July 28th 2014
Lukather: "David Hungate just KILLED 2 new songs on bass yesterday. The Classic sound and groove is back! We are very excited!"
July 24th 2014
Lukather: "Listening session today with Los Toto's to see what is left to do on the 11 tunes. Getting very close to being done and time to mix!"
July 21st 2014
Lukather: "Back in the studio finishing new Toto music today. More guitars and vocals and then I will be finished this week. Lovely LA blue sky morning."
July 15th 2014
Steve Porcaro: "Finishing my vocals today on my song "The Little Things" for the new Toto album today. Joseph Williams doing backgrounds on my tune."
July 15th 2014
CJ Vanston: "Joseph Williams laying down some gorgeous BGs on Steve Porcaro's song today...."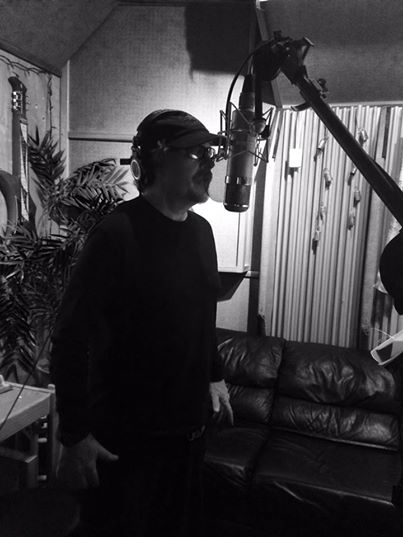 July 15th 2014
CJ Vanston: "Did some great lead vocals with Steve Porcaro today on a song he wrote for the new Toto album, what a gas!"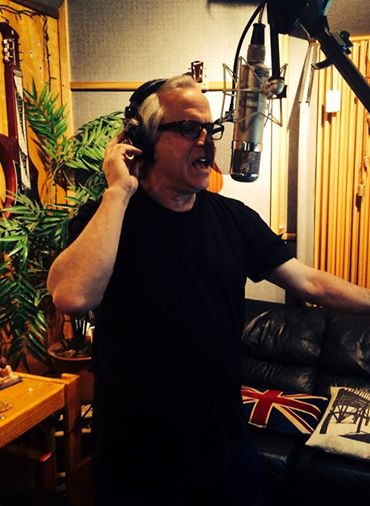 June 12th 2014
Lukather: "Just a little update from NYC. The NEW music is really fucking good and we are very excited. We have been told March 2015 is the release date. Steve Porcaro is doing his magic now and David Paich too. I think Joe is done and his best work ever... I have one vocal and one solo to do and I am done, not much left to do but David Hungate on bass on a few things and I think we are all but done recording but a few bits and pieces. Mixing will start very soon. We have the luxury of taking our time with this most important process!
Thanks for the worldwide support of the new DVD that is still selling like ice cream on a summer day and looking forward to a world tour to follow in 2015!"
May 30th 2014
Lukather: "Psyched for percussion with Lenny Castro (percussion) today! He always makes things swing harder and it's like a high school reunion. Many laughs as well!"
May 27th 2014
Keith Carlock: "Just finished tracking drums for the new TOTO record! 11 tunes total. Songs are amazing and can't wait for you all to hear it! March 2015 release!! Spread the word people!!!"
May 27th 2014
Steve Lukather: "Got 3 great tracks with Keith Carlock making 11, so you guys GET the extra tune now. I am doing guitars and bass today. DONE tracking!"
May 23rd 2014
Lukather: "Back in the studio finishing song number 10 and then enjoying a few days off with the family."
May 22nd 2014
Lukather: "Track number 10 is BURNIN. More overdubs today. We can see the record as a whole now. Everyone is shining."
May 21st 2014
Lukather: "Paich and I came up with a killer new tune we are cutting today. Number 10! Yee ha!"
May 20th 2014
Lukather: "Track number 9 came together! Great day in the studio yesterday with CJ Vanston and Joseph Williams. David Paich and I are writing the last tune today."
May 14th 2014
Lukather: "More fun in the studio with Los Toto's. Wrote a new tune we just cut and doing background vocals with Joe and Dave plus some guitar. Blue skies too..."
May 9th 2014
Lukater: "I was channeling my inner Chris Squire (bass player Yes) today. I played bass on our huge epic tune 'Great Expectaions' today.
A great week with Toto in studio."
May 8th 2014
CJ Vanston: "One of my favorite things: spending the day recording Steve Lukather. What a treat, we work so well together. The guys are back in town and the Toto record is sounding fantastic. Could go on an on but I'll let the music speak for itself."
May 7th 2041
Lukather: "Back in the studio today with Toto.
Been doing lots of interviews for the DVD. The DVD is wailing and we're all so happy and surprised!!! Thank U!
April 15th 2014
Lukather: "Back in the studio doing guitars and vocals today and tomorrow and also getting ready for the Toto Japan tour!
Busy week and this is good."
April 13th 2014
CJ Vanston: "Hate to sound like a broken record, but had an unbelievable day at Capitol with Toto and drummer extraordinaire Keith Carlock... I still get goosebumps pulling into this studio, even after 25 years... wow."
April 13th 2014
Lukather: "It's been an insane and sad week for so many reasons... I am toast. Good news is we got 3 amazing tracks with Keith Carlock yesterday. I hide now."
April 6th 2014
Lukather: "Ten songs is an album for us. It was when I was a kid and it is plenty of music from us or anyone. Ten high quality tracks. You have to understand how much time and effort it takes for us to do one song... We are not a punk band. Our attention to detail is almost psychotic, hahaha. Trust me, we wont let you down.
Really, we are very excited about the new music. Even WE are surprised. Lots of time effort and love goes into each piece and there are songs from us all and lead vocals from all of us, as well including Steve Porcaro! Joe has never been better and Dave has a few leads as well. As a matter of fact I am singing lead less on this record than any, but I am still very present. It is very much a band album! So...
It wil come out early 2015 with a world tour to follow thru 2016. I hope that clears up a bit..."
April 5th 2014
Lukather: "Great week in the studio. WE have 8 so far that we really like. Gonna record 2 or 3 more in May after our Japanese tour to pick the best 10! I did some pretty crazy guitar shit as well. It is powerful."
April 1st 2014
Leland Sklar: "Had a great time in the Studio with the guys from TOTO. Did bass on two songs. Absolutely killer stuff. Keith Carlock laid down some serious grooves for me to play with. Such a pleasure to work with these guys. CJ Vanston is doing a wonderful job engineering and co-producing. Luke is playing better than ever."
April 1st 2014
Lukather: "We had a blast with Leland Sklar yesterday. He played on two tunes and he was KILLER! The new music is really coming alive."
March 31st 2014
Lukther: "Back in the studio with Toto this week for more guitars and vocals and we have written some new stuff as well. It is really coming along!"
March 27th 2014
CJ Vanston: "I love what I do. Don't know what wins, the music or the awesome people I get to work with. This album is starting to get a life of it's own. With David Paich, Steve Lukather, Tal Wilkenfeld and Joseph Williams."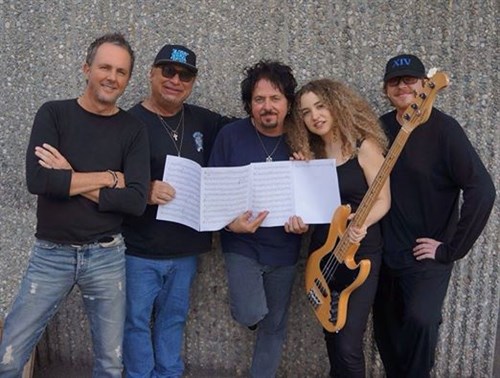 March 25th 2014
CJ Vanston: "Tal Wilkenfeld killed it today in my studio with Toto... Played on two songs, we had a blast, what a player. Great project."
March 24th 2014
Lukather: "Back in the studio with Ringo today and then Toto the rest of the week. It is a very positive and creative time and I am most thankful."
March 22nd 2014
Lukather: "An amazing week in the studio with Los Toto's. Vocals, Lenny, guitars, bass... Sounding like a record now. More to come. Happy weekend all!
And as I said before: our record has (always) been planned for early 2015 release."
March 21st 2014
CJ Vanston: "Great week with Toto, we're 5 songs in, Lenny Castro killed it on percussion yesterday. Couldn't be happier with the way things are sounding!!!"
March 21st 2014
Steve Lukather: "You are the best Lenny. There is no one else for me. Since we were 19 years old together in Boz Scaggs's band 1977... man where did the time go? You always make it groove better and make it swing harder... and you ARE comin on the road with us in 2015! Hahaha. Big love and thanks. Oxoxox."
March 20th 2014
Lenny Castro: "Had an incredible day in the studio with my bros Steve Lukather,Joe Williams, David Paich, along with Cj Vanston at the helm doing percussion overdubs for the new Toto Project. MAN, it sounds and feels GREAT! Great to be with my old buds! Wait until you hear this stuff! Enough said! Simpsons tomorrow!"
March 20th 2014
Lukather: "Great day in the studio. Vocals, and I got a cool solo on one of Joe's tunes. We are all excited about how its all feeling. Lenny Castro today!!!"
March 18th 2014
Lukather: "Back in the studio with Los Toto's. Its starting to sound like a record. Very exciting and beyond my expectations so far. More guitars today."
March 14th 2014
Lukather: "Great week in the studio with Toto and the first 5 songs are really comin out great. Now the next 5 start on Monday."
March 9th 2014
Keith Carlock: "Had such a blast recording the first five songs on the new TOTO record this week! It sounds amazing and huge! Looking forward to more recording on the record soon! Keep you posted! This album will be incredible!"
March 8th 2014
Lukather: "Steve Porcaro is still IN... He is just finishing the season of the TV show JUSTIFIED he scores and then on to the record and the tour in Japan and the summer tour.
Simon made a choice to move on and do his own thing. We love him and there is NO bad vibe at all. He was amazing and still is. Nothing but respect. He has a great band Protocol II with the ever amazing Andy Timmons, the unreal Steve "Keynis" Weingart and and fantastic bass player Ernest Tibbs who I don't know but have heard. They have a new record as well. It is mind blowing great instrumental music. Go see them!"
March 7th 2014
Lukather: "I think its gonna be a good record. We are putting our hearts and souls into it in every facet. Hang tight for Toto 5.0. There will be Lots of bass players on the new record... Nathan East is out with Eric Clapton. We have deadlines and Nate also has Foreplay. Its complicated... Hahaha!"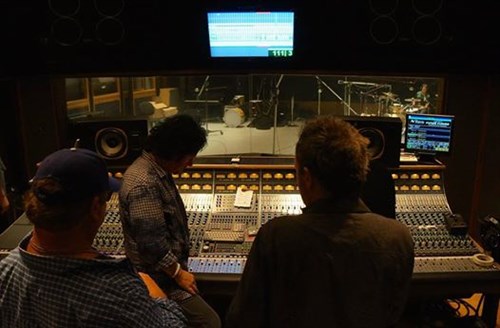 March 6th 2014
Lukather: "GREAT weeks with Keith Carlock. Five tracks almost done and blazing. TOTO XIV is gonna be one of our best. Keith ROCKS and proved it! Keith is tracking all the tunes on the new album."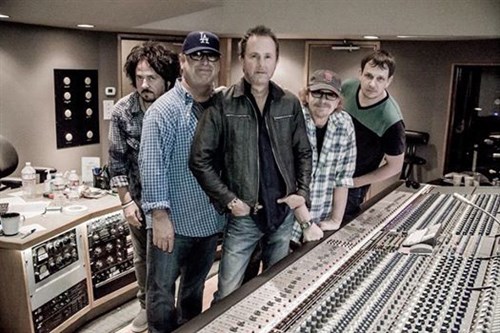 March 5th 2014
CJ Vanston: "Wow is all I can say. Second day at Capitol with Toto and Keith Carlock. We're really creating something special in my humble opinion, everybody is pushing each other for the BEST. Keith raised the bar a notch, just as Csaba Petocz did engineering. We're setting the controls for the center of the sun, nothing else will do, not for this band, this group of talent. Deep day."
March 5th 2014
David Paich: "The repertoire is coming together so naturally it is as though we never took a break from creating as Toto in the studio. For the fans who have been waiting patiently and continually showing the band support and love over the last decade or so, this one's for you. Collectively we can't wait to share these recordings with The World."
March 5th 2014
Lukather: "Three words. Keith F-ing Carlock!
He blew the roof off Capital Studios yesterday. Three tracks done. UNREAL! You will all be blown away. We were."
March 5th 2014
Keith Carlock: "Recording at Capital Studio B with Toto today and tomorrow. What a place and what a band!!!"
March 4th 2014
Lukather: "Finished a great tune with Ringo Starr we wrote together. SO much fun!! Thx Boss!
Off to cut drums for Toto with Keith Carlock today."
March 3rd 2014
Lukather: "In the studio with Ringo today and then Keith Carlock is in tonight to work on the new Toto record this week. Busy."
February 24th 2014
Lukather: "In the studio this week with Toto. Vocals and O/D's.
PS: I have NO idea why Eagle Vision has published AUDIO only for the teaser clip? The visuals are way cool!"
February 17th 2014
Lukather: "Back in the studio this week with Toto. 5 tracks in so far. It's a HUGE sounding record. I love the BIG production. Why do something small?"
February 9th 2014
Keith Carlock: "I am absolutely thrilled to officially announce that I have been asked to take over the drum chair for TOTO, and of course I gladly accepted! I am very excited to join this legendary band, VERY big shoes to fill, but I'm gonna do my thing and have fun! Some recording for the new record is in the works as well, will keep you all updated as things happen and progress."
February 3rd 2014
Lukather: "Back in the studio this week working on new Toto record. It's really starting to take shape and sound HUGE!
Waiting for Keith Carlock now."
January 26th 2014
Lukather: "Simon Phillips will be departing Toto to pursue his solo career and other interests. He is still a dear friend and we wish him the very best and continued success. The band welcomes new addition Keith Carlock (Steely Dan, Sting, James Taylor, John Mayer). Carlock originally hails from Clinton, Mississippi, and has collaborated with me in the past in the jam band Toxic Monkey."
January 17th 2014
Lukather: "Great week in the studio with Toto. We have the first 2 tracks in shape. Big guitars and keys and ... I think you guys will dig the direction."
January 16th 2014
Lukather: "New Toto music is really kickin. I am doing guitars on song #2 today.
I love it when its crazy busy."
January 15th 2014
Lukather: "New Toto music is real strong and so many other really fun/amazing things ahead soon."
January 6th 2014
Lukather: "The year has officially started. Toto starts recording new music this week and many cool things are ahead."
December 8th 2013
Lukather: "Happy Monday. Blue skies in LA and a nice hike then off to Paich's for more writing this week."
December 5th 2013
Lukather: "Music is starting to flow. Some great new stuff from all the guys and ... "It's Christmas"! It's ALL I hear from my 6 year old daughter. Lol."
December 4th 2013
Lukather: "The songs are starting to come.
Got a great one with Randy Goodrum and I'm at Paich's with Joseph today and
tomorrow. It has started..."
December 2nd 2013
Lukather: "The Yuletide is on, starting now.
Writing for the new Toto record has begun and this week. Gonna write ALOT to
get 10 killers. Motivated!"
November 6th 2013
Lukather: "Cordoba tonight! This tour (with Ringo's All Starrs) has been SO much fun. Also comin up with new ideas in my room for Toto. We are gonna dig DEEP for this one!"