Part 1
The Greek concert and after party
It's always tough for musicians to play a hometown gig. It's even tougher to play when L.A. is your hometown. Not only are you playing in front of family and friends you are playing in front of the entire musical community. Especially when you are Toto. The opener was "On The Run". The Nashville cats came out first. Shannon Forrest behind the drum kit started with a thundering roar and then came David Hungate the original Toto bass player back home, if only for one night. Together Forrest and Hungate provided a roar by themselves. As the duo stood alone the members of Toto followed one by one. Steve Lukather on guitar, David Paich on piano, Steve Porcaro on keyboards with another hometown guy, Joseph Williams on lead vocals. This is the biggest, brightest spotlight Toto has played in front of here in years. It was immediately apparent that EVERYONE had a bigger bounce in their step than on opening night in Portland, Oregon, Luke shouted to the crowd "get your hands up"! Williams motioned for the crowd to get up and then encouraged them to sing. The two then traded lead vocals. Forrest and Hungate were locked in. Williams slid back and forth across the stage as if he were on skates. The gleam in Luke's eyes was even bigger than in weeks before on this same stage with Ringo Starr and his All Starr's.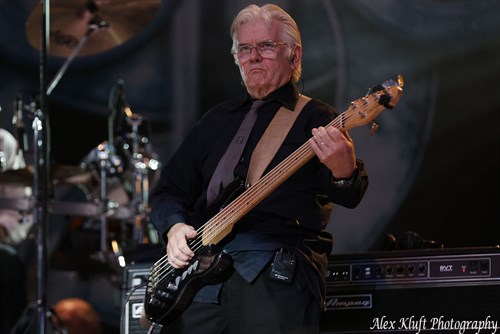 Luke addressed the crowd again "hello Los Angeles. We have a little bit of a new scene up here tonight. He took a 33 year coffee break! He's a soul brother for life! DAVID HUNGATE!" The smiles and hugs began as it had been years since all the guys have played as Toto. It was even more meaningful at home. There were so many recognizable faces in the crowd as the guys on stage began to recognize their friends and family just as the sun began to set on this perfect Hollywood night. With "Hydra" up next Paich started out on vocals later blending in with Williams. Luke had on his "Hollywood pants" as he did his usual magic with his six strings. At one point on this song there were three "keyboard players" with Paich, Porcaro and Williams "playing keyboards" on the back of Paich. As Williams continued darting back and forth across the stage he played air bass, air keyboards and air guitar. He was up there having a great time as that feeling resonated throughout the Greek during the entire set. Whatever glitches Luke talked about to me on opening night were long gone, disappearing into he Hollywood sunset. So as the sun was setting Luke began to light up the darkening sky with his guitar fireworks. Toto had the reputation as "just a bunch of studio cats" with a hint of negativity. Let me tell you there was a spectacular, phenomenal groove this night rarely have I seen before.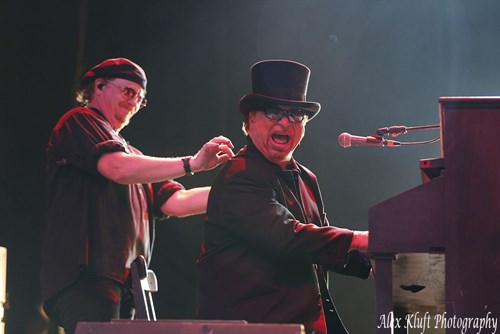 "I'll Be Over You" put thoughts of the Toto video in my head. It was the shot on a rooftop in downtown Los Angeles not too far from the Greek. The video starred Luke, Williams and Michael McDonald. Luke then introduced his longtime friend McDonald as he stepped out to join the guys on the #1 song he sang on almost 30 years ago. Luke joined McDonald and Williams on vocals as memories of the video became clearer and clearer. Luke played another flawless solo followed by a thankful McDonald walking off stage to a standing ovation saying proudly "Toto!... Steve Lukather!" Luke then said "I give you son of John!" (Williams music conductor/composer). Williams began the song with an emphatic howl on "Pamela." The second Williams era song in a row. Williams co-wrote this song with Paich. With assistance from additional vocalists Mabvuto Carpenter and Jenny Douglas-Foote this song had the crowd singing on another Toto hit. During this song Luke looked down at a late arriving Toto fan, a Baked Potato regular. He gave him a nod and a smile as he recognized the fan donned in a "Spud" t-shirt. The Baked Potato is a World famous music venue that Luke has frequently played over the decades. The crowd was full of recognizable faces mostly wearing Baked Potato shirts. Fortunately the Greek holds 60 times more fans than the Baked Potato.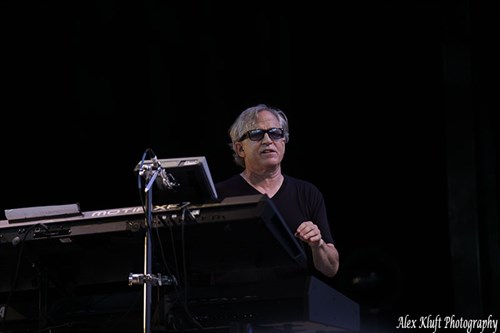 "99" as explained by Luke had fans perplexed as to it's meaning. There were numerous explanations as to what it meant. He was able to narrow it's choices explaining that it WASN'T about the Barbara Feldon character on "Get Smart". A beautiful acoustic intro by Luke started off the song with Luke also on vocals. Williams, Paich, Douglas-Foote and Carpenter joined in to provide a wall of vocals emanating from every part of the stage. Forrest added his touch via brushes. Hungate then hit the spotlight with a bass solo that reminded the crowd of his importance to this song and to Toto. A Paich piano outro segued into "White Sister". A single spotlight shined directly on Paich as all other lights on stage were off. The focus was solely on Paich as Luke and Williams disappeared into the wings. As the lights came on after Paich, Williams and Luke were front and center bouncing off each other. Williams continued to jet from stage left to stage right. His energy level kept rising as he was giving his hometown crowd everything he had left in his tank. Williams was playing vocal volleyball with Carpenter and Douglas-Foote as they went back and forth. Everyone was on full speed on this number as the crowd was rocking out from start to finish. Luke even threw in a little air piano mimicking Paich. Luke ended it with a tasteful, clean, crisp solo.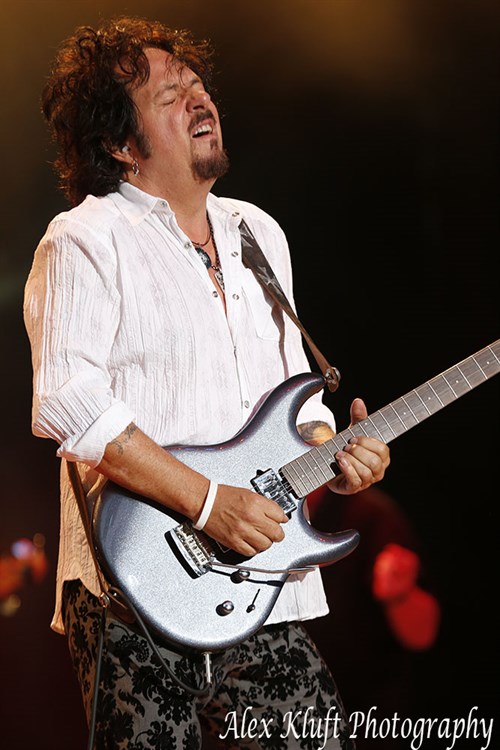 As the song ended CJ Vanston (Toto producer) and Lee Sklar (former Toto, bass) were up on their feet in the crowd with Vanston turning around to give the crowd an encouraging thumbs up. "The funkiest man in show business" said Luke as he introduced Carpenter and "Gorgy Porgy". Toto has #1 ballads, FM Rock station standards and now they are the king of funk. This song let everyone show off their funky selves. You can't really put a title on this band as they cover all the musical bases. Luke tapped into his inner self for the most soulful solo of he night as he grooved along with everyone on this song. Paich introduced "Home of the Brave" saying "I'm happy to be back home. Jimmy Webb taught us to voice our opinions. Protests can be non violent. This is a prayer for the Middle East." "Africa" was the next #1 Toto song to be played. Luke said "It's a party song"! This smash had everyone up again and nobody needed encouragement to get up. Williams did though encourage everyone to sing. The crowd helped a band that needed no vocal assistance at all. As the house lights lit up the entire Greek, everyone was singing on this number. The smiling, singing and dancing crowd enjoyed every minute of it. Now everyone in the band was dancing at full speed. Steve Porcaro who had been groovin' stage left all night stepped it up a notch. Paich donned in top coat and top hat was having the time of his life dancing away. "Africa" ended with a thunderous groove from Forrest and Hungate. The last number was "Hold the Line" which starts with the memorable piano/guitar intro. Now I didn't see a single person sitting. This was the perfect song to end a perfect night. Everything seemed to work and everyone was on full speed.
Michael McDonald came out next with a stellar band of his own. Tommy Sims (b), Dan Needham (d), Pat Coil (k), Brandon Fields (sax), Drea Rhenee' (v) and longtime partner Bernie Chiaravalle (g). It was a set of solo, Motown and Doobie Brothers material. The Doobie numbers seemed to get the crowd going more than anything else. At the end of the set was a great encore which included the Eric Clapton worldwide smash hit "Change the World". The song was written by Tommy Sims who sang it tonight with help from Michael's band and Paich, Carpenter and Douglas-Foote. Luke came out on guitar and was smiling from ear to ear after Toto's smokin' set. With a couple of more encore jams since the last time I saw it this ending was much smoother. Next up was an ode to Stevie Wonder where Joseph Williams was off the charts on "Superstition". The final number was a perfectly chosen Doobie Brothers song "Takin it to the Streets". It was a perfect ending to a Los Angeles musical adventure.
Before the show I was able to talk to former Toto bass player Lee Sklar who told me "I'm so thrilled to see this tonight! I got to work on the new Toto record and it's UNBELIEVABLE! To come here and see Hungate playing is going to be heaven to me. I absolutely adore Dave. He's one of my oldest friends and to see him back with the band doing this is going to be fantastic. I'm like a kid in a candy store!" After the show was insane. It was hard to move around as there were so many family and friends. Hugs, smiles, handshakes and laughs were to be had in every direction. Luke told me "It sure felt good to hit a packed show in LA. The Greek theatre has a magic vibe. We had a blast and the hometown crowd really gave us an amazing welcome back."
It was an even bigger welcome back for Hungate as he made the move to Nashville over 3 decades ago. He has an astounding list of sessions that started in L.A. in the 70's and continued on to Nashville. Most recently Vince Gill's touring bassist spent a few moments with me as we walked to the Toto tour bus. I asked him what was it like to play with Toto here at the Greek Theatre? He told me "It's a dream come true! I NEVER thought it would happen after 34 years. It's amazing." I asked him "did you get a chance too see the Porcaro family?" David said "Yes I saw Joe and Eileen, Sam, Chris and all those wonderful folks. I saw them in 2009 at the Musicians Hall of Fame induction in Nashville but before that it had been twenty years." I said to Hungate I truly saw the love and admiration that everyone has for each other tonight. He told me "that's absolutely right! The last time I was in the band we were all in our twenties. That was a crazy time in your twenties. Everyone has grown up and been through a lot of life. All that's left is the good stuff." He also added: "I played on the new record too. It was a kick. I played on four tracks. The stuff sounds great!"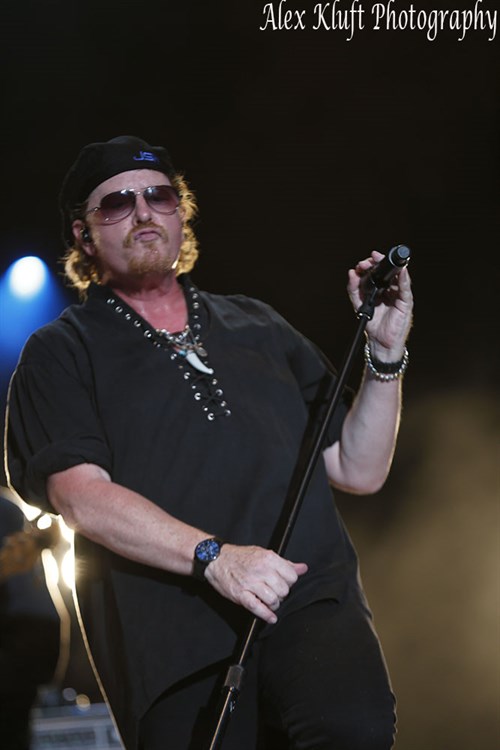 David Paich told me about playing the Greek "it's like a dream come true. It came full circle for us. We haven't played the Greek with our band. The whole band just fucking brought nothing but love to L.A.! And we got it back from our crowd! Lukather, I just saw him here with Ringo and he's bringing it! He owns this town. I LOVE Lukather man!" Joseph Williams told me also about playing the Greek with Toto. "First of all playing the Greek Theatre is a dream come true for me because I was born and raised in Los Angeles. I knew the Greek Theatre like the back of my hand. I've known this Theatre since I was a kid. That's a dream come true right there. Playing with Toto another dream come true because I am probably their biggest fan. So it's a combination of absolutely great miracles." Dan Needham the drummer for Michael McDonald told me about being on the same bill as Toto: "it's obviously an honor and a blast. We get to play the encore with them at the same time these guys I grew up listening to. I'm really proud to be a part of it." About having two Nashville drummers on the same bill he said "ya, Shannon and myself. I've known Shannon for years. It's kind of cool to get back together".
Part 2
Shannon Forrest Interview
Photos by Bob Dinsmore
© Prouddad Photography 2014
As I said before, it was a very hectic scene after the Toto Show at the Greek Theatre in Los Angeles, Ca. During the after party there wasn't much room to maneuver. There were musicians left and right from all the Toto cats, some of the Michael McDonald band to Lee Sklar, CJ Vanston, Toss Panos, Mark Schulman, Jay Graydon and many others. Even though Shannon Forrest was being tugged from every direction even during the interview he was kind enough to give me a few moments of his time. Forrest is a Nashville drummer who has a "Totoesque" list of sessions. Just to list a few of his top sessions are Boz Scaggs, Kenny Rogers, Tim McGraw, Rascal Flatts, Taylor Swift, Carrie Underwood, Willie Nelson, Michael McDonald, Reba McEntire, Brooks and Dunn, Faith Hill... As I said very similar to the Toto cats. Forrest has played with, among MANY others, Michael McDonald, Boz Scaggs and Dukes of September (McDonald, Scaggs and another Toto favorite Donald Fagen). Toto members David Paich and Jeff Porcaro also played with Scaggs. Forest listed Toto IV as his favorite album that he didn't play on. He also listed playing with Toto at the Musicians Hall of Fame induction as his favorite musical highlight. Shannon also has the approval from the patriarch of the Porcaro family Mr. Joseph Porcaro. So everything seems to have fallen into place as he slid right behind the Toto drum kit next to his pal David Hungate.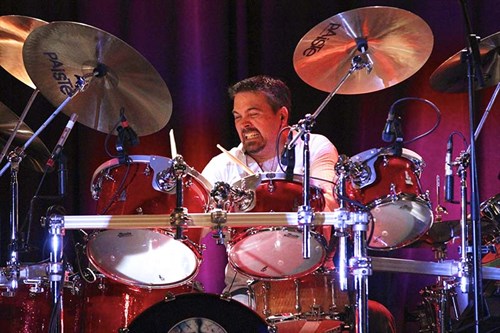 Reggie: Tell us about your connection to David Hungate and how you got the Toto gig.
Shannon Forrest: "Having known David, playing sessions in Nashville since I was 19 we've known each other for twenty something years. Over the years with his communication to the Toto guys he hipped them to me. When Toto was inducted into the Musicians Hall of Fame in Nashville in 2009 it was very overwhelming. David and the band had me sit in for Jeff (Porcaro) for that situation. So we got to know each other that way but it was very brief. Just a date. And then fast forward a couple of years I'm working with Michael McDonald who's managed by the same group that Boz Scaggs is managed by. Having produced some things for Michael, Boz was looking to do some publishing. Re-record a couple of his older tracks. So Vector Management recommended me to Boz. Boz did a background check on me and asked Hungate if he knew me and then asked (David) Paich. So we got the rhythm section together and we cut "Lowdown" and "Lido Shuffle". (Both of those songs are Scaggs/Paich compositions) So Boz and I had an immediate connection. The Boz thing turned into Donald Fagen (Steely Dan) and the Dukes of September (Scaggs, McDonald, Fagen). I was working with the Dukes, Michael, producing. When Toto came around Paich and I kind of had an ongoing relationship as did Luke and I. Paich and I had been interacting about some music I was working on for my own. I was also trying to get Paich to play on the Michael McDonald record I was producing along with Luke. So in the course of them seeing more sides of me as a musician and when David and I spent more time in the studio the next thing you know they were making a change. Keith Carlock was still busy with Steely Dan. So one thing led to another and that was it!"
Reggie: You are in Los Angeles playing the Greek Theatre with Toto. Tell us about that.
Shannon: "Oh man! It's heavy because everybody here in the music community has such a history with these guys. For me there's always comparisons that are inevitable. I always feel really bad about them. I never make the comparisons. Jeff was for everybody. His groove was unsurpassed. He was the most influential cat. When I'm playing the gig the first thing I tell the band is there's guy's that play a song a certain way, the part is so DEEP into the song that if you don't honor that part it doesn't sound like the same song. I'm not going to take a shit on somebody's part. When I'm up there playing "the part" I'm not going 'I want to sound like the originator of that part'. I know that's unobtainable. So it's about honoring it. So playing the Greek here with these guys and knowing who's in the audience checking it out and how far they go back with the band."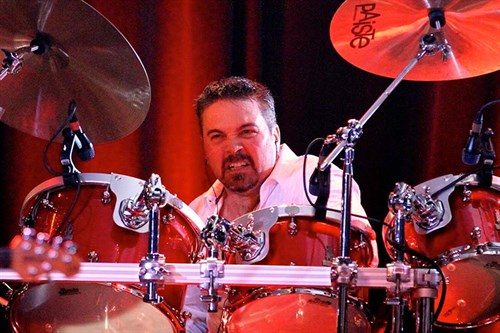 Reggie: Mr. Porcaro was here tonight with a ton of the Porcaro family.
Shannon: "Ya, that's the heaviest. It was a beautiful thing. I've loved their music. I've loved it like everybody else since I was a kid! So to sit up there in that setting was great for me. I never got to meet Jeff. He was the most influential musician to me as a kid coming up. I was drawn to all the music he played. I was too young to know what I was listening to but I just kept picking his music out just for the feel. It's like anybody else would have. Like everybody else picking up on the Beatles or whoever man! I was just dialed into him."
Reggie: These guys wouldn't have asked you to be in this band if they didn't think you could cut it.
Shannon: "These guys know. If all you're doing is trying to copy the way somebody else plays you couldn't bring any energy. There wouldn't be any interplay. You'd just be fucking robots that just played.
Reggie: It would be like playing in a tribute band trying to mimick people.
Shannon: "Right! It's not the same fucking thing. There's expectations. There's an ebb and flow to the music. Dynamics change. You're riding that shit! That's about being a musician. For me it's feel. There's NOTHING greater than feel. That's ALL I've ever cared about. When I was a kid and I thought about music the resonate word in my head was feel. I always thought about music and how it felt. Now that was a groove for me. It was the simplest thing if you could just play a simple beat but make it feel great. That is all I was after.
I feel grateful that I had exposure to that music because I turned it into a career. Like going to school on the groove. I've had a twenty year career in the studio because I can groove. I'm just so glad that I latched onto that one. Do you know what I mean?"
Reggie: Of course. I'm sure especially Luke and Hungate can relate too.
Shannon: "Oh ya, exactly, they're the best. This was amazing man. And the love! The way the musical community shows up here. They all come to dig each other and to support each other. It's the coolest. Another thing I've noticed is I've played some of these same venue's that we've played with Toto and the way the fans react to their music is totally different. There's a joy, an exuberance where people get up and into it. Sometimes it's the same people in the venues but they just react different. I've played these same places with different artists and the Toto fans interaction is totally different. They're great! This was really, really great!"