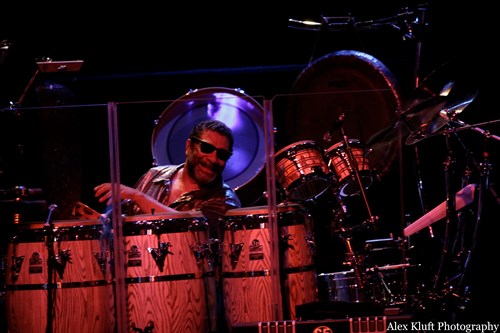 Reggie: I want to start out with some words from some friends. First from Steve Lukather about you "He is my brother. Toto Family from day one. It has been decades since he played live with us......So honored to have him. He adds SO much!"
Lenny: "When Steve and I first met he was driving a VW. A beat up old VW Bug with no passenger seat. I remember him giving me a ride to a session and I had to sit on the metal. It was actually Jeff (Porcaro) who we were doing a session with for Diana Ross together. After the session Jeff said 'Do you want a gig?' I said ya sure and he said just show up at such and such place. So it just so happened that Luke and I were auditioning for the same thing. It wasn't really an audition though. Jeff NEVER told us that. We already had the gig but we didn't know it yet. It was for Boz Scaggs. So what we thought was an audition was really just a rehearsal. So when it was over and everyone was packing up Boz had already split. Luke and I were standing on the stage and we were like what the hell is going on? Jeff laughed and said 'you had the gig when you got here!' Luke was a greenhorn at the time. He had never been on the road. Me too. Well I had been on the road before I met him. I don't think he had been on anything major until Boz. And since then Luke and I have been buddies ever since. We ran together. I became Godfather to both his kids through our good friendship. My first wife and his wife were very, very close. In fact my first wife Paulette was on tour with us a few times. It is very much a family scene. His family and my family, our kids grew up together."
Reggie: The Luke session that I was at when you were there was like a family reunion.
Lenny: "Ya, basically it is."
Reggie: I could feel the love in the air. The true friendship You could tell you guys missed each other. There was true love there.
Lenny: "Totally, totally."
Reggie: It's the same when I went to see Toto at the Canyon Club in the L.A. area. You were there with your son. Lee Sklar is there, Nuno Bettencourt, Alan Parsons and Joseph Williams came up as a guest singer. You guys are all digging the band and having a good time. You guys all from top to bottom have true love and admiration for each other.
Lenny: "Very much so. Very much so. I think more as a family than as musicians. We respect each other as musicians. We all know we are of the highest standard. That respect is a given. It's an unmentioned. But the love that we have on a personal level off the stage goes far beyond that."
Reggie: Okay on that note when I have seen Toto recently you can really feel the love and energy up there. The guys up there are having fun and want to be up there. No one up there is just going through the motions. That conveys to the crowd and ends up with a great performance.
Lenny: "It ALWAYS does! It always does! Even when I work with Joe Bonamassa, I have a way of kind of bringing people together... Spreading a lot of energy. It becomes one big focus and it goes out into the audience. That's what we do with Joe. We put on a great show. We interact within ourselves. Carmine Rojas, Tal Bergman and Derek Sherinian we interact with each other. We have conversations, we make faces, we make jokes. People see that on stage and they go wow these guys are having an incredible time. And it transfers. In a BIG way!"
Reggie: It's kind of like sports. You can have five All Stars on the same team but if they don't click or aren't on the same page it just doesn't work.
Lenny: "There has to be something that makes them rise to the top. To be the cream of the crop. That je ne sais quoi. Which is a little something that they add to it. For athletes it's not so much showmanship but with us it is."
Reggie: This is from CJ Vanston (Toto XIV Producer). 'Tell Lenny that he was the GLUE that locked us all in! What a soulful cat.'
Lenny: "He is a sweetheart. A very nice guy. I just recently started working with him. He is a very talented incredible guy. He gets my sound and gets things real quick (as Lenny snaps his fingers). It's a no nonsense situation with him."
Reggie: Now this one is on a personal note as we have a mutual friend. Mario from the Wallflowers and Ozomatli sends his love.
Lenny: " Mario Calire! My boy! We were just talking about something on Facebook. He said something very eloquent and I just sent him a comment. He is a great drummer and a wonderful person. He comes from great stock, great family. That's really nice of him to say. Mario is a really sweet guy. A very talented man."
Reggie: Those are all the greetings so lets get started. You are back with Toto, You are touring with them and are a big part of Toto XIV.
Lenny: "It's really exciting. Since Jeff (Porcaro) passed away I've gone off to other things. For my own reasons. Well for obvious reasons to tell you the truth. When you grow up with someone and you create so many things with them and they're gone it's like having your left arm amputated. Especially with the Toto thing we sat and created so many groovy things. Once he was gone I think that was a sign it was time to move on. I kept on playing with them on albums. Lukather was always 'you gotta play on the album. I don't care who is here, whatever. You're still part of our situation.' I've always kind of been with them and not, not in a physical way live but in the background working with them. With this album the guys are changing the situation. The chemistry is changing. With Simon (Phillips) going off and Nathan (East) going off. To me it feels like it's going back to where it was. I was very excited to play on this album. I'm on a lot of it. It just seems to be the right time for all of us to come back."
Reggie: Michael McDonald is even back singing.
Lenny: "Which is fantastic. I've got a great feeling about this album. There is press out there and it's starting to snowball. I think the timing is really nice. It's starting to accumulate some interest and by March all hell's going to break loose! This is going to be exciting!"
Reggie: Let's talk about when you do a session. I think most people think you just waltz in there and lay your music down and just split. I saw in person at a few Lukather solo sessions and saw how it worked. You came in having NEVER heard the song and listened to it for the first time. You immediately knew what instruments you needed for the song and it fit in perfectly. Later in the session Luke thought a particular instrument was going to work but you already knew it probably wasn't the right choice.
Lenny: "But I ALWAYS try it. I have to."
Reggie: As soon as you played what Luke chose you all knew it wasn't working.
Lenny: "Reg, I can't tell you how many times that's happened. I'm not one to pat myself on the back but I can't tell you how many times Artists, Producers or Engineers have come up with ideas. Now if I don't at least go into that realm and try it I'm not doing my gig. You've gotta satisfy them first. If it stinks then they know it right away. A lot of times Producers will go 'Don't ever listen to me again for the rest of the session. You do the shit and I'm going to shut the hell up!' Occasionally they'll come up with ideas that I can take and maybe turn into something and go this is perfect. I don't think I can come up with anything better. It's simple. It's nice. It's them. It's their music. My job is to help them create their music and help it flourish."
Reggie: But I think a big part of the reason you get called in on sessions on top of your musical ability is your ears. You know what works and what doesn't. I've seen that in person.
Lenny: "But Reg, you have to be a diplomat. That's one of the most important things: to be very diplomatic and charming. Don't come in with any fucking attitude. Leave your attitude at the door. Leave your ideas or your pre conceived ideas or notions at the door. Leave your bad vibe or attitude in the car. Come in and play some beautiful music and then go deal with life. That's my philosophy."
Reggie: The Joe Bonamassa Band is great and how did you get that gig?
Lenny: "I really love that gig! I love the gig a lot! The Toto gig with Luke and the guys is something that I really need to do. I've been with them forever and we have longevity. But this kid is amazing and we've connected on a lot of different levels, him and I. Especially musically, I'm right there with him. How I got the gig is I got called by his Producer Kevin Shirley. I heard he got my number from Tony Braunagel who is a Blues Drummer/Producer who is a very, very good friend of mine. He has played with Taj Mahal and the Phantom Blues Band. He's just an incredible friend and incredible musician. Apparently Kevin called him looking for a percussionist. Tony gave him my number. Kevin called me and said 'Listen, I've got this kid.' I had never really heard of Joe before that. 'I've got this kid who plays guitar and he is a monster. He wants to do an unplugged version of his music, with percussion, no drums.' I said fine, no problem, I'll check it out. Send me the music and I'll barnstorm it. 'There's not going to be any drummer. You're going to be the guy. It's going to be you, a violinist from Ireland, a gentleman who plays the nyckelharpa a very old instrument from Sweden, a keyboard player and Joe.' To me it was an opportunity to use instruments that I don't get to normally use that often and perfect it. I started playing the bodhran which is an Irish drum. Now I've been playing with it two years with Joe and I'm there. I'm so frickin' there! It's been a great experience working with him. I love him to death!"
Reggie: With Joe Bonamassa you really do play some very historic venues in very exotic places.
Lenny: "The first gig I did with Joe, the reason why I got called initially was to play the Vienna Opera House for the DVD. I flew out to Vienna. We did a four day rehearsal with guys I've never met before. We did a two week short Tour of Europe STARTING with the Montreux Jazz Festival number one. That was the first gig we did! I remember, God bless, (Funky) Claude Nobs was alive at that time just before he passed away. (Lenny imitating Nobs in a high voice) 'Lenny it's so good to see you. You play with Bonamassa?' I've known Claude for a long time. It was so funny because when we went to do the gig Claude was going to introduce me first and I said CLUADE! NO! NO! NO! Don't do that! Introduce Joe first! I know we had a relationship but NO! So at the end of the two weeks we did the Vienna Opera House which is such a beautiful building. If you want to talk about some really special places you can start there."
Reggie: What do you personally do with your free time on the road?
Lenny: (laughing)" I try to find great places to eat. Food is a paramount thing! When I look at a Tour I think of food. I'm going to Chicago I've got to hit this place. I'm going to Louisiana... Number one I'm a foodie. Number two is I try to keep myself healthy so I try to work out as much as possible. Occasionally if it's a city I've never been to I might go out and look at some new things."
Reggie: What about pawn stores to look for musical instruments?
Lenny: "Joe, that's Joe's thing. He still does that. He's amazing."
Reggie: How about top live gigs and top sessions of all time?
Lenny: "Oh shit! Those are two very difficult questions! Live gigs. Oh man I've played with so many greats... Stevie Wonder which was a joy! I played with him for quite a while. I've done three or four Tours with him. To play with the man, need I say more? One gig I did live, I played with Joe Sample. For about seven years we did a trio. I played drums and percussion. I had a 360 degrees set up. It was beautiful! It was half percussion and half drums. I was learning so much every night. Not only about myself and my playing but from Joe Sample who I loved dearly, who just recently passed away. That was a joy to do because I got to use just about every piece of musicality and everything that I knew to be able to create such beautiful music every night. Session wise. Oh my God! There are too many to even choose from. The Rolling Stones sessions that I did were fun. The Adele sessions that I did were really a lot of fun. Just about anything that I've worked with. I've been really blessed."
Reggie: How is the session work going these days?
Lenny: "I'm still doing sessions. I just recently did a Boney James session. He is a saxophone player. I think this is our 15th album together. I have not missed one album with my man. He's an old friend. I think he considers me a bit of a lucky charm (laughing). Last year he called me up and said I'm ready to do the album I had to tell him I'm on the road. He's panicked! What he did is called the company an said 'listen we have to move everything'."
Reggie That says a lot about you.
Lenny: "Guys like him like to do drums and percussion together at the same time. It creates a nice interaction between drums and percussion and it lays down a nice bed. But I was out of town. He was like 'Oh Shit! I'll give you a call back.' So in less than 24 hours he called back and said 'you get back on the 21st? We're in the studio on the 22nd and 23rd.' I said you got it. I went in and knocked off a whole bunch of songs in two days. That's one artist that I recently worked with. There are still sessions. Some guys, knock on wood, are still working. The scene is not what it used to be."
Reggie: Are all the sessions still done in the studio?
Lenny: "No. There are still guys like Luis Conte that are still doing some, Paulinho (da Costa). I'm not sure what he's doing lately but I'm sure he's doing his share of work. Guys like Ray Yslas, Richard Gajante they still do some stuff. I don't know how much is going on. I do get those phone calls sometimes with people saying 'hey if you hear something let me know.' It breaks my heart but we are all in the same situation. I still feel blessed."
Reggie: I looked at your All Music Guide list of credits which is incredible!
Lenny: "It's still getting bigger."
Reggie: If you, Luke, Hungate and all the guys put your sessions together it would be some crazy number.
Lenny: "Thousands and thousands and thousands."
Reggie: It could even be 10,000!
Lenny: "All of us? Oh easily thousands and thousands!"
Reggie: I went up to Portland and saw David Hungates' first full live show with Toto in decades. I saw the Toto show in hometown L.A. at the Greek Theatre. There was something very special and magical about both those shows. So I am looking forward to seeing you added to the mix this year.
Lenny: "You mean this past summer? The Greek Theatre, I LOVE it there! It's going to be off the hook, totally! I get goose bumps just thinking about it!
Reggie: If you add Shannon Forest to the mix too. Have you ever played with Shannon?
Lenny: "I've never met him. I just recently heard about him when he stated playing with Toto. I did check out some YouTube videos of him and he is amazing! He is a BAD boy! I'm looking forward to playing with him!"
Reggie: He is the go to guy in Nashville now. Did you get the chance to play with Michael Rhodes in Bonamassa's band?
Lenny: "Michael? I love Michael. He is a sweetheart. When he plays with Joe it's a different band. It's Joe, Michael and Anton Fig. It's just a three piece. About a year ago while in London when we did that Tour de Force thing, I got to hang out with Michael and his wife, she's such a lovely little lady. She is gorgeous."
Reggie: I know Michael and Hungate both through the Vince Gill band.
Lenny: "He is a beautiful player. A real meat and potatoes, no frill cat but A LOT of feeling. The simplicity of how he plays has a lot of emotion. He is an incredible soul."
Reggie: Anything else that you wanted to add?
Lenny: "I'm going to start rehearsals tomorrow with Joe. We're going to New York to play Radio City Music Hall for two nights. Ya, man I played there with Bette Midler. We broke a record there with thirty something shows in a certain amount of time. The Radio City Music Production threw us a party at the Metropolitan Museums of Art. That's where I got to meet Lauren Bacall. I'm born and raised in New York so I've been going to Radio City since I was a kid. When I was a kid on one of my birthdays I went to see "Son of Flubber". My parents took me there. We used to do the nativity scenes, Christmas, Easter Shows. So Radio City is a very familiar place. It means a lot to both Joe and I. It means more to him because he's never played there. But I've played there a lot.
Reggie: I was lucky enough to meet Joe at the Crossroads Festival in Chicago in 2010. He was very gracious, very nice. It was a very busy time and place and he was very accommodating to me.
Lenny: "I love him. I can't say enough nice things about him. He is what we call in Yiddish a mensch. He is a cool kid."
Reggie: "Were you able to catch any of his Black Country Communion stuff?
Lenny: "No I didn't. I've seen a few videos of it and it's burnin'! They still have a lot of fans for it even though they broke it up! I heard they burned."
Reggie: They really did. Derek Sherinian was in that band too. Glenn Hughes is probably my all time favorite.
Lenny: "I love him to death. And Derek is a great, great keyboard player. Unbelievable, very dynamic. Extremely dynamic. I love him to death."
Reggie: Thank you very much.
Lenny: "Thank you. It was great hanging with you."