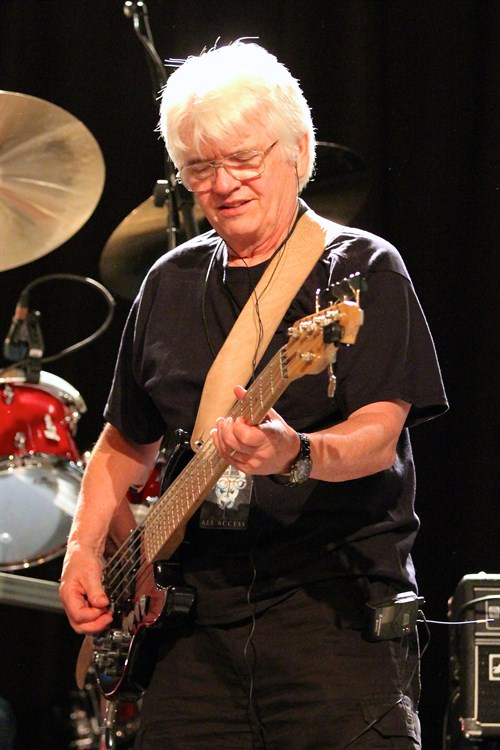 Reggie: You were away from Toto for 32 years and you came back for a very successful Reunion Tour last year. Now you are back again with Toto for 2015. Could you please talk to us about that.
David Hungate : "It was kind of a surprise. I never really thought about coming back. It was hard to leave. It was a hard decision. When you make a decision like that you really can't look back. I got a call from (David) Paich last February (2014). It kind of knocked me down. That doesn't happen. It's been 34 years since I've been on the road with them. We've seen each other briefly over the years. Maybe a half a dozen times. Luke I had seen a couple of times, Steve Porcaro, no. It was a pretty other worldly experience. It was great!"
Reggie: I talked to Toto XIV Producer CJ Vanston about you playing on the new record. He said to say hello. He also said "David played on four tracks. It was important to have him play right here in the Control Room at the Tree House with all the guys. Not through the glass in the booth with the talk back. He was being cheered on by the guys slapping him on the back!" Tell us about being back in the studio with all the Toto gang again for the new Toto record.
David: "Say hello to CJ too for me! It was a little different. The last time I recorded with them. We were all out in the room and this was like an overdub situation. Man I was a little nervous I'll admit it. It went great! It was painless. More than that it was a lot of fun! They dug the way it went and I dug the tunes. CJ is a great engineer and producer. He's a musician. He's very aware of the vibe and liked having me in the room instead of through the glass. They do that a lot to keep close contact. There's not a wall between you and everyone else. That's a very comfortable way of recording."
Reggie: So CJ told me that it was just the band and him in there. No outsiders. Did that make it even more comfortable?
David: " Yes, it did. That's usually the way it is. We didn't have a lot of outsiders in the old days while we were tracking. It was very intimate and pleasant, the environment."
Reggie: CJ had this to say about you: "People don't know about his musical past. He's a musicians musician. He graduated from North Texas State. He played in a Jazz Ensemble there. Oh my God! He plays guitar, trumpet. He's a really talented arranger, producer. People don't know about his musical education. He goes all the way back with them to even before "Silk Degrees" (Boz Scaggs). I really loved working with him, because of that, his background and his education. He belongs right up there with these guys."
David: "Oh, that's very kind. Yes we did go back even before "Silk Degrees". I'd been in L.A. for about a month when I met Jeff (Porcaro) on a session. That was January of '72. I was playing with Sonny and Cher at the time. I got Jeff on the Sonny and Cher gig and he got Paich on the gig. We did a lot of recording before "Silk Degrees" together. We were a kind of happening rhythm section. We go back a long ways. Jeff was 16 and a Senior in High School. It was like old family, man. That's the big thing about coming back after thirty something years is to see what's changed and what hasn't changed. Everybody's gotten real mellow and sweet. We had some high drama in the old days. It was a little crazy. But they've all grown into really good men. Everybody's been through a lot of life, tragedy, difficulty and all kind of shit. We're still here and the better for it. They're a really great bunch of guys. My dearest friends."
Reggie: I was at your first full fledged Toto gig in over 30 years just outside of Portland last year. What was that gig like?
David: "I guess the first thing is can I remember these tunes? The first shows are always really hard. We only rehearsed for three days. It was kind of like we were jumping in the water with no life jackets! It went good, man for the first show to get settled in."
Reggie: I talked to you a little bit before but we were both kind of on the run. What was it like playing in your old hometown? When I was backstage after the show I kind of felt like I was intruding on someone else's family reunion.
David: "It was an all time great hang, the after party. Joe and Aileen Porcaro, Jolene, the whole family. A bunch of people I hadn't seen in 30 years. Lee Sklar, bless his heart, man! He was there cheering me on. I really appreciated that. He is such a great player. He sounded great with Toto. I've been listening to all these Toto things on YouTube, playing these tunes. Getting to dig Mikey (Porcaro), Lee and Nathan (East) is pretty imposing. The Greek Theatre was a hometown crowd. My old hometown anyway! It was very special."
Reggie: I was able to talk to Steve Lukather and this is what he had to say about you. Luke: "Well I am so fucking happy and honored to have him back and for him being so gracious to come back after 33 years! It was like no time had passed but it is so much better NOW because our heads and our hearts are in the right place. NO ONE should be there but him! After all that has gone down with Mikey full circle. He is playing better than ever! One of the finest musicians I have ever worked with and still funny as hell. An original in every way!"
David: "Oh, God! Luke's a giant in my book. He's kept Toto going for awhile singlehandedly. God, what can I say? He's the best guitar player in the World! He's got the biggest heart. He's one of the best fathers. The other than music stuff is just as impressive. I look up to him."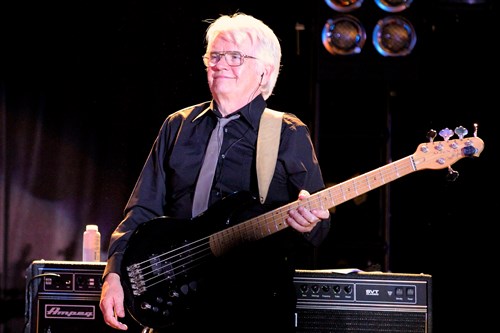 Reggie: I also had the chance to talk to Vince Gill and here's what he had to say about you.
Vince Gill: "Tell him I said hello and I miss him. I was thrilled to hear that David was going back and play with the guys. Toto is one of the best bands that's ever been put together. David has spent the last several years traveling with me. I was not going to work very much so I found out that he jumped on board with those cats I was so excited for him! I think that after all the years down the road, to see them have a chance to bond back together and to play music again is a great thing for David."
Reggie: I told Vince about the Greek Theatre show, hang and after show.
Vince Gill: "I can't imagine how great it must have been for everybody there. All those guys and everybody surrounding them. Not only did they share what they shared with each other in Toto but in the way they gave of their great musicianship to so many great records over the years. That was pretty overwhelming. I think a whole lot of healing went on that year."
David: "I LOVE Vince. You talk about GREAT musicians! Make sue you tell him hello too! When Vince was kind of shutting it down I said, well man, I consider myself really lucky because I started with the best Pop band in the World and finished with the best Country band in the World, and then back to Toto! I've been so lucky man, I can't believe it. I always thought at 66 I'd be on a farm some place. Well I am on a farm. I thought I'd be raising chickens or something."
Reggie: I first met you at a Vince Gill/Amy Grant Christmas Show in St. Louis Missouri. That band included of course Vince and yourself but also included John Hobbs, Dean Parks and Larry Carlton's horn section the Sapphire Blues among a few more stellar musicians. With Vince, Hobbs, Parks and yourself you have a mind blowing number of studio session credits. Could you please tell us about that experience.
David: "Vince and Amy are both first class musicians and people. They put a first class band together for that. So again it's like old home week. I've known Dean since 1966. We went to North Texas St. together when he was a saxophone player and I was a trombone player. So that's how far back we go. Dean was the first guy ever who knew what it was like to be a Studio Musician. I kind of watched him and learned from him. So that was great to have him around. He and Vince are buds. Vince totally gets Deans brilliance and of course Hobbs, what a giant. Hobbs is a great player, a great human being with a big heart! The Sapphire Horns are great too. It was Christmas, in St. Louis, my mom, my sister and my family was there. That's the last time my mom saw me play. That was a special night."
Reggie: I have been lucky enough to witness some pretty cool gigs you've played with Vince Gill. I was wondering if you could talk to me about a few of them. How about the two Eric Clapton Crossroads Festivals you played at in Chicago and New York.
David: "Yes the Crossroads Festivals were HUGE! In Chicago we got to see Bill Murray! It was weird because we played at like 10 in the morning. That's a weird time to be playing the Blues. Vince fit right in It was great playing with Earl Klugh, James Burton and Keb Mo. It was like an All Star Show. It was great to hang with those guys. The one in Chicago was more fun. The one in New York was less of a hang. The outdoor ones are always more fun. It was cool. I was really grateful for my time with Vince. He was so good to me and such a grand inspiration."

Reggie: How about playing in front of 40,000 at Wrigley Field?
David: "That was a huge thrill. The main thing that it meant to me, my dad grew up in Missouri, north of St. Louis, but he was a life long Cubs fan. He caught a lot of heat for that. He passed away a few years ago. Before that I had been to Wrigley Field twice with him over the years in the 60's and once again in the 80's. When we played there we got to walk on the field right where Ernie Banks used to hang out. I got a cup, now don't tell Wrigley field, and dug up some dirt from Wrigley and put it on my dads grave! That was little Wrigley Field religious experience, beyond the music thing!"
Reggie: That's GREAT! As I recall you wore a Cubs hat for that gig.
David: "I did wear a Cubs hat. The Blues thing we did there was in White Sox territory. We caught a lot of heat for that. They're serious about that."
Reggie: How about the three sold out shows at the Hollywood Bowl for the Fourth of July.
David: "It was very cool and April, my wife was there with me. Max Bennett, a great bass player, who is now 86 now and his wife Carrie came up. We got to hang out after the show. You know he played on the Joni Mitchell stuff. He goes back to the late 40's. He played with Ella Fitzgerald and everybody. It was a great hang with him. He's sharp as a tack and he still plays. He just took up six string bass. He has a Fusion band. That's the thing that's really cool about playing in L.A. Being away from L.A. for so long. So many of the guys that I knew then, especially the older guys, aren't around anymore and the ones that are, are like treasures. I just like to hang with them. Did you hear about the dinner we had last summer?
Reggie: No, I think I saw some Facebook posts but nothing really.
David: "I talked to Jay Graydon and Luke and suggested that we get like a 70's studio alumni group together and have a dinner some place and tell stories. We had Jay, Luke, Ray Parker Jr., Sylvester Rivers, Mike Lang, Willie Ornelas and Paul Jackson. It was amazing! Being back with Toto brings back that stuff too. I get to go back to L.A. and see people that I haven't seen in 30 years."
Reggie: I actually looked at all of your sessions listed on All Music Guide and it was mind blowing. Are there one or two sessions that stand out in your mind?
David: "There are so many. One of the most memorable was a live orchestra date with Barbra Streisand. I think it was at RCA. The big room there. Jeff was on it. It was a great band. It was a great phone mix, and her VOICE! It was like one take It was like instant magic. It's not like most record dates where you go in and you've got a click banging away with a weird mix where only four of the ten instruments are going to eventually be there. This was the whole thing, that was like a religious experience. The funny thing is you'd think you'd get uptight and be really careful, but you get inspired. You just go for it!"
Reggie: Since you've played on so many recordings do you know right away whether a song is going to be a hit or a good song?
David: "I'm the worst at that. There were so many hits that weren't hits on the stuff that I played on. Sometimes I didn't hear it. That's why I'm not a Record Producer. It's funny, Jeff and I used to talk about this. Some of the best stuff we played on together just never happened. Colin Blunestone's record and Valerie Carter, the "Wild Child" album, damn that's good! There's a Bill Champlin record "Single". But there are no hits on any of those. GREAT songs! Some of those songs were later hits by other people. But the playing was stellar!"
Reggie: I sat on the Vince Gill Tour bus with you for a few bus rides and after show hangs. You had some great road stories to tell. Some of those you can share and some you probably can't. Is there some you could share with us here?
David: "Here's one of my favorites. We were never into trashing hotel rooms. We were more intellectual than that. They used to have these billboard signs in hotel lobbies and outside restaurants with all these letters. Luke and I would check one of them out and do anagrams with them. Usually obscene sayings! That was fun. Jeff was a very talented graphic artist. In fact he told an interviewer that he would probably eventually do more of that than music, who knows? He would take these colored art pencils with him on the road. This was back in the Sonny and Cher days. We would check into a Holiday Inn and they would have these cheesy paintings on the wall, like a medieval street scene. We would take the picture down. Jeff would match the colors and the style of the painting. He would draw these weird little figures in the style of the painting, usually obscene things, ridiculous things. Then we would put it back on the wall and plus usually nobody looked at those things, really. So they never really get noticed. I always imagined a traveling salesman checking in at 3am looking at that and saying 'what's that girl doing with that donkey there?' You know Jeff he was the funniest dude!"
Reggie: That's the anti-Joe Walsh way of life on the road.
David: "Oh ya, that's too easy. Breaking furniture is too cheap and obvious. I can do that at home.
Reggie: How long did it take you to get integrated into the Nashville studio scene after you got there?
David: "It took a couple of years. I had a couple of pretty good contacts. David Malloy produced Eddie Rabbit back when he had "Suspicions". I had played on that in L.A. I overdubbed on it. I played on it. That was a big hit. Then I played on "I Love a Rainy Night" I think. Those were a couple of pretty big records. I had played on Dolly Parton's "Here You Come Again" album in '77, I think. Then Kyle Lehnings who is a really good friend here. I worked with England Dan and John Ford Coley, with Kyle in L.A. I had three pretty good Nashville contacts. I had my sights on Nashville for a pretty long time because I had kind of grown up in the region. My family is in Missouri. It just seemed like a cool place to live. I liked living out here. I liked living in the sticks. As soon as I felt I had a chance to get started I moved. But it took a couple of years. I moved here first in the Fall of '80. But it wasn't until '82 that I did a lot of sessions. I guess there was a stereotype, this L.A. guy from a Rock band wanted to come here and try to play Country. I grew up in Troy, Missouri. My first gig was with Missouri Bob and the Country Gents. I kind of understood that music and liked it, the better aspects of it. I got to play on some really cool Country. George Jones, George Strait, Conway. I did seven albums with Conway Twitty, Ronnie Millsap and Vince. Some really cool stuff over the years. Country has kind of gone in the toilet recently as far as song writing and talent goes. I don't know what it's trying to do? It's like Country Hick Hop they call it. Fortunately I don't have to do a lot of that anymore. It was a good move and I just started a family. I had a one year old and another son in '82. That's when I got to the point when I couldn't go back on tour with Toto. So a short 32 years later it all worked out!"
Reggie: I find it ironic that now a lot of Rockers, especially 80's Rockers, have moved to Nashville.
David: "Nashville's kind of a happening place. Jack White's here. I'm so glad to be playing Toto music. There's not a lot of stuff for my taste happening anymore.
Reggie: I have seen a ton of cool gigs, TV Show tapings and met some great musicians so it takes a lot to get me excited musically. When I saw the Electronic Press Kit for Toto XIV it really got me going. CJ played me one track and it was great so I can't wait to hear the whole album.
David: "Well you won't be dissapointed! It's reminiscint of the earlier Toto stuff. There's a great Steve Porcaro ballad, some real rockers and lyrically they've gotten a lot deeper than they used to be. The song "Holy War" is getting flack from people because it's kind of war and anti Holy war. It's relevant and I like that."
Reggie: Thank you very much. I know your time is precious so thanks for sharing it with us.
David: "It's always great to talk to you. I hope to see you when I come out there in April for rehearsals. The guys would love to see you. Thanks."
Photo credits: Bob Dinsmore, © Prouddad Photography 2015