Luke was dancing and groovin' with Porcaro as if they were playing in front of 10,000 people. Porcaro was in the same mode as he playfully danced around his keyboards. As the first number I witnessed ended there was an authoritative voice from the band that boldly said "there was nothing wrong with that one!". The first thing that hit me like a bolt of lightning was that Shannon and Lenny were right in sync. This was already a winning combination. Lenny is in motion from beginning to end. Lenny later on gave Shannon some space to do his thing as there was plenty of room for both of them. Joseph Williams was also dancing in front of the lucky very few of us that were witnessing this final run through. Williams played air bass, keyboards and even congas right in front of Lenny. Joe played actual keyboards with Steve as they made room for each other to play simultaneously. Porcaro even made time to slide on over to me to say hello with a warm welcome.
The next bolt of lightning to hit me was the vocals of Joseph Williams as he sang five feet away from me. His voice sounded to me better than ever and may be the key ingredient to Toto sounding at the very top of their game. Whether a sizzling rocker or a heartfelt ballad Williams sounded as if he were ready to step on the stage in front of a crowd right now. The "wall of vocals" hit me hard too. It consisted of as many as five voices at a time Joseph, Luke, Paich, Mabvuto and Jenny. Many may see the show and initially say Toto has two "background vocalists". Jenny and Mabvuto are an integral part of Toto even stepping out front from time to time. They reach far beyond the title of "background vocalists."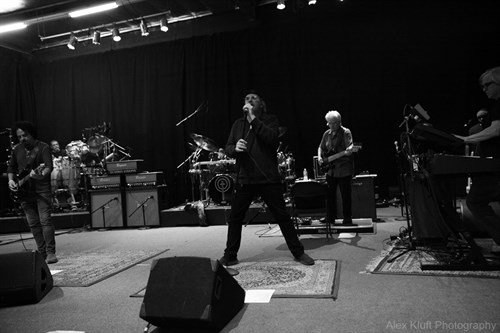 I kept having to remind myself that this was "work" or "just a rehearsal" for these guys. But it didn't look like work to me. I don't think anyone was having a rough day. Paich got into the dancing act with Jenny even though she looked liked she had a step or two on him. Paich later got into the act with a lucky visitor. The only thing missing was his signature top hat replaced for the day with a Dodgers baseball cap. With all the jokes, dance steps, air instrument playing and laughs it really wasn't my idea of a tough gig. It took Luke 60 minutes after I got there to bust out only his kind of humor. Those of you that know Luke or have even seen a Luke gig know what I'm talking about. For some his humor makes them cringe but for myself and almost everyone else in the room it makes you laugh harder than you've ever laughed and makes you feel lucky to be in the room. The only way to slow Luke down when he's in this mode is to start playing and that's exactly what happened a couple of times. Joseph then grabbed a golf club and used it as a walking stick, spear and just a stage prop without missing a beat. This was a fun day and a great hang.
As the set rolled on with one great number after another it was my natural instinct to clap and cheer after each ending. I guess that is not the protocol at a rehearsal. Finally after a few killer numbers those of us there forgot about that and at least politely applauded. The outside of me was giving them a golf clap but the inside of me was yelling and jumping up and down picturing myself at the Greek Theatre in Los Angeles later this summer seeing this in full production mode! The band members were cheering each other as Paich gave Porcaro a big thumbs up after a killer solo. Producer of Toto XIV CJ Vanston was there in full fan mode. He stood right behind both of his keyboard heroes at separate times Paich and Porcaro . He was intently watching their every move as he soaked in the whole scene. He also took pictures from all angles as he proved someone as important as him to the whole Toto Family and new Toto record can still be a fan too. CJ later told me "this was the third or fourth rehearsal I've been to".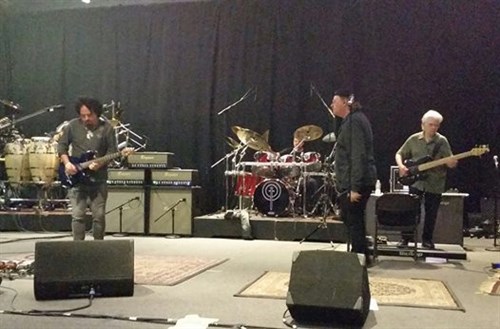 I had a chance to talk to some of the guys right after rehearsal. David Hungate told me about being back with Toto after such a long time. "It's amazing man! I came back after 34 years last year! I haven't seen Lenny since 1980! It's amazing. It's like a second childhood. That stuff doesn't happen. But it did! I couldn't be happier. I'm really looking forward to the tour. It's going to be killer!" I asked him about the new record and David told me "I think it's right up there with Toto IV. Technology has advanced quite a bit sound wise. CJ Vanston did a great job producing it. I'm very excited to be a part of it." Then I asked him about Toto XIV having such great chart success and critical success and he said "That's the most amazing thing because the U.S. critics hated us when we first came out. We were bagged as studio musicians that can't have any soul. It didn't matter that we played on everybody else's records that they loved. We've gotten some great reviews. If you hang around long enough you get appreciated! We've paid major dues. We've lost two of our guys and we're still doing it! That's really pretty AMAZING! I feel vindicated. Now only if the Rock 'n' Roll Hall of Fame will get off our asses!" Steve Porcaro told me "we're going to Europe and that's very exciting. We've got Hungate back as well as Lenny. Many people don't know that Lenny is featured on most of if not ALL of the hit records. He has ALWAYS been a big part of our sound. Toto has been through some instances where percussion wasn't a big part of our sound. It's just so great to have him back! It's just so great to look over there and see him and his energy, the whole vibe. It makes "Rosanna" and "Africa" and all those songs sound like the record." I also asked Porcaro about the critical and chart success of Toto XIV. He told me "it's thrilling! It's so much fun to see our hard work pay off to people who respond to it. Because we liked it. We thought it was a good record. We looked at each other at the end of the day. It was really hard work but we're really proud of it. It sounds good to us. We're thrilled that other people are responding as well." Joseph Williams told me "it's very,very exciting! I can't wait to get started! We leave in couple of days. We're going to do cuts off the this new album Toto XIV. It's aptly titled because I was 14 when I met Lukather, this is the 14th album and we made it in 2014.It's going to be great and it's going to be a long tour. I'm looking forward to it."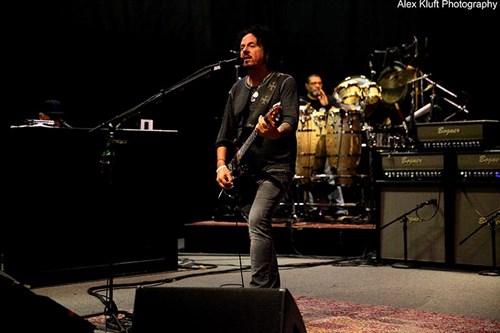 Luke told me "it's so GREAT to have Lenny and Hungate back with us. It's like family. But with the tragic loss of Mikey (Porcaro), at the same time he's at peace and I'm sure he's with Jeff (Porcaro). That gives me a lot of peace. It gives the whole family a lot of peace because towards the end it was so brutal. It was unfair, it was inhumane. But now he's at peace. The family is at peace. I feel bad for Cherie (Mike's wife), she's going to have to pick up the pieces after this. They're having a wedding over the weekend so there's a positive thing to make her transition easier I'm sure having something to look forward to. Instead of the reality of it all. But we have Lenny and Hungate back! Here we go on a positive note! Hungus and Lenny is like going back to school. I look around the room and there's Steve, Paich, Hungus, Lenny and me. We're back together! The functioning team is back together! Joe is singing better than ever. Mabvuto and Jenny fill it all out and it's just fun. We have a killer set list. The band's tight. Today, with rehearsal this far out were just walking through it. When we get in front of a crowd it will all fall together. Technically we're still dicking around with stuff. Figuring out what pedal to press and all that sort of aspect of it. Overall we've got a great crew and a great team and we're really excited! Ticket sales are amazing. This is probably going to be the most successful two years ahead that we could have imagined!"
I then asked Luke about going out with Yes in North America later in the Summer that includes Steve Howe, Chris Squire, Alan White and Geoff Downes. Luke told me "I'm really excited to meet Steve Howe. I know Chris and Alan. We've worked together. Steve Howe is a childhood hero of mine. I'm going to enjoy it because that music is in my soul! I'm going to dig sitting there and listening to it every night. I love Chris, he has always been a great cat. We used to hang back in the day. Alan is wonderful. I worked with Geoff on an Asia record. We have a closer connection than people actually realize. If someone was to say that Toto was that "Africa" band or that Yes was that "Owner of a Lonely Heart" band then they got us BOTH wrong! Those are both great tunes and it's a part of what we are but it certainly doesn't define us. To me Yes will always be like "Close to the Edge", "Fragile" and the "Yes Album". Those are part of my DNA. So when I hear that stuff it will be a kick for me. I just want to walk up to Steve Howe, grab him and give him a big hug and say thank you for just blowing my mind and being inspiring as a young musician! I think we are going to get on GREAT! Ticket sales out of the box are looking great. I think the Greek (Theatre Los Angeles) is going to go clean. A couple of them are sold out already. This is great for us. We're moving back up in the United Sates again. The Live in Poland DVD hits Paladia and VH1 for a year with TV commercials and all this other stuff. We managed to put that together, finally when every other manager and everybody else said we couldn't do it. Well we're taking care of shit ourselves and guess what? It's all coming together! What the heck! That's really what it's all about, right?"
It wouldn't be an LA rehearsal without someone cool showing up and that person was Jeff "Skunk" Baxter. With CJ Vanston producing Skunks' new album Skunk stopped by to say hello to the gang and chat with Luke and Paich for a bit. As the gear was being packed for the tour I noticed a picture of Mike Porcaro prominently displayed on his brother Steve's keyboard. Mike and Jeff may not be here anymore but they are never too far away from the Toto gang. With a killer set list, Joseph singing better than ever, Lenny and David back, Shannon Forrest behind the kit, Porcaro and Paich facing off across the stage and Luke just being Luke this will definitely be something you won't want to miss.