Someday/Somehow comprises a talented cast of players. Through the magic of technology, brothers Jeff and Mike join Steve on one song (Mike actually plays all the bass lines on the album). Steve Lukather and Marc Bonilla handle the guitar work. Drummers include current Toto stickman Shannon Forrest, Toss Panos and Robin DiMaggio, while most of the percussion falls on Lenny Castro. As for vocals, Porcaro took the lead on seven songs, while Michael McDonald, Jamie Kimmett, Mabyuto Carpenter and Michael Sherwood are all featured on the rest.
Having seen Porcaro with Toto and at the Official Keith Emerson Tribute Concert, I was more than happy to check out the album and chat with him. What follows is a loose and friendly conversation where we got into the nuts and bolts of Someday/Somehow, as well as his keyboard work, vocals, songwriting, influences, and, of course, brothers. You could say that Steve Porcaro is doing everything he can to meet and exceed his family's reputation for musical excellence.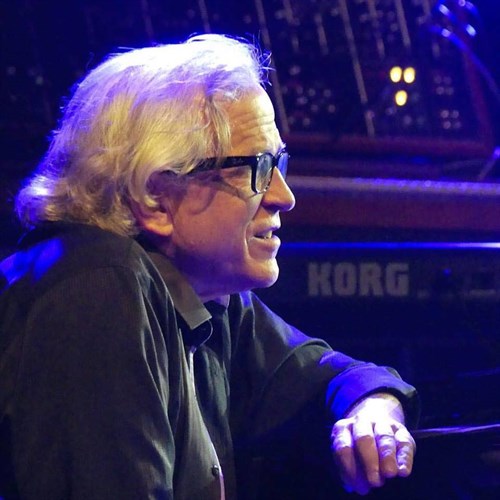 Someday/Somehow is your first solo album, something that's been in development for a number of years. How did you finally decide that now was the time to put it out?
It was really just a series of things. I had been working on (the TV show) "Justified" and it had just ended. We were being asked what was going to be the next recorded output by Toto. Luke (Steve Lukather) really put me on the spot. He knows I'm useless without a deadline. He started telling people my solo album was the recorded output from Toto (laughs). And then on top of it all, the real reason is probably my brother Mike passing. My faith was shoved into the reality about how short life is. And it felt like it's time to hurry up and get this batch of songs out there to everybody.
You've said the song "Ready Or Not" was written for your kids, but as the first track on the album, it's a good way to announce the arrival of your first solo album.
There's just a couple that are like really old from the 80s. Some of this stuff makes it look like I've been working really hard on this for 30 years straight. That's not the case at all. I've been busy with other projects. Really, when I got real serious about it, about seven, eight years ago, that's kind of when I wrote "Ready or Not" along with Mike Sherwood. It was kind of the start of me really seriously thinking about doing a solo album one day. I kind of pictured it being the first thing on there. Like you said, it works as an opener, being ready or not and being as long-coming as it was.
"Back To You" was originally recorded with Toto back in 1983, but you finished it off more recently. It features your brothers Jeff and Mike, so I would imagine it has a very special meaning to you.
Absolutely. That was something where how the technology has really helped us out these days, where I was able to take their tracks off an old slave and use them on this album. It was great. It was really a situation of having your cake and eating it, too. The way I was able to join what they did had done on the Toto version with my original demo, which had all my keyboards and all my synths wailing around. It was just great to be able to have the best of both worlds, to be able to merge those two worlds. There was usually a demo with something on a cassette back in the day, and the masters of a Toto session are stuffed in some vault somewhere. It felt great to really reconcile that tune, and be able to realize it the way I always pictured it in my head.
And unlike Toto's "Rosanna," it was actually inspired by your then-girlfriend Rosanna Arquette?
I don't want to make too big of deal of that. Yeah, it was when I was with her and it was kind of a lost weekend thing. It was who I was with at the time. It was a song about what was going on in my relationship. But I don't like making a big deal out of it. It just sounds kind of gratuitous, like I'm trying to drop her name or whatever, you know?
I read that you feel your singing voice is not very strong.
It's not (laughs).
But you're doing most of the singing on the record and I really like your voice. That being said, you do have Michael McDonald on two songs, Jamie Kimmett (who, to my ears, sounds remarkably similar to Michael Jackson) on two more, and Mabvuto Carpenter on "Painting By Numbers." Do you feel more comfortable with others singing your songs?
To me, the number one thing, as a songwriter, which is what I really consider myself — much more so than a vocalist. I consider myself a songwriter first. The thing with songwriters is that you want the song served. What's the best way to serve the song? And sometimes it is me. My voice, with all its flaws, is sometimes the best way to serve the song. I like to think I have more depth than being limited to my voice. Songs like "Painting By Numbers"— you listen to what Mabvuto does on that; it's gorgeous. What he does in one whole breath — going into his falsetto and then back down, without taking a breath. These are things I could never do in a million years. You got to remember I was really very spoiled. One of my first covers was "Human Nature" and really knowing what a great singer brings to the table. I know better than anybody what Michael Jackson brought to my song. Once you've had a taste of that — what a really great singer brings to the table — you want it more and more, you want it for your song.
Now, having said that, I realize, especially after I started touring with Toto again, that there's some fans out there that love my voice, and love it when I sing my songs. And I get it — I like it too. It was so excruciating back in the old days as far as getting a vocal, the way we were such perfectionists about it. It wasn't fun for me because of my lack of strength as a singer. It would take a lot of time in the studio. Now, with some of the tools we have in the studio, it's made it possible. It makes it so it's not so excruciating in the studio because of this great technology we have now.
When you were writing the songs that Michael McDonald sings, were you hearing his voice?
No, not on those songs, that was the after the fact. Those two songs — "Night Of Our Own" and "Swing Street" — they're a little bit newer than "Ready Or Not." When they were originally written, Michael Sherwood was singing them on the demos for the longest time. But again, when it got down to how I really wanted this album to go, I was really thinking about things like that. Who else would sing, and how many times I wanted other vocalists. It was just a couple of years when I was thinking about my solo album, I thinking maybe I'll sing one song (laughs). I kind of envisioned it as a kind of a Quincy Jones kind of thing; I just wanted to have the autonomy and control over how things came out. I just wanted to have the final word. Now I'm singing a lot more and I'm digging it.
In addition to the guest singers, guitarists Marc Bonilla and Steve Lukather, percussionist Lenny Castro and drummer Shannon Forrest make appearances on the album as well. Were you able to corral these guys into the studio, or were the sessions done remotely?
I corralled some of the guys in the studio, you know guys like Luke who lives here in LA. I was able to get him to come by and work at my studio. Guys like Shannon, they did it remotely. Shannon's got an amazing studio and he's an amazing engineer as well. His stuff just sounded amazing. It was a little difficult. We had to do a little back and fourth remotely, which wasn't easy. Hopefully in the future I'll be able to be there and get more to the point. But it worked out great. Everybody, all my friends, who worked on this, really went above and beyond for me. It was very humbling, and I owe these guys a lot of appreciation.
There are traces of the Toto sound on the record, and to your credit, I think one of the things I took away from listening to it, is realizing how much you contribute to the Toto sound. I mean, one of my favorite Toto songs is "Africa," which was written by David Paich, but it's really your keyboard that's driving the song.
That really speaks to David's and mine teamwork, especially on a song like "Africa." Probably at the end of the day, it was predominantly David but with me right there next to him, as far as sounds go, as far as the programming went, as far as a lot of the parts where we experimented and experimented. I just remember endless experimentation, trying all kinds of different things. It was great because we were working at David's studio so we could take our time and work any time, throw things down on tape, and think about it, check it out the next morning, and see if it really stuck. We really spent a lot of time on it.
I would imagine you guys have certain chemistry because it's rare to have two keyboard players in a band.
To speak to that a little more, David and I always had a great relationship. Initially, I was brought into the band to cover his old stuff, the way I did with Boz Scaggs on the road. You know, do his string ensemble parts, do his mini Moog parts. That was originally what I asked to be in Toto for. But as I've grown and matured over the years, I needed to say more than just be the synth guy, David has adjusted beautifully, and we've really always been a good team. Even if it's my song on a Toto album, as far as executing the part — it could be a song I've written and I know the part well and I've played it a million times — but when it gets down to recording it in the studio, there's nobody like David Paich, as far as confidence and performing a solid keyboard part. I'd say, "Dave, this is what I want the part to be, you execute it." There's no ego. It works both ways with both of us. We work well together.
I bet that makes it easier for everybody.
There's never been, ever once, any kind of weird ego thing with us. We're such different players. Now, I kind of think with the band, they've grown to appreciate what it is I do. Where back in the day, I was kind of this wildcard madman, running around, getting way into the synthesizer stuff. We've all grown up and I think now they understand what I was trying to do and appreciate me more. That's how it feels, anyway.
You released Toto XIV in 2015 and I thought it was an excellent record. Any talk of doing another one?
There is some talk of doing some more music, not an album right now, but there is some talk about us maybe making some new music together, relatively soon. Right now, we're focusing on August and touring in the States. We're doing 'An Evening with Toto,' which we haven't done for a very long time.
Steve Lukather is out with Ringo Starr, and then you have these summer dates. Any further touring plans beyond that, perhaps into 2017?
As far as Toto goes, I think we're going to keep it pretty quiet through 2017 and gear up for 2018, which will be the 40th anniversary of the band. That's what I think is the general plan is right now is, of course that could change. Right now though, I think we're thinking about keeping pretty quiet, as far touring goes anyways in 2017, and then, like I said, kind of hitting it hard in 2018 to celebrate the 40th anniversary.
Do you have any plans to tour behind Someday/Somehow?
I don't right now. I sing a song during Toto's show. I sung "It's A Feeling," (from Toto IV) I've sung "Takin' It Back," (B-side for "Hold The Line") and I've been doing "Bend" (bonus track from Toto XIV) over the last year. The guys really like "Bend" in the set. They talked about me doing a song from my solo album. Luke never does things from his solo albums, or nobody else does. It's a possibility. That's the only plans for touring with Toto. That keeps me plenty busy.
I saw you with Yes last year, and I think the initial perception from many, especially in the prog community, was that it was an odd pairing. But after seeing you guys, it was a great fit and you blew me away. Seeing that and seeing you at the Keith Emerson tribute definitely solidified your progressive rock credentials.
(Laughs) I love that. My prog creds are intact?
Can you tell me the role prog has played in your development as a keyboardist and a songwriter?
tYou know it's really funny. Because just in general, you can see how profoundly how Keith Emerson affected me and what a fan I was. When you think about their music overall, it's kind of a polar opposite of the deep-pocketed, groove-based music that Toto's kind of all about. I can see a lot of our fans going, "What the fuck…" You know what I mean? Yes and ELP, especially those two bands, just had this profound affect on us. You can hear it in our music; you can hear it on my solo album. Keith Emerson's notes, the way he used suspensions is something that even in my mid-tempo ballads, I mean I caught that. You don't hear me playing jazz chords. There's no altered thirteenth, eleventh, ninth chords in my music. Very, very rarely is there harmony in that. I try to get my complexity through suspensions, like Keith does. Yes and ELP were huge influences on me.
Your songwriting is a big part of your identity, and I would be remiss if I didn't ask you about "Human Nature." Can you talk a little bit about putting that one together and sending it over to Michael Jackson to record?
II don't know if you know the story or not. One thing I want to say right off the bat — and I do a lot of interviews and people ask me to talk about "Human Nature" a lot — is one guy who gets kind of short shrift from my interviews is John Bettis and what he brought to the table lyrically. Yeah, "Human Nature" was my baby and I could tell you the story all about it. At the last minute, Quincy (Jones) asked me if I'd mind if John Bettis took a shot at the verse lyrics, and I said, "No, not at all." I didn't consider myself a great lyricist. Sometimes what just came out of my mouth when I was writing, I mean like the chorus on "Human Nature" could be keepers. But I was wide open. But with John Bettis, I didn't change a single syllable, he just nailed it. He turned my record into a song, with a beginning, middle and end. Those lyrics are amazing and I don't talk about that enough.
Having said that, Quincy was going to David Paich for material and he accidentally heard "Human Nature." I had my demo. He heard the demo, which you can actually hear it online if you Google "Human Nature demo." You can hear exactly what Quincy heard. I pretty much recreated it in the studio. I just had my brother Jeff playing live and I pretty much recreated the demo. The bass is me, the basic keyboard part is me. Quincy added Steve Lukather's part and Michael Boddicker's synth part, and that was it. It came together pretty quick. Another huge factor in the whole thing is Bruce Swedien. What an amazing job he did engineering and mixing all of Thriller. What he brought to the table, his professionalism. Where the bar is with Bruce is so far up there. He made it sound amazing.
Were you surprised by the reception to the song?
Of course, are you kidding?
Were you happy to hear Miles Davis do a version of it?
He was always my father's favorite — those 60s Miles bands, the quintets and that stuff. It was great because Toto worked with Miles and my dad got to meet him. He was a real sweetheart to my dad. "Human Nature" was like winning the lottery for sure.