Touring in Europe to huge crowds, great U.S. Tours and shows with Yes, Michael McDonald and Boz Skaggs, multiple successful DVD's, Toto XIV charting in the Top 10 in ten countries, winning a whole new set of fans and integrating their new music from XIV into their live show and into the hearts of their fans. There was no looking back. EVERYTHING has been bigger and BETTER! Toto 2016 is Steve Lukather (g,v), David Paich (k,v), Steve Porcaro (k,v), Lee Sklar (b), Shannon Forrest (d), Lenny Castro (percussion) (Fleetwood Mac, Stevie Nicks) with singers Mabvuto Carpenter (Chaka Kahn, Stevie Wonder) and Jenny Douglas-Foote (Joe Cocker, Mick Jagger). The theme for this show was remembrance and acknowledgement. It was true reverence for our 9/11 victims and heroes and love for Mike and Jeff Porcaro with thanks to all in the Toto family.
It was a very cool night but Toto warmed up the crowd right from the start. Luke seemed to me to have an extra jump in his step from the first note. He energetically demanded everyone to get up from their seats to Rock out to "Child's Anthem". Joseph Williams recently had to take a day off in Denver due to ill health but he showed no signs of it tonight. No one in the crowd had a hint that he couldn't sing one week ago to the day. This show already had a farewell party vibe to it. You could tell this was going to be fun. The crowd obliged Luke from the start and rose to its feet for the instrumental opener. Williams entered the stage for "I'll Supply The Love". Without a hint of any health issues Williams strolled across all parts of the stage even behind the Forrest/Castro risers. Williams' voice soared from the start. This was a lucky/unlucky night. The crowd was lucky because they were being entertained by an energetic, playful band but unlucky because this was the last show of the Tour.
"Holy War" up next was written by Luke, Williams and XIV Producer CJ Vanston. Vanston played a key role in the making of XIV and is a big part of the Toto family. Luke introduced the song from Toto XIV even though it's our 17th album. He said "we like to confuse our fans". For the Nashville show reviewed earlier on the site I was stage left. Tonight I was stage right and got an up close look at the ever animated Paich. Paich strutted, danced, moved and grooved all night long. My view also gave me a perfect view of the five voices singing in perfect unison. Paich, Luke, Williams, Carpenter and Douglas-Foote. Luke introduced Castro as having been part of the Toto family since the beginning. Castro has played on all the Toto records. Luke also introduced Modern Drummer Cover Boy Shannon Forrest. Nashville Ace drummer Shannon was called a "Centerfold" for MD by Luke. Luke also gave a little of his history to the crowd telling them he's played with Boz Skaggs, Robben Ford and Michael McDonald. Castro and Forrest weren't band members they were family members. Everyone was running at full speed and on fire now. It seemed sad that this was the last show.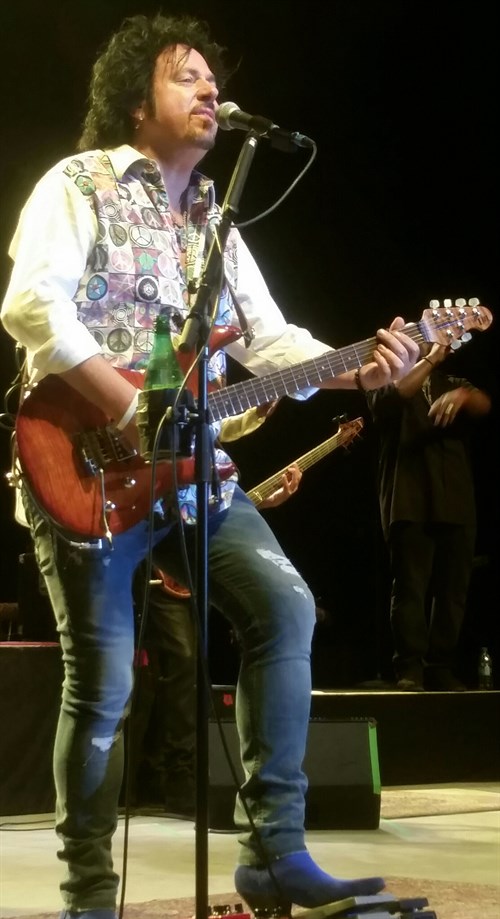 After the number off the latest Toto release Luke said "It's time for an old song. A love song. It's happened to me a couple of times." "I Won't Hold You Back" from the multiple Grammy winning Toto IV was written and sung by Luke. My stage right view also enlightened me as to the importance of Lenny Castro. I always knew he was a man in constant motion but now I knew exactly why. All four limbs were in constant motion. I knew he had a huge array of instruments but didn't realize until tonight how many different ones he would use on one song. He looked like an octopus with an instrument in each hand. He was using a tambourine, cymbals, congas, toms, triangles and various drums just to name a few. There was a meaning to each instrument and each sound. It added a ton of flavor to each number. Luke pulled out his "Sammy Davis Jr" guitar to lay down his first searing solo of the night.
Paich penned "Georgy Porgy" was up next and featured funkiness from start to end. It featured funk from Lukes guitar to Sklars bass and then some funky soulful vocals from Jenny. Douglas-Foote and Carpenter are featured vocalists not to be confused with backup vocalists. They do provide some backup vocals but they are both phenomenal frontline singers. Team player Williams slides to the background when not featured on certain songs and either provides additional vocals or cheers his band mates on or both.
"Burn" had a thundering intro and roared throughout. Stage right gave me another view that was unappreciated before. I did understand the camaraderie between Forrest and Castro before but not the depth of it. From my vantage point seeing them in unison was another reason that makes this band better than the rest. "Afraid of Love" solidified the fact that Forrest was a perfect choice for this band. With the help of Castro there was back to back thunder as this song roared too. "Bend" the Steve Porcaro bonus song from XIV was his moment. Porcaro was away from Toto for a couple of decades but now has been back for a good amount of time and it's great to have him. He's not really a "spotlight guy" but just keeps a constant groove going the entire night. It's also great to have the Porcaro name still in the band. Steve dedicated this song to his brother Mike who we lost in March of 2015. He also told the crowd how great it was to have Lee Sklar who was Mikes bass hero in the band.
Joseph Williams owns every Toto song he sings but "Pamela" is his signature song. He co wrote the American Top 20 hit with David Paich and sang lead on it. Stage right was a little top heavy for this number as Williams and Luke joined Paich together as the trio grooved.
"Great Expectations" was dedicated to the real heroes of 9/11 as Paich said "let's hear it for all of the fire fighters. I have family from the Oakland Fire Department here at the show tonight." The crowd then stood and cheered as we all remembered what day this was and how important it was in American and World history. It was exactly 15 years ago that 3,000 people lost their lives in the Twin Towers attack. Luke and Sklar enjoyed their time together as always but even more tonight. They playfully jabbed, grabbed and poked each other during the night like two teenagers. They also grooved and smoked all night too. Luke couldn't make up his mind on this song which key magic to watch. He focused on the Porcaro magic then fixed his eyes watching the Paich magic. His head went back and forth as they went back and forth playing.
Williams introduced the next song as a "funky, sexy, juicy number". He said "I have the perfect person for this song. Mr. Steve Lukather." Toto was now a Power Trio for the Robin Trower song "Bridge of Sighs". Luke, Forrest and Sklar wailed away on this number that Luke brought to another level, even higher than when I saw this in Nashville. The Nashville "Musicians, Musicians" were blown away when I was there so they would have been speechless here. This song ALONE was worth the three hour drive I made each way. It was Luke but it wasn't just Luke as Sklar and Forrest were locked in musically and from the looks of it emotionally too. Sklar locked eyes with Forrest as they were both on the same page. The trio morphed into a quartet as Paich later joined in on piano towards the end of the song. Lenny Castro echoed my sentiments as he came out to cheer the guys and crowd on. He had that 'I can't believe what I just saw' look in his eyes. Now Lenny has seen it all so for him to have that reaction says something. Luke then gave props to Paich saying lovingly and pointing directly at him "this guy!' Paich pointed to him self and said after Lukes display of guitar wizardry "this guy is glad he doesn't play guitar!"
Luke then jammed with Porcaro, his lifelong pal on "Hold The Line". It seemed like there may have been thoughts reminiscing in both their minds of playing in the Porcaro residence back in the day. Luke spent plenty of time on Porcaros' riser for this song which probably happened 45 years ago too. Now it was the Jenny/Joseph Show as both vocalists shined with their voices ringing through the cold, crisp clean air. Mabvuto added his magic later on in the song.
For "On the Run" in a very heartfelt dedication Luke said "Thank you to the entire Toto family. The crew, without you guys we would be nothing. This is one big massive family. From the truck drivers, the people that feed us. It's a family effort. Some of these people have been here for decades. The new people we want them here for decades or for how ever long were doing this." I personally know how hard the crew works. They travel from venue to venue and set up, tear down, set up tear down. The band shows up at 4pm and everything is ready to go . The equipment is set up in the same spot in every city, tuned and ready to play. The crew is the heart and soul of the show. Luke also wanted to kill the Toto studio musician myth. He said people think we were just studio musicians just thrown together by some businessmen. "Jeff Porcaro was the drummer in Steely Dan at 17. We all grew up together with Michael Landau and John Pierce. I was probably at Steve Porcaros' house more than I was at my house. Their house was filled with music, food and love.
"Orphan" was a Paich/Williams/Lukather number from XIV. The songs from XIV are now recognized and sung by the fans. They fit right in with the Toto classic hits. There's not even a hint of hesitation putting a XIV song that's one year old next to an almost 35 year old Toto hit such as the next number "Rosanna". "Rosanna" is the feel good song from IV in 1982. It had the crowd singing it like it was 1982 again. It's always great to see kids sing the Toto songs word for word that were born before they were.
This party was coming to an end so Luke encouraged EVERYONE to come up to the front of the stage. Paich and Jenny were in full dance mode with Jenny pulling a Joseph Williams by covering every inch of the entire stage. Paich even took a lap around his piano.
The encore consisted of "On the Run" from Toto XX a Lukather/ Paich/Fee Waybill song. It was very cool earlier before the show as they played the Tubes two biggest hits over the P.A. "Talk to Ya Later" and "She's a Beauty" that were both written by Lukather/Waybill/ David Foster. Luke then toyed with the crowd as there was only one number left for the night and for the Tour. Luke again said "One more song? Did we forget something"? Most of the crowd was in front of stage singing every word of this song as the night was about to come to an end. Luckily a lot of the band were conveniently a few hours from home. It was a great end to a very successful tour.
I had a chance to talk for a bit with Steve Porcaro and he told me "it was so great for Toto to end this US run in Paso Robles where we felt the love from the crowd. The whole tour went great and it was a groove to play a 2 hour show here in the states."