The Thousand Oaks,Ca. Civic Arts Plaza was the site for the kickoff for the contiguous States portion of this American Ringo All Starr run on November 11th. Steve Lukather (Toto g,v) lives just down the road a bit, Gregg Bissonette (David Lee Roth d) is within earshot of the venue. Gregg even held court in front of the venue with an abundance of friends. Richard Page (Mr. Mister g,v) is a 'local' who correctly coined Thousand Oaks T.O. as us residents affectionately call it. During the show Page told T.O. "I'm just over the hill. You might even run into me at the Do It Center as I'm there all the time"! That brought laughter and applause as they knew Richard was "one of us". Even the Captain of this ship, Ringo has been an L.A. area resident for a couple of years. Later during the gig Rundgren held up five fingers signifying as he said "we've been together for five years. We're not the All Starr Band anymore. We're just a band". That was never more true in a sense.
I've seen about a dozen Ringo All Star shows, seven with this cast. There has never been more camaraderie and chemistry than with this group by far. Warren Ham (Olivia Newton-John, Donna Summer, Kerry Livgren/Kansas) has been the only change taking over for Mark Rivera. Now that Ham has been in the All Starrs for a few years this is a cohesive unit from top to bottom. This half decade old band is led as always by emcee, leader, drummer, former Beatle and front man Ringo. It is rounded out by Greg Rolie (Santana, Journey k,v) and Rundgren (Utopia/New Cars g,b,v, harmonica, shaker).
As the show started Luke and Rolie came to the very front edge of the stage and encouraged everyone to get up out of their seats. As the svelte leader Ringo was the last to arrive everyone was now standing. Ringo was clad in a roaring bright red sports jacket and black shirt adorned with a bright shiny peace sign. You could feel the energy level rise with every step Ringo took closer to the crowd. "Matchbox" was the opener as the energy level was at maximum capacity. With the crowd abuzz Luke had the first spotlight moment focusing on his guitar playing. "It don't Come Easy" the number highly influenced by former Beatle band mate George Harrison was next. Ham stepped up with his saxophone play. Bissonette had a huge smile on his face from show start to end. He exuded the "I'm playing with a Beatle, in my hometown in front of my friends" look all night. "What Goes On" the Beatles only Lennon/ McCartney/ Starkey number from the Beatles #1 album "Rubber Soul" was next. This was song number three in a row with Ringo out front as singer/emcee only. Luke was a mere few feet away from one of his biggest musical influences. Luke was locked in on guitar on this number with everyone else adding vocals.
Ringo stepped back right next to Bissonette for the first song with double drummers. Rundgren sang his song "I Saw the Light" from 1972's solo release Something/Anything. Todd shouted "Come on Luke, let's show 'em how we do it!" The ALWAYS on 10 Rundgrens' sinister laugh sent Luke and Rolie into laughter overload. Todd then introduced Rolie as "the John Wayne of Rock 'n' Roll". "Evil Ways" from Santanas' self titled debut album was Rolie's' time in the spotlight. I quickly realized that the Santana songs were the perfect avenue to give everyone "their moment". Luke and Rolie jammed together stage right as Rundgren was spotlighted stage left as far away as he could possibly be. Todd used more square footage on the stage than anyone. The Luke/Rolie portion of the show went way above the call of duty on the Sonny Henry number. We had just witnessed our first maximum roar of the night.
Luke said "hello Thousand Oaks! I play because of Ringo and the guys." He couldn't have said it simpler or with more meaning. Toto classic hit "Rosanna" had Luke encouraging the crowd to sing once again with the All Starrs led by Ham. After encouraging T.O. to sing he listened carefully and gave the crowd a thumbs up for a job well done. We were six songs deep and Bissonettes' smile had not subsided a bit. It was obvious all were having a blast as Luke and Page jammed with Rundgren bouncing all over the stage. Ham then joined the party front and center on sax. Everyone was firing on all cylinders.
Luke then introduced "local" Richard Page saying "I heard this guy was a great singer when I was 19. We've worked a lot together since then. Who knew we'd end up here!" "Kyrie" the Mr. Mister smash gave Page a chance to show off his still astonishing vocals. It was evident why Luke had Page sing on so many Toto records. The still ecstatic drummer Bissonette added his vocals to this song too. As the vocals soared higher and higher Page asked for assistance from his local crowd.
The anti-work themed "Bang the Drum All Day" hit the drum trifecta. With a couple of snare drums brought out in front of Rundgren and with the Ringo/Bissonette duo at it again we had a triple whammy. With Ham on cowbell it then became a fearsome fore some of percussion. Ringo said "I looked out in the crowd and see people singing 'bang the drum'. That's what I do!" "Boys" a Beatles cover of a Shirelles' song off of Beatles album "Please Please Me" added another trifecta. It was a vocal trifecta of Luke, Todd and Richard on the same microphone. "Don't Pass Me By" a Starkey song from "The Beatles" had Ringo back out front with the multi talented Rundgren on harmonica. With Ringo still front and center he led the T.O. singing brigade on "Yellow Submarine." The fun sing a long song was a song that even had the few young children in the venue singing along.
It was now time for the fearless leader Ringo to take a break. He stepped away for one song. The Peter Green composed "Black Magic Woman/Gypsy Queen most famous from Santanas "Abraxas" was once again juiced up by the Luke/Rolie show. As they jammed once again next to each other Luke was anchored to Rolie's' Hammond. Rolie stroked Luke's guitar and Luke played a few notes on Rolie's Hammond.Page and Rundgren then ran in circles chasing each other all while not missing a beat on their instruments. Luke then took another quick turn out front and center stage showcasing his six string skills. Once again every All Starr had their moment on this song.
"You're Sixteen" the Johnny Burnette song from the album "Ringo" had the leader out front center stage again. Now donning a red and black sports jacket adorned with stars a plenty he had the crowd once again singing every word of another #1 song. "Back Off Boogaloo" was a welcome addition back to the set list. The thundering rocker was accentuated by some eerie guitar by Luke and thundering Bissonette drums. Ringo started this number out front but got on his kit in the middle of the song to add to the thunder on the skins. Ham added more keys in addition to Rolie's as my head was spinning watching the multi talented instrumentalists from left to right.
Page was next up with the newest most unfamiliar song of the night. Page said that his number "You Are Mine" "resonated with the boss and the guys." With Page on acoustic guitar and Rundgren on bass Pages' vocals soared again. The thunder was taken down quite a bit after "Boogaloo" but the quality didn't drop a bit even though this was the first time most of the sell out crowd had heard this song. With so many decades old songs that are instantly recognizable it is hard to win a crowd over with a new song. I could actually see and feel the crowd being won over right before me. With a group of so many great singers Page may be the best singer out there. Lukes' haunting guitar once again resonated off these walls of this stellar sounding venue. Ham, Rundgren and Pages' vocals blended to perfection. Ringo/Bissonette held down the beat simultaneously.
It was Luke's turn again with the #1 Toto song "Africa". Ham again shined on this song vocally and on clarinet. The Luke/Ham vocal exchange was very well received with Page adding even more magic to this still much played on radio tune. Ham took over for Mark Rivera two years ago and was a perfect addition to the All Starrs. Ham has toured most notably with Donna Summer, Olivia Newton-John and Kerry Livgren/Kansas. This was one of multiple songs where everyone not playing drums was singing. At no point during this show do you ever get the faintest hint that anyone is just going through the motions. Especially Rundgren as he seemingly covered every square inch of the stage.
"Oye Como Va" the Santana/Tito Puente song was the third Santana song of the night. Luke jammed with Rundgren and even reached over and played Todd's' guitar for a bit. Luke then added a ferocious solo of his own. His solo was so fierce that it had Page and Rolie exchanging looks of disbelief even though they see his playing every night. "I Wanna Be Your Man" was a Rolling Stones release before the Beatles Ringo led version was released. This song had Luke jumping up on Ringo's riser and jamming with the boss. Showman extraordinaire Rundgren was out front again, his energy never wavering. Todd was back out front for the Utopia song "Love is the Answer". The #1 AC hit for England Dan and John Ford Coley had the majority of the crowd singing again. Todd started the song on Warrens' keys and then stepped out front solely as a vocalist. With Todd singing and not playing any instrument the entire focus was on his voice. I felt guilty because it took this song to let me know that he was even a better singer than I thought. With some of the All Starrs changing instruments, singing lead, singing back up there may only be seven All Starrs but it seemed like twice as many.
Mr. Misters' "Broken Wings" added yet another #1 hit to the list. This song once again brought the appreciative Thousand Oaks crowd back in time. Page said "can we make it right T.O."? Luke was the only guitarist on this song and his playing stood out even more. Both Luke and Page were at the top of their game on this tune. Ham was a keyboard player with his right hand and a percussionist with his left. Bissonette yelled out a loud and definitive "WOW" after Pages' vocals soared higher that at any time of the night.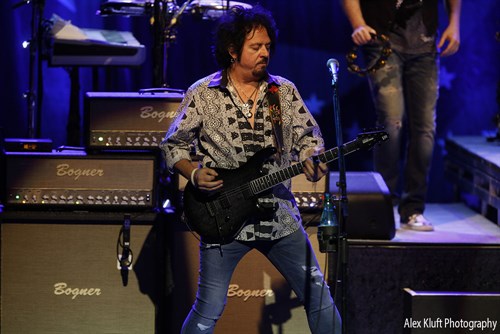 "Hold the Line" was the third and final Toto number of the night. Ham started it out with the unmistakable intro followed by Lukes' signature guitar sound. It was great to see Ringo singing "Hold the Line" even though he wasn't miked up. He was truly enjoying the song on his own. Ham again proved he was an All Starr vocally on another sing along tune. Ringo came down off his riser after the song and gave Luke a warm hug.
"Photograph" is a Starkey/George Harrison million seller from the album "Ringo". It featured Ringo out front, with Luke on acoustic with Ham front and center on saxophone. Everyone except for Bissonette was out front for this number as he laid down a perfect groove still smiling the entire night. The over 50 year old Buck Owens/Beatles song "Act Naturally" had Ham on harmonica and tambourine. It was highlighted by Rundgren also anchoring himself to Rolie's Hammond and singing into his microphone.
It was time for the traditional finale of "With a Little Help From My Friends" the Ringo led number from Sgt. Pepper's Lonely Hearts Club Band. Ringo's Brother in Law Joe Walsh (Eagles, James Gang, Ringo's All Starr's) came out to sing with the gang as he does from time to time. Walsh bounced back and forth from microphone to microphone sharing Luke's for awhile. As Walsh playfully bounced back and forth Ringo finally jokingly directed him to stay put. A Beatle connection also joined in as Paul McCartney's guitarist Rusty Anderson added his vocal touch. Richard Page pal and Mr. Mister song writing collaborator John Lange also hopped up to join the fun. It's always a treat to see who is going to come out for the ending especially locally. Ringo left for the night only to leave the gang to sing "Give Peace a Chance".
I had the chance to get a few words from Luke as he said "It was a fun gig. Great Theater. I was sad because a dear friend of mine was there. He is dying. It broke my heart. Cancer. Fucking cancer. On a lighter note it's always good to see Walsh. The other guest up there was Rusty Anderson from McCartney's band. John Lange the guest singing with Richard Page who wrote all the Mr. Mister lyrics."
(Thanks to Alex Kluft and Reggie Boyle)