Here we go again. The combination of the magical Greek Theater (8/29/17), Los Angeles, hometown, TONS of hits, fellow musicians, friends, family in the crowd and the added bonus of Angelenos Pat Benatar and Neil Giraldo on a co headlining bill. This was my introduction to Toto 2017 which consists of the fearless leader and Toto member since day one Steve Lukather (g,v), David Paich (k,v), Steve Porcaro (k), Shannon Forrest (d), Joseph Williams (v),Lenny Castro (percussion), Warren Ham (v,sax) and newcomer Shem von Schroeck (b) who has graced the stage with Kenny Loggins, Don Felder and Michael McDonald among many others.
Toto and Benatar have sold over 70 million records between them and they both ruled the radio and MTV airwaves back in the 80's. Benatar/Giraldo and Toto shared the stage in Irvine five years ago at a Jack FM gig. Giraldo was obviously a huge Toto fan and a fan of Luke in particular as he soaked in the entire Toto set stage right.
Openers Giraldo/Benatar had a hit heavy set with Benatar still on top of her game vocally. Giraldo the Cleveland native who got his start with Rick Derringer brought the crowd to its feet on multiple occasions with his six string expertise. Pat told they crowd that they weren't from Los Angeles but have been here for 38 years now. She also pointed out that Neil was the first guitar player heard on MTV as Benatar's "You Better Run" was the 2nd video ever played on the 24-hour music channel in 1981. Their set was highlighted by "Promises in the Dark" and "Hell is For Children." Those tunes were both started off with Giraldo on piano with him jumping off the piano mid song to pick up his axe and send the crowd into a roar. Benatar ended the set with a rousing version of "Heartbreaker" and then she told the crowd "Our good buddies Toto are coming out in a few minutes."
Toto started off their set with epic monstrous thunder echoing off of the hills emanating from Castro and Forrest. Paich, Porcaro, Williams and Luke followed with Luke spotlighted center stage. "Only the Children" from "The Seventh One" was the lead number originally sung by Williams as he started off the night. Joseph was full of energy and animation from the start. I immediately noticed the added layer of vocals coming from stage left from Shem and Ham. Ham is Luke's band mate in Ringo's band and with Toto previously so he knew Warren was a perfect fit. Paich got an early start strutting across stage right donned in multiple hats during the eve. "Hold the Line" the most classic Toto FM number rocked the house. Williams and Luke played off of each other and the number featured the first of many signature Luke guitar solo's.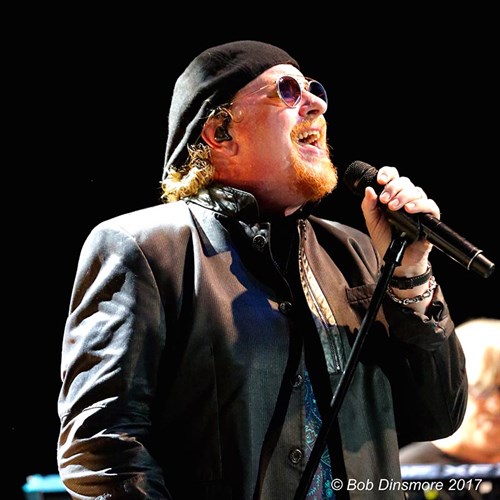 Luke told the crowd "it's good to be here and thanks to our friends Pat and Neil for kicking ass!" "Afraid of Love" from the 12 million selling Worldwide Toto IV was sung by Luke. Paich and Williams were both playing air instruments on this number. Ham stepped out front playing sax wowing the Greek patrons. Ham & Von Schroeck kicked the vocals up a notch singing away. Another Toto IV number "Lover's in the Night" was led vocally by Paich. Williams nonchalantly slides to the side on songs he is not singing lead on as a true team player and adds to this bona fide wall of vocals. Luke smoked another solo with Landau grinning ear to ear next to me. Luke then got down with Shem in front of Ham's riser stage left and jogged over to jam with Porcaro.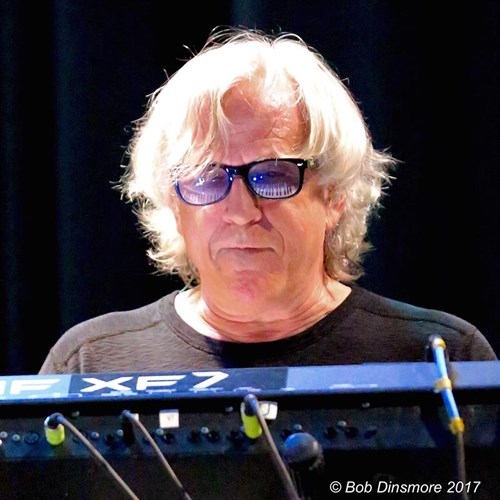 Williams then said "L.A., so there's singers in the audience?" He then went on to say "I've known Luke since I was 14 years old. We REALLY do have a ball up here and I hope you do too." Next up Williams said a song from 1987 (recorded in 87) "Pamela". Another number that Williams sang on originally and wrote, also from "The Seventh One". The longer the night went on the more apparent it became how important the vocals of Shem and Ham were. Paich then hit the crowd with a really funky piano part with Luke groovin' right next to him. Shem was playing bass next to Williams who was playing air bass. Ham came out front to encourage the sometimes tough, jaded L.A. crowd to make some noise. This crowd didn't need too much encouragement as they responded immediately.
Next up Luke asked the crowd "is everybody having a good time?" He then promised "I won't ask that again!" Luke then said "I want to dedicate this next song to my daughter Lily, backstage." The next hit was the Luke led "I'll Be Over You." The vocals of Shem, Ham, Paich and Williams really shined bright as this Toto Tour didn't have any dedicated "background vocalists". Luke then encouraged the Greek to sing along. It was truly heartwarming seeing a guitar player of the stature of Michael Landau enjoying his musical brothers' success. The night was lit up by lighters and cell phones giving a magical feel to the air. Luke then graced the crowd with a mesmerizing solo as the first shouts of Luuuuke rang off the hills.
Luke shouted loudly "I give you my brother David Paich!" Paich warmly dedicated "Great Expectations" to Toto XIV Producer and a man of many hats on that project CJ Vanston. We have a lot of friends in the crowd tonight was a recurring theme. With Williams singing lead on the song from XIV Luke added another searing solo front and center stage. Paich and Williams took it upon themselves to encourage the man who needs no encouragement, Lenny Castro. Nothing slows down Lenny, if only you could bundle his nonstop energy. Then Porcaro and Paich traded spotlight moments back and forth. It was great to see a new number by Toto stand up to the old classics validating the fact that this band can still produce new material that's concert worthy.
Not a concert goes by without a remembrance of Jeff and Mike Porcaro. Luke alluded to the remembrance of Live at Montreux 1991 with Jeff and Mike and more specifically the next number, the Hendrix classic "Red House". This was a touching moment with many members of the Porcaro family young and old throughout the Greek. This number was a three piece featuring Shem, Shannon, and Luke. There was a second round of heavy duty thunder on this number. If the 87-year-old walls of this venue hadn't collapsed before they were going to be tested tonight for sure. The remarkable effort by Luke with Shem and Shannon not too far behind was a sight to be seen. This number alone was worth the price of admission. Paich came in at the end of the number to add some flavorable keyboard sounds. Not to be forgotten once again were the Luke vocals which sometimes get lost in the shuffle as so much attention is paid to Luke's axe.
Luke then pointed the spotlight on Shem saying that "Paich found him". He also told the 6,000 fans that he had "perfect pitch". Luke then added that "Mr. and Mrs. Porcaro are here so God Bless them". Then regarding Steve Porcaro he said, "I adore him". About Lenny Castro he said, "We first met at SIR studios in 1977 when he needed a ride home". So those two go back a few years. About Shannon Forrest he called him "the most recorded drummer in Nashville". About Williams he called him "one of the most talented people I know". About Paich Luke said, "I love him to death." Paich most importantly said about Luke "He's kept this boat afloat!" Then once again came the shouts of Luuuuuke!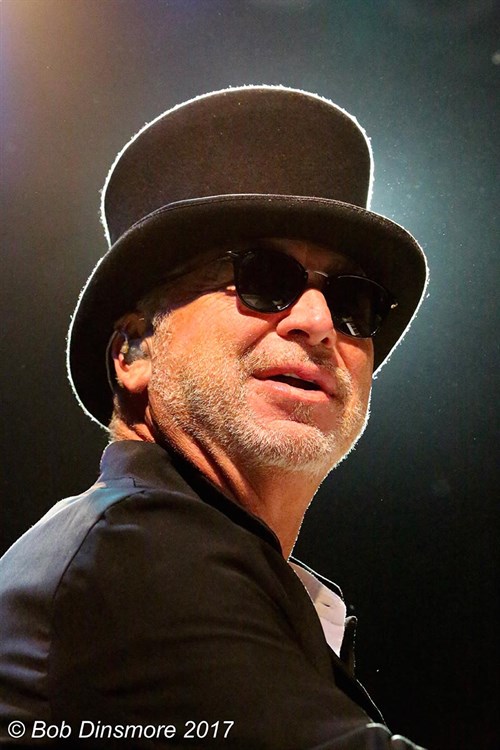 "Stop Loving You", another number from "The Seventh One" with Joseph leading the way made me realize that not only does Luke get lost in the shuffle because his instrument tends to overshadow his voice but Toto as a band suffers the same fate. This was another one of many songs where the keyboard and piano interplay between Paich and Porcaro was a delight. This number had Luke perfectly placed between the two putting the crowd under their spell. Luke to the crowd "everybody stand up! You know this one! "Rosanna" the Worldwide smash probably would have brought the crowd to their feet without the Luke encouragement. Paich even did a wardrobe change mid song. He switched hats. The instrumental break on this song with all members included was not to be forgotten. Williams even had the time to go stage right an give Paich a quick back massage. Ham made the move to stage right with his sax and jammed with Paich.
"I'll Supply the Love" was my favorite number of the night. This hard driving number balanced the set out giving something for everyone. Once again the support vocals from this all star team brought this song to its highest level. This number lulls you into thinking it's an instrumental then the roaring vocals come in and ends with huge heaviness instrumentally again. There was some very cool interplay of sax/guitar between Ringo bandmates Luke and Ham. Lenny even joined the vocal festivities leading the crowd on this number. Shem and Luke jammed yet again right in front of Shannon "The Cannon" Forrest. Everyone was on fire on this number with Ham ending it with some clarinet sounds.
Luke said to the still jam packed crowd "do you want to hear one more song?" "Africa" up next was led on lead vocals by Paich who penned the tune with Jeff Porcaro. Vocally everyone was spot on. Lenny was a highlight all night long but he shined even brighter on this tune which was the perfect vehicle to showcase his skills. Shannon assisted Lenny as the two clicked from day one and have even gelled better as the number of shows they've played together grows. Under the bright lights Lenny did not disappoint. Luke with his guitar and Ham and his clarinet were at the front of the stage to close out the memorable show. It was a stellar show from start to finish with a few tears but more laughs, smiles and shouts of joy as everyone left the venue beaming with satisfaction at another great Toto hometown gig.
I had a chance to talk to some of the guys after the show and here's what they had to say. I talked to Joseph Williams and asked him what was it like headlining a sold out hometown show at the Greek? He told me: "It was AWESOME! I couldn't be happier about that fact! I had a great time! The audience was terrific.It was a fantastic group. It seemed like everybody was having a great time. I certainly had a ball as I usually do playing up there with my friends" I then told him you obviously were having a blast on stage and your energy and enthusiasm conveyed to the crowd. At one point you did a complete circle on the stage and acknowledged every band member. He told me: "Oh good!. I'm glad. It's funny. I'm not even aware of it. It's different for me every night when I'm moving around and what I'm doing. It's just me reacting to the guys playing. I've known Luke and Steve Porcaro and Dave so long.I just react to different things that they do in different places every night. That's the best part of this job." Next up I asked if a hometown show is different as far as playing in front of so many friends, family members and fellow musicians here in L.A. Joseph told me " It's different for the first half of the first song and then it all settles. I realize that they are out there for the first half of the first song. It's a little shaky and then everything slides back into it's just another show on yet another Tour. I told him it was a really great show and he said: " Thank you, it was a pleasure."
I had the pleasure of sitting next to a long time Luke pal Michael Landau (James Taylor, studio ace guitarist) and his wife Karen (Stolen Fish). After the gig I asked Michael what was it like seeing your pal Luke play at a sold out Greek Theater show here in L.A. where you guys grew up together? Michael said "Oh! My wife and I were both crying. Karen loved it. I loved it. They played beautifully. The sound was incredible where we were". I mentioned to Michael that there were a lot of familiar faces from The Baked Potato at the gig and we were lucky to live in L.A. to be able to see Luke and himself at such an intimate venue. He said "it's a great musical community". I then said to him I noticed you turned around a few times to soak in the whole night. You guys both had big smiles on your face all night long. Landau said: "Ya! I was very proud. It's just fun. It's soulful music. Very soulful music. It was a beautiful night. Absolutely!" Karen added "I'm speechless. I had so much fun. It was great!"
Steve Porcaro had a moment to spare and told me "The Greek gig was a great night for the band. Playing for our friends and family - sharing what we've been working on - felt amazing to us". Lenny Castro told me "This gig at the Greek was a complete success for us in many ways. It's always hard to play in your hometown. You have to deal with a lot of distractions. A lot of artist get very nervous about playing L.A. too. Not the case with us, the guys handled everthing right. And we went on stage and kicked butt. We were all very relaxed and comfortable up there. It was perfect. We had a great time, we always do!"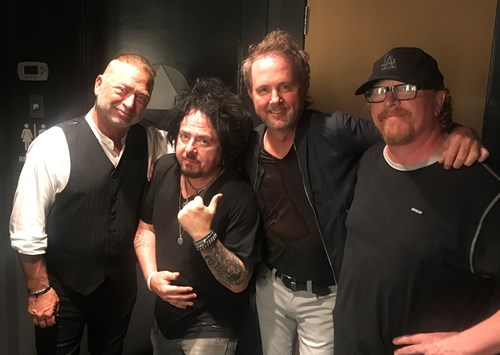 David Paich, Steve Lukather, CJ Vanston, Joseph Williams
CJ Vanston: "My first words to the guys when I walked into the dressing room after the concert were: "Toto is a national treasure." The party afterwards was a who's-who of LA musical cats... the respect that is shown this band by the true musicians is unmatched. Paich & Luke did a touching shout out to me before "Great Expectations" and asked me how I liked it. "I was in the bathroom" was my reply. Yep. In the bathroom. Anyway, I felt so proud to call these guys my brothers and thought about all the music we've made together and collectively through the years. Goosebumps... What a band. And what an extended family. Seeing Joe Porcaro, Mike Lang, Jay Graydon, Mike Landau and countless others... all who came to show respect and dig."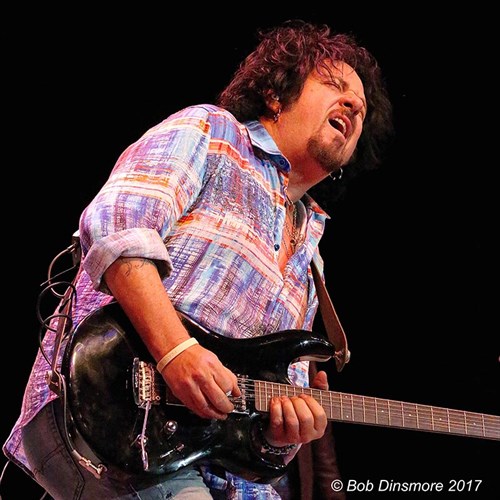 Finally Luke told me about the night "It was a great homecoming gig. Best in decades.... sold out show, full of friends and some legendary musicians.... and long time supporters. This success we are enjoying in the USA has shown that 40 years of hard work plus now having the right team in place, WME our agents Rob, Brian and Marc, being back at SONY, a real record company and our amazing staff... well its all paying off. I never stopped believing in the fact we would get the USA back! We have always done so well over seas thank you, but our own country has been a roller coaster for a long time and a new love for the songs "Africa" by Millennials... hey I will take it. And we LOVE the jokes, carotin etc... so awesome! Meant a lot to us to have this moment at the Greek and it wont be our last.
Hard work pays of. No easy way around it and as I have taught my own kids NEVER take NO for an answer when you believe in something. Toto has been running uphill with butter on our bare feet for 40 years. To finally get a little respect in the USA this late in the game is truly amazing and no one is more grateful than we are and its because of the fans. I hate that word because that conjures up crying girls at a Bieber concert... I mean people that have supported our music and us... our friends. Thank you all. This is for you!"
(Pictures by Bob Dinsmore)