This was the 7th annual Christmas time gathering of "Nerve Bundle". Once again consisting of Steve Lukather (g), Jorgen Carlsson (b), Toss Panos (d) and Jeff Babko (k). The gathering is getting bigger with shows selling out immediately. Fans make the trip from all over the World just to see this quartet. This year's shows are a preview of upcoming overseas gigs in Tokyo and Osaka, Japan. Born in 1970 the 47-year-old Baked Potato in the Los Angeles area was the reunion/gig site again.
Sound check is always enjoyable because it veers off the road as far as whatever "set list" there is for this gig. Luke, Panos and Carlsson were playing "Sunshine of Your Love", "Crossroads", "Owner of a Lonely Heart", along with odes to the recently turned 70 Joe Walsh with "Rocky Mountain Way" and Luke's' double ode to Sammy Davis Jr. by singing "Candyman" and playing with his "Sammy" guitar. Babko was still at the Jimmy Kimmel show so it was just a trio. Luke stepped away for a moment. So now it was just the duo of Panos/Carlsson. This groovin' duo brought Luke back immediately to join in on the fun. Regarding the "set list" Luke said "we'll call an audible. NO set list. We'll have fun tonight".
Now it was reunion time with long time Luke pal and bass player John Pierce joining the party. Pierce and Luke hugged immediately. Pierce brought his Huey Lewis and the News guitar player and band mate Stef Burns (Y&T, Alice Cooper, Sheila E.) along with him. Burns was greeted with hugs too. Babko arrived having fought the L.A. traffic and local parking issues to make it a quartet. Babko joined in the hug parade as you could feel the love, friendship an reunion atmosphere in the air. Pierce and Burns watched intently as the foursome flew through the shortest Nerve Bundle sound check I have ever witnessed.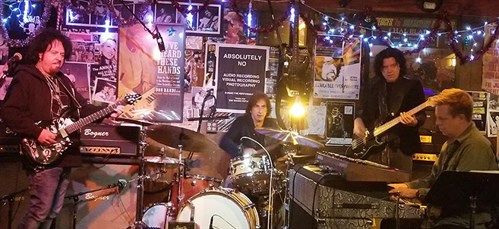 The set included fast paced, frantic Rocked up versions of Christmas songs. Luke gave an immediate nod to Jorgen as "the man who put this band together". The recent Guitar World magazine cover boy and Gov't Mule bassist along with Panos are the definitive rock solid foundation of this group. Luke added "this is the first time we've played in a year. We rehearsed for months this afternoon".
This ride started out in 5th gear. "The Christmas Song" set the tone of high energy and fervor for the night. It took a lot of confidence to start off the night after a year long absence with such a ferocious number. The lead song reminded me why I come to these shows. The immediate intensity was unmatched. It explained in an instant why people travel from all over the World to see these shows. Seeing such world class musicians in such an intimate setting is priceless. It's one thing for us novice music fans to be awed, but in a room filled with high quality musical compadres sharing our same enthusiasm I was reminded how lucky I am. The intensity was from start to finish. Just as I thought if this show ended after one song I've gotten my moneys worth Babko joked "GOOD NIGHT"!
There really wasn't a set list as Babko chimed in "Song For Jeff". The song from the 1994 Lukather solo release "Candyman" was met by approving nods from the rest of the cats. The beautiful instrumental with a Babko keyboard intro had Luke nodding and smiling. His smile grew even bigger and bigger as the keyboard intro went on. The song featured Babs keys and Lukes six string. Jorgen added his subtle bass parts and Toss accentuated the number with his brushes. Steve Porcaro watched from the rear to the song named in the memory of his brother. Jeff was with us all in spirit. With Steve Porcaro watching, Jeff Porcaro here in spirit and Luke playing you had three main components of Michael Jacksons "Thriller", the greatest selling album in the history of recorded music. This was also the exact 35th anniversary of its release on Nov. 30, 1982. Unbelievably "Thriller" still charts on Billboards Top 200 12,775 days after its release.
Luke then said "the next song is dedicated to Steve Porcaro. He is here with us tonight. We are going to do a Toto song. Not one that you know". Luke may have been mostly right at a Toto gig but this is a different crowd. They didn't come here to hear "Hold the Line", "Rosanna" or "Africa". At the first few notes from "Jake to the Bone" from Toto's 1992 release "Kingdom of Desire" got immediate recognition and approval from the "Spud" crowd. Luke also added "this one was Jurgen's call", hinting if they didn't cut it playing this song it was HIS fault. He then added "let's see if I can remember this one". Chalk it up to another hectic, frantic number but with a definitive groove. This head bobbing song initially had Luke doubting their ability to pull this song off. As the song went deeper and deeper those doubts went away. Luke slid over in front of Babko as they locked eyes intently. The foursome were all now stage left all within arms reach from each other. At songs end Luke exalted "we do this gig for fun! Loose, but fun"! Babko added "how about, STEVE LUKATHER"! When an audience member begged for some Luke like humor Luke responded "no filthy jokes this year. The last one was so bad I needed counseling." He wasn't kidding. I think some people in the crowd needed counseling too.
"Bomp Me" from the Greg Mathieson Project was next. Luke dedicated this song to Robert "Pops" Powell the noted bass player who had just passed away two days prior. Luke with a touch of sadness in his eyes pointed to the exact spot on the same stage where "Pops" stood when he played with Luke. Luke then said "it was 1980. I was standing right here (as he pointed to where he was currently standing). It was "Pops", Jeff Porcaro, Greg Mathieson and it was supposed to be Larry Carlton. Larry didn't make it and they got the young me instead". Luke then shouted out to Baked Potato owner Justin Randi "is there a Baked Potato in heaven"? Justin responed with a nodding head and said "yes Luke". This was another high speed, energetic number. Babko was bouncing back ad forth between his keyboards. "Bomp" almost matched the intensity of the opener which I didn't think could be done. Luke bounced over to jam with Babko and was almost face to face with him at one point. The number slowed to a crawl only to give you a false sense of security and then kicked back into break neck speed once again. Babko matched Mathieson's virtuosity on the song dedicated to "Pops". Jorgen slammed some extremely thunderous bass that "Pops" would have been proud of. Panos was a non stop man in motion who hit gears one through five back and forth all night long. Panos and Carlsson didn't do much talking verbally they spoke through their instruments all night long which was more than enough.
The only song of the night with vocals was up next. Robin Trowers "Bridge of Sighs". Even "Bridge" is more of an instrumental song with some vocals added. "Bridge" was prominent on the Toto 2016 Tour with Luke given a huge stage to waltz about as he wished. The stage this night confined him from running around but didn't harness his ability to make musical magic. Luke introduced the 1974 song still entrenched in FM radio, by the still touring Englishman by saying "see if you kids from the 70's remember this". Luke had a blast playing through his Bogner amps. Luke even got assistance from the man himself Reinhold Bogner before the gig setting them up. Luke guitar technician Jon Gosnell is also a huge part of the great sound of Luke's guitar, whether it's Ringo, Toto, Nerve Bundle or anything Luke related. Gonsell is on top of things at every moment and knows what Luke wants or needs sometimes even before Luke does. Most fans just see the tech hand the artist his guitar. It is so far beyond that, that their isn't enough time to explain what it entails. Gonsell is working from the time the door opens until the door closes. On the Trower cut Luke's fingers were flying, tapping, flying, tapping and flying until song end. Babko added some super funky, psychedelic, eerie keyboards to put us all back in the 70's again even if only for a short while.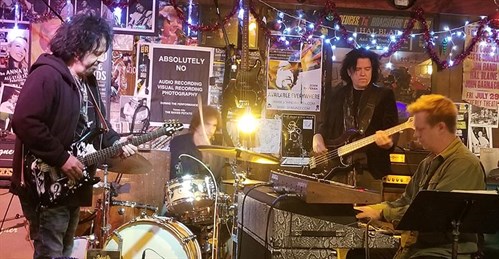 The set ended with a Christmas number "Silent Night". It was a nice outro song giving us a smooth landing on a wild musical ride. It gave us all a chance to gather ourselves and it balanced out the earlier numbers. It had some of us thinking and wishing for more Christmas fun next year already! It also had me curious how exciting the shows in Japan will be with six gigs under their belt. This is not only a reunion and yearly get together for the musicians, it is for the fans too. It's a warm feeling seeing familiar faces and making new friends. We all have one thing in common, love of great music made by great musicians. It's a small world as I made a new one of my many Nashville connections. He told me I want to get a picture of Luke to send to my friend in Nashville. I asked my new pal Ford Thurston, who is your friend? He tells me Tom Bucovac. I tell the man I met for the first time 30 seconds ago, I know Tom, he plays with my buddy Vince Gill. Only at the Baked Potato!
After the gig I got a chance to talk to several people. Stef Burns told me right after the show "So my mind is blown. Luke's playing is off the chart! His taste, his tone, every single bend is perfectly in tune. It was INCREDIBLE! And the fact that this band with Toss, Babko and Jorgen are ALL at such a high level that you just get face pain from smiling during the whole show"! I told Stef I saw you during sound check sitting with John Pierce. As soon as Luke and the boys started playing you immediately lit up. Stef replied "Oh man! Ya, it's where I live and Steve is one of my all time influences. I won't say I worship him because that's kind of weird but I would say I love him like crazy and he's one of the best of all time."
Pierce said "It was beautiful. I'm happy. It made me happy"! Will Lee (David Letterman Show/session player) said "I finally got into the spirit of Christmas. I wasn't there until I got here tonight. Now I know it's going to be a very sick Christmas. I can tell." I told him you should have been here last year. Luke cleaned it up last year. Lee said "I WAS here last year! It kind of made my year last year. I didn't want to miss it this year". I asked him what did you think of the band? Will told me "It's got that thing we call in the business that loose/tight feel. It's REALLY fun! There's a lot of danger involved and that's REALLY exciting"! I told him they really didn't rehearse much at all. Will said "I find that amazing, that they hardly rehearsed because there's a lot of interesting stuff that you need to know and have to remember from a YEAR ago! I would be shedding before this gig, secretly. I wouldn't tell any of the guys in the band".
Steve Porcaro told me "it's so great to see my friends up there burning! It just puts a smile on my face watching them go at it with that effortless brilliance of theirs. Masters of their craft. Still having fun. What a band"! Porcaro asked me "Where are the Toto people"? He was referring to the Toto Fanpage America Facebook fans. He wanted to take the time to acknowledge their presence. Luke then tried to walk over to hang with Pierce and Burns seemingly knowing everyone in the house on the way over. In passing he said "this is a jam band. We are blowing off the cobwebs." Later Luke told me "It was a bit of a rough night due to pain. My shoulder was hurting. Life at post 60, post accident. Looking forward to the weekend. I love playing with these guys! One brief 'get together rehearsal' so if there is an 'uh oh' it's cool... and another reason we like to keep these things private as it's an experimental band. Sometimes it gets out there... other times it's quiet and very inside. It's the fun of it all and I love all the guys. Such GREAT musicians"! At weekends end Jorgen Carlsson told me "Six shows over three nights, BOOM!!! Madness! Swingin'... Like Benny Goodman" (Laughing)