Steve Lukather was the archetypal '80s session man, playing guitar and producing on literally hundreds of records - Eric Clapton, Joni Mitchell and, erm, Spinal Tap have all employed his talents, while Michael Jackson's Beat it, Don Henley's Dirty laundry and Lionel Richie's Running with the night are just three '80s smashes to feature his sizzling guitar work. In parallel, Lukather's enjoyed a career as part of Toto, the band of supermusos he helped form in the mid-'70s.
Lukather's playing is still revered by guitarists all over the world, and it's two - of his finest solos, from Toto's Rosanna, that you can learn in this edition of GT. Now in their 25th year, Toto are currently touring to promote Through the looking glass, their new album of covers. GT caught up with Lukather in the middle of the recent dates to quiz him about recording Rosanna, and live as an '80s session ace...
GT: Tell us a bit about how Rosanna was written...
Steve Lukather: "Dave (Paich, keyboards and vocals) wrote it, pretty much came to us with the tune all finished. We don't rehearse, so when we do a record we just go in, dig the tune, someone writes out a quick chord chart and then we do it. Rosanna was basically live."
GT: One of the most remarked upon aspects of Rosanna is the rhythm - if you buy a drum machine these days, they'll have recreated that Rosanna drum groove as a program...
SL: "That's pretty funny. You know where that came from? Jeff (Porcaro, drums) and us were really into Led Zeppelin, and Jeff morphed Fool in the rain (from Zeppelin's In through the outdoor) and a Bemard Purdie drum groove (from Steely Dan's Home at last) and came up with that Rosanna groove. So we went from there - by the end of that afternoon, we had done the basic rhythm track and I'd overdubbed some of the solo. "Bang! The end vamp was never supposed to happen, we just started jamming and that's exactly what you hear. We still record that way..."
GT: For Rosanna's first solo, you've got a very unique bending technique - you bend a tone with your third flnger and then fret that bend with your fourth finger for an additional note. Other players would choose the more 'country' approach of splitting those notes over two strings. What influenced that technique?
SL: "1 don't know, that's just the way I feel it. I like strange bends. When I was young, I loved Larry Carlton in that (Steely Dan) Kid Charlemange/Royal scam era - all the bending, sleazing in between,'finding the great note that goes into the change. I was greatly influenced by Larry, who's a good friend of mine now. He's one of my heroes - and I came more from a hard rock background and he's more a bebop-er, and we sort of switched where he played jazz with a bit more rock and I came from the other end. We both understand where we're going. His concept of harmony is fantastic..."
GT: As Rosanna's solo is so melodic, was it pre-planned?
SL: "No, I had just started playing and it was one-take. What I did do was after I had played, the guys said I should double it. So I went back and learnt it and then doubled it. But the end solo is not doubled..."
GT: And that was a one-take too?
SL: "Yeah, you get lucky sometimes with stuff like that. In those days it used to be I'd get the track and everybody would say 'do the solo now', and everybody would be partying in the studio. You'd have the whole vibe of people and friends hanging out, just great. Nowadays, it's more technical than it used to be. Now everything is so different, so I'm glad I had the experience I did back then. We were in the last era of session guys, as it doesn't exist in the same way anymore..."
GT: On that outro solo, you've got big two-tone bends. Had you been listening to a lot of Jimmy Page and Jeff Beck the night before.
SL: "Yes, of course! The first time I felt up a girl, I was listening to Led Zeppelin! Page has been really nice to me too since, as we've met up for different things. He said: 'Don't let anyone give you shit, Steve. I used to be a session guy too, as was John (Paul Jones). Don't let anyone tell you you don't rock because of that.'"
GT: The outro solo displays your very able picking-hand technique...
SL: "I use everything; down-up-picking, down-picking, I use fingers. I don't ever think about what I'm playing now. But what I did do when I was a kid, which is the most important thing to remember so you don't hurt yourself, was stiffening up when I was trying to play fast. You have to learn to relax your fore arm and wrist. "lf you start practising and it begins to hurt, then stop practising. Otherwise, you'll get tendonitis, and you won't be able to play the guitar for a year, and you won't be able to accomplish what you want."
GT: You were at your height as a session player in the '8Os - was there a typical kind of session?
SL: "Between 1976 and 1986, it was pretty much the peak of the session scene in LA - it was before the machines took over the world! Guitar-wise, I'd be playing with Ray Parker, Jay Graydon or Lee Ritenour - there'd always be two guitarists, and most of the records were just rhythm charts so you had to listen, to what everyone else was doing."
GT: Did you try to get a sound sorted within 15 or 30 minutes?
SL: "You didn't have anywhere near that time, you'd better have your shit together when you plugged in. It was a 335, Strat or Les Paul - 'what is the other guy using, what should I go for?' I was the token rock guy on most of that stuff,so I'd take a Les Paul and a Marshall stack. Someone like Ray Parker would be the funk guy. And if Jay (Graydon) and I played together, one of us would do the clean shit and the other one would do the other parts. Sometimes, a producer would request me to do the solo or whatever..."
GT: For the majority of sessions, were you just called in to do an eight- or 16-bar solo?
SL: "A lot. At the time, it was the era of a guitar solo being on everything, even on cheesy songs like (Olivia Newton John's) Let's get physical. I got hired and didn't even know who the artist was, hence me appearing on such weird records. You'd turn up and go 'gosh, we're playing for Shirley Bassey."'
GT: Was there a studio protocol, a pecking order, about who sat where, like Tommy Tedesco in seat 1 and Larry Carlton in seat 2...
SL: "Oh sure! If there were two guitars, I'd be guitar 2... until I became the older cat and the 1 younger guy had guitar 2. There were a couple of times when the guitar 2 part was a lot harder than the guitar 1 part. I showed up for a session late once, and it was a full orchestra date. Lee Ritenour was the other guitar part and he can read anything. I showed up late as my car had fucked up, so there was no time for me to get my shit together and, at 19 years old, I was panicking. After trying to apologise profusely, I looked at Rit's guitar 1 part and then at my guitar 2 part...
My part was like a f**king piano part, no chord symbols anywhere! His part was full of tacets (empty bars), just little fills to do. So he just grabbed my part and put his part in front of me. I said to him, 'if I was gay, I'd suck your cock rjght now!' He saved me and he didn't have to. He saved my ass then for sure..!"
GT: What's your practice regime like these days?
SL: "I always practice, but on acoustic guitar, because there's greater resistance when you pick the strings. I like to play a bit every day and I still actually give a shit... even though it's not cool to be really good these days."
GT: What stuff do you do?
SL: "I'm studying some chord melody stuff, keyboard and horn stuff. Just dipping more into bebop as there's not much on the radio that's challenging these days."
GT: What do you say to readers who might say: 'I can't read but neither did Hendrix and SRV'?
SL: "If you can play your ass off like Stevie Ray Vaughan could, don't learn how to read! I didn't until I was 15, so going back and learning how to read Mary had a little lamb was very frustrating. But I forced myself to do it even though I hated it; now I find it really helpful. To read music means you can communicate with any musician and that can only be a good thing!"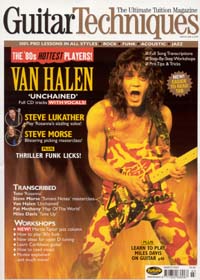 Guitar Techniques, March 2003