Album info All's Well That Ends Well
July 17th 2010
Lukather: "MY RECORD IS DONE AND MASTERED!!! Many thanks to CJ Vanston my co-producer and mixer for workin so hard!"
July 9th 2010
Lukather: "Still making last minute mix changes with CJ before mastering on MON (July 12th)."
July 7th 2010
Lukather: "Flash in the Pan is a piss take on TMX (tabloid show in the USA) I wrote with Fee Waybill. Classic. One more left CJ is sending tonight. I am very happy and proud. A FEW small re-tweaks but overall it's done."
July 5th 2010
Lukather: "I am very proud of this record on many levels. I PRAY I get a break this time. I have paid my dues in a HUGE way!"
July 3rd 2010
Lukather: "My record is great and getting better by the day. Almost done... 2 mixes left and a few tweaks and I am working almost up to the minute I leave for the Toto tour."
June 24th 2010
Lukather: "CJ is just KILLIN it! The mixes are like 98%. In the end we ALWAYS go back and tweak a bit after living with the mixes for awhile but honestly I could put it out right now and be cool with it. Details ya know... but I am VERY happy.
May 29th 2010
Lukather: "Just did some BG vocals with Phil Collen from Def Leppard and CJ Vanston for my new record. Very cool sounding!"
May 19th 2010
Lukather: "I Just finished all my recording yesterday, aside from one or 2 small overdubs left and we start mixing today. I am very excited and cant wait for you guys to hear it! Doing a massive photo shoot today so I will have all new photos soon. I need them. I dont look the same as I did a year ago for sure. 7 months no booze or smokes makes a difference. It was easy but I DO feel and look alot better and I have been practicing my ass off and bringing my very best to my new music and vocals, so it is all good so far."
May 13th 2010
Lukather: "In the studio again with FEE Waybill comin in to do BG vocals on our 2 tunes, then dinner."
May 12th 2010
Lukather: "Another sunny day in the studio doing lead vocals. Had a great day with Joe Williams doing BG's yesterday. Got a cool lead vocal on a tune I wrote with Fee Waybill. It is a piss take on TMZ. Very funny."
May 11th 2010
Lukather: "I wrote the last new track with CJ and it might be my best ever. An extravaganzo of a tune and a tear jerker too. I cant wait till its done. Next week is my massive Photo shoot for everything for the next 2 years so he is gonna get ALOT and we will go from there."
May 10th 2010
Lukather: "Back in the studio for an intense week of recording. The record is really comin together. CJ Vanston KILLIN some last pre mix overdubs on our co written tunes! What a Monster player and collaborator!"
May 7th 2010
Trev Lukather: "Heading to the studio 2 play guitar on my pop's new record... didn't get a chance to write with him but he wants me on the record... the song is a killer one."
May 7th 2010
Steve Lukather: "Back in the studio today with Carlitos and Trev and Me doin OD's on the new tune CJ and I wrote. My son Trev just came up with a KILLER part on the new tune. Great Father and son moments! I am pumped. Off for a run then the studio then a chill weekend with the family. Mothers day. Dont forget to hug your Mom or whomever IS a mom around you. VERY important people they are!"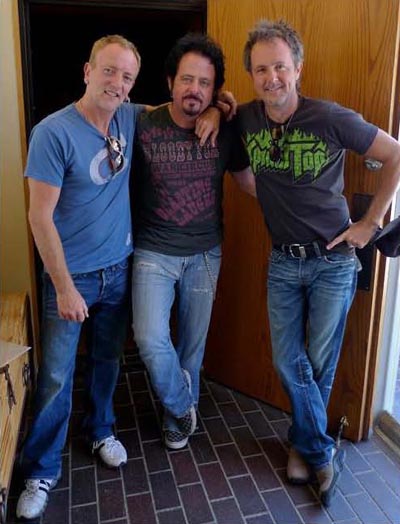 Phil Collen, Luke, CJ
May 6th 2010
Steve Lukather: "Finished the last track today and now it is time to do the last overdubs and sings a few things, a few guests mix and done! Sounds easy right. NOT, lol. IT will take a few weeks yet but I am almost done. My pal CJ Vanston and I wrote this last one and he and Phil Collen from Def Leppard stopped by today as well as my son Trev..."
April 12th 2010
Steve Lukather: "One more day in the studio before I pack up to France for 3 weeks. It should be a very interesting trip. Clinics and jam shows. I have not met my band yet but saw some rehearsal clips and they sounded real good. I will be back on a PROPER tour with MY band and new material in the fall 2010 - early 2011. Still working it out and gotta finish the new music by mid June."
April 11th 2010
Lukather: " People keep asking... MY record will come out in the fall 2010 worldwide. It's called "All's well that ends well". It came up in Amsterdam, where else! Hahaha."
April 10th 2010
Lukather: "The new tunes are AMAZING. I have THE best tune I have ever co-written or been involved with. It is gonna kill you all. I thought I had the Epic piece? NOW I have the Epic piece. It is the ultimate broken heart song... Pink Floyd meets Weather Report meets Jeff Beck, but HEAVY with huge orchestration and gorgeous guitar stuff. I am stoked. The record is really coming along."
April 9th 2010
Lukather: "Great day in LA. Off for the morning hike/run and then off to the studio to sing more and then work with CJ Vanston. More work to do. Vocals. The record is really shaping up. I have 3 new songs to record in May and then I am done and will finish and mix. Never dull in my life."
April 8th 2010
Lukather: "Back in on my record today.Just finished another lead vocal. On my way home. Both the title and what I am doing."
March 26th 2010
Lukather: "Bernard Fowler stopped by and did some cool background vocals. Trev, Steve and Sam Porcaro dropped in too. Nice. Finished lead vocal and on "There's a Darkness in my world" and the solo's, need Pink Floyd BGV's."
March 25th 2010
Lukather: "Back in the studio doing lead vocals and guitars with MAC. Song title "Theres a Darkness in the world". True words..."
March 24th 2010
Lukather: "Meeting with David Paich and our manager this morning and then back with CJ Vanston. We have another killer tune!!!"
February 23rd 2010
Lukather: "Today is my last day int the studio before I leave for Japan/A.sia Things are going great and cant wait to jam with the A band Soulbop."
February 19th 2010
Lukather: "Lenny Castro is comin in for percussion today. My MAN since we were 19 years old with Boz Scaggs. I am pumped."
February 17th 2010
Lukather: "Vocals start today. Fee Waybill is stopping by too. Going to see my sons band at Crazy Girls club tonight. CJ Vanston is a musical genius. We wrote 4 killers so far! Love that cat! Get well brutha."
February 15th 2010
Lukather: "Monday, we are back. Guitars guitars guitars and more guitars. Lol. Almost done with them. Some acoustics today as well."
February 12th 2010
Lukather: "Back in the studio with Steve Weingart on keyboards. Makin it "puffy". Waiting to see how Mac's condition is today. Lol."
February 11th 2010
Lukather: "Things are going great. It is starting to sound like a record and I am excited. More guitars today. Finished all the 5000 tracks of basic guitars and a few solo's this week. It sounds HUGE and fat.
February 11th 2010
Steve Lukather - Rubber sheets (by nigeldick). At the end of the first week of overdubs Luke looks back on what he has achieved so far and reveals why rubber sheets are required in the studio as he records his new album. The as yet un-named new opus will be released sometime in the fourth quarter of 2010.
February 10th 2010
Lukather: " MORE GUITAR! Lol. I'm having fun recording. It's a busy week. Working on my own record all day and mixing the 6-String-Theory (with Lee Ritenour c.s.) record at night."
February 5th 2010
Lukather: "I am happy to say we had an amazing guitar week and the band wrote a killer instrumental that rocks called "Son of Jake". My baby Lily came to the studio today and was producing some guitar parts. She is 2 1/2 years old. Great ears. Lol TGIF. I will post some music, teasers if you will, once I get some vocals on. More guitars all day! No wonder my ears are ringing.
Started filming some stuff at the studio for a possible "making of". Missed the tracking but there will be lots of footage.
February 4th 2010
Lukather: " Massive guitars today. Got a cool solo on a tune. I really pushed my limits on this one. NOT typical at all. NOW time to chill..."
February 3rd 2010
Reggie Boyle: "Steve Lukather invited me down to the recording studio to get a taste of his new solo album and to catch up with him. It was day one for guitars on my trip to see him. The day began with a visit from long time Toto/Lukather manager Mark Hartley of Larry Fitzgerald/Mark Hartley management. Luke and Hartley caught up, chatting about many things including Luke's first visit to the Steakhouse Studio many years ago, longtime engineer/producer Geoff Workman who recently passed away, Toto's "Turn Back" sessions, Michael Jackson and Quincy Jones. Hartley also reminisced about how long it had been since he'd been to the Steakhouse.
Next up it was time to pick and choose between an assortment of different amps. Luke was like a kid in a candy store! Some amps were tossed to the side immediately just as some were placed in the "good to go" pile just as quickly. Some amps were picked just for specific songs or sound parts only. The studio itself was a nod to Jimi Hendrix as the ever present picture of him overlooked the recording booth. A large picture of Sammy Davis Jr. overlooked the control room as it has been around Luke since the "Candyman" sessions.
Luke played a couple of numbers for Hartley and myself in raw form. The first track was a groovin' number that Hartley commented how much he liked. Next up was an epic piece that started along in eerie fashion and then slammed us with thunderous drumming. When Hartley left for the day he told Luke how nice it was to visit with him again.
Now it was time to go to work. Luke sat in the control room with engineer extraordinaire Steve MacMillan. Luke and "Mac" work extremely well together. They are so tight together it's not even funny. It's almost the same connection as former N.B.A stars "Magic" Johnson and Kareem Abdul-Jabbar had. They are thinking the same thing all the time. They both know what each other is going to do next. As I sit behind them in the control room I see them nodding and moving in unison even when they aren't looking at each other. Now it was time for Luke to add his guitar flavor to the songs.
The first cut they worked on was a heavy, heavy slow number. Luke worked on his parts piece by piece. It wasn't time to move on until the part was just right. This was never more true as Luke said re: one small part "It's going to bother me. Most people won't notice it. But it's not quite right." Luke and Mac in one rare time didn't quite agree on one part. Mac said "The amount of aggression is perfect. It's juicy. I like it." Luke commented: "I think it's too aggressive. Let's meet in the middle." Even when they disagree it only takes a moment to rectify the situation. That one moment was the only time they weren't on the exact same wavelength while I was there."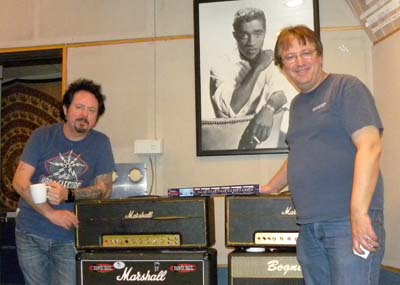 Luke & Steve MacMillan
February 3rd 2010
Lukather: "GREAT day in the studio. Got some awesome guitar sounds and takes with Macmillin! It looks like a music store in here. Lol. A room FULL of different amps old and new... what to use? SO many options. Loving it all. Now I gotta play!"
February 2nd 2010
Lukather: "I got another track yesterday and today I am gonna finish that basic and then we are gonna jam a bit and see what happens and then tommorow I start guitars. I am gonna finish these 8-9 and then see what I am missing after Asia and cut a few more and BOOM... done! I am VERY excited as I have some great new music. I am trying for a personal best and working VERY hard on ALL aspects of music and my personal life. It is a journey thats for sure."
February 1rst 2010
Lukather: "In the studio and got another tune today. More tomorrow and then it is time to get into guitars and vocals! Yee ha!"
January 29th 2010
CJ Vanston: ""Stopped by Steve Lukather's session today to hear the progress on his solo album and the songs we wrote. Kick ass band, killer sounds..."
Lukather: "Back from my run, heading back to cut 2 more tunes today. Yes I am going to do a solo world tour starting in the Fall 2010 thru 2011. Yee ha.
KILLER 1st week. I am really happy and now it is time for a REST! Haven't had a day off since new years. I am chillin..."
January 28th 2010
Lukather: "It is going so well. I am blown away. It is 10 steps forward. I have some great new tunes and the band is killing. So much good shit and I am really starting to PLAY again. I get up at 5:30-6am and practice for at least 2 hours on the "Soulbop" stuff and then I am ready to cut my stuff. All music ALL day. Hahaha. I am loving it all again so much and I am healthier than I have been since I was a kid. Groovin is the term. I hope to hang on to this feeling and passion for the music that is renewed."
January 27th 2010
Lukather: "On the #3 track and it is Epic. What a band and Macmillin is getting KILLIN sounds I am smilin like a Mule eating Briars.
January 27th 2010
Lukather: "Well day one could not have gone better! We cut the first one, a tune I wrote with Steve Weingart and we cut #2 also a song I wrote with CJ. It is GREAT to be in the studio with my band, Steve, Carlitos and Eric "biggie" V. Steve Macmillin's sounds are fantastic and I am so excited already. I am gonna be workin my ASS off till I leave for the Japan/Asia tour and I am up early studying THAT music then poff to the studio to cut my stuff and I am still hiking-running everyday (unless it is raining) and life is great. BUSY and tired, but a good tired if ya know what I mean. I am NOT wasting my time on earth. I miss my wife and baby Lily but they come back today and I miss Tina and Trev but hopefully will see them for dinner tonight. NO rest for me but I like being busy. I love my life..., Luke"
January 26th 2010
Lukather: "I'll start today recording in the studio and go almost up to the day I leave for Asia."
January 20th 2010
Lukather: "Now, working on an extravaganzo final epic piece of music for my record with CJ Vanston. One of my faves! What a talent."
January 10th 2010
Lukather: "I am back in the woodshed practicing and trying to be a NEW-IMPROVED Luke for this new decade. Re-invention and positive light around me and all my family and friends and thre MUSIC!"
January 5th 2010
Lukather: "Another killer tune with Goodrum, dinner with Scotty Hamilton and a hockey game. I like nashville but it is COLD."
January 4th 2010
Lukather: "In Nashville. Writing with Randy Goodrum today, and seeing Dave Hungate and Shannon Forrest tonight for a jam. Yee ha."
January 1rst 2010
Lukather: "Here we go 2010!! I am ready to hit the studio and the road. Gonna be a killer busy year! Yee ha. Hope it is for everyone."
December 12th 2009
Lukather: "Still rainin... still dreamin... Great new tunes with Paich and then CJ too. It is comin together."
December 10th 2009
Lukather: "Writing with Paich today. We always come up with some cool stuff."
December 9th 2009
Lukather: "I am very very happy things are goin my way business wise. The new music is awesome. I am really starting to get excited. I am relaxed knowing I will have more material than I need. The lyrics will take awhile but musically I am seeing a direction. You never know till you get into it what is gonna happen but I think people will dig it. I have Steve Macmillin back at the engineer-co-producer chair and I am using my live band for the record with a few killer guests. I start recording 3rd week in January in LA at the Steakhouse. It will be a busy and fun 2010 with many surprises."
December 9th 2009
Lukather: "Got another killer tune with CJ Vanston, that is 3 for 3. One with Steve Weingart, one with Fee Waybill. LOTS more comin."
December 7th 2009
Lukather: "Rainy day... dream away... Time for more writing."
December 2nd 2009
Lukather: "My new label is Provogue/Mascot. Joe Bonamassa's label. It is a Duch label but a worldwide deal. This guy Ed is the president. VERY cool and soulful."
December 2nd 2009
Lukather: "Everything is cool here in LA. I am on to my 5th tune writing wise and will write more than 20 to get 11 and I am gonna be writing up until the day I start my record January 26th. Working at the Steakhouse with my live band plus guests and it looks like Steve Macmillin is gonna engineer and co-produce with me and that should be great. The record wont come out till the Fall 2010 with a world tour to follow. This coming year is filling up FAST! Its gonna be a great and busy year."
November 30th 2009
Lukather: "More writing today and all week. Hard to reinvent the wheel but trying."
November 28th 2009
Lukather: "Had another great day of writing with CJ. Epic piece. I am really starting to feel the flow of new music and inspriation."
November 27th 2009
Lukather: "Off to bike/run today and then back in the studio writing. I have some cool stuff so far."
November 26th 2009
Lukather: "Got another killer tune with CJ and saw KISS last night. What can I say?"
November 25th 2009
Lukather: "Wrote a killer song with CJ Vanston yesterday for my record. Big riffs and melodic as well. Think ZZ on steroids uptempo."
November 24th 2009
Lukather: "I feel great and just got back from my run with Steve Porcaro and writing some way cool riffs."
November 23rd 2009
Lukather: "The start of a new week, writing with CJ Vanston and my son Trev for my new record. Feeling healthier than I have in many years."
November 22nd 2009
Lukather: "I am just writing and thats all good."
November 6th 2009
Lukather: "I have started writing the new record. I am gonna write ALOT and pick the best stuff. I have ALOT of surprises for next year that I will let you know about as it is all confirmed."
October 30th 2009
Lukather: "I am relaxing and chilling and starting to think serious about my next record and looking forwad to doing it."
Reggie Boyle's interview with Luke on February 3rd
Reggie Boyle's interview with Steve Weingart on February 19th
Arend Slagman, Stevelukather.com, October 30th 2009 - May 2010 2010